A detailed guide on the many beautiful waterfalls in the Catlins
I have to admit, the Catlins has been an area I've really known nothing about. But what I had seen, thanks to social media, was its beautiful waterfalls. There are a ton of Catlins waterfalls. In fact, as we drove, there were signs for so many little gems, that we didn't even have time to stop and test them all out. Now you just have to pick the best one.
Waterfall hunting is one of the best Catlins activities.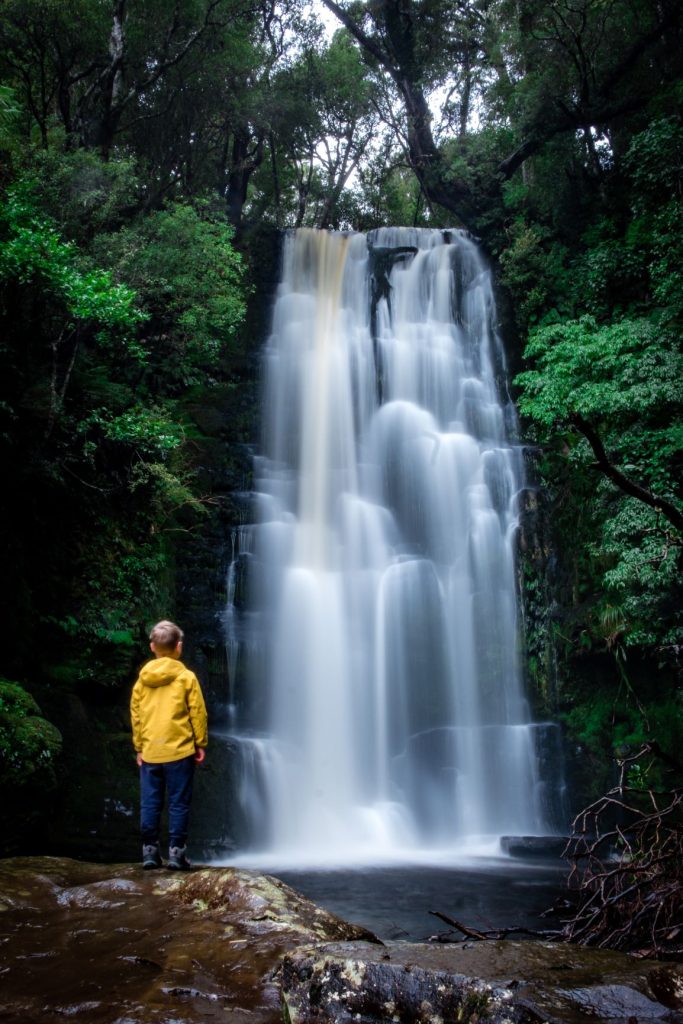 So if you love waterfalls as much as I do, then you need to visit the Catlins. The best part is that there are some great ones that are easily accessible by short walks, meaning they are perfect for families and those with low fitness. If you are going to choose any Catlins walking track, then why not add a highlight of a waterfall, rather than a plain bush walk.
Here are a few great Catlins waterfalls that you must visit when you are driving on the Southern Scenic Route. The best waterfalls in the Catlins are easily McLean Falls and Purakaunui Falls. I say these are a Catlins must do, and then if you're still keen for more, then check out the others on this list.
Make sure you bring a camera
There are some beautiful waterfalls, so bring your camera, and a tripod if you want to get those beautiful smooth waterfall shots.
Before you go to the Catlins
Where are the Catlins?
Welcome to Southland, New Zealand. The Catlins is a beautiful piece of south east coast in the very south of New Zealand's South Island. It is the coastal section between Invercargill and Balclutha, and the beautiful Southern Scenic Route links these two major towns. This drive would only take about 2 ¼ hours, however there are lots of spots to explore off this route, so allow 2-3 days for a first highlights look at the Catlins.
Invercargill to Catlins: It's about 35 minutes from Invercargill to Fortrose, the first real settlement in the Catlins on the Western edge.
Dunedin to Catlins: It takes an hour to drive from Dunedin to Balclutha. (East Catlins) This is the last main town before reaching the heart of the Catlins. In terms of driving from Dunedin to any main Catlins attractions, allow about 90 minutes to reach Nugget Point Lighthouse or Owaka.
If you were driving from Queenstown to the Catlins, allow about 3 hours (give or take).
Catlins Weather
Don't think that because the Catlins is at the bottom of country, that it will be the coldest place in New Zealand (common thought) We visited in the middle of winter, and while other popular spots in Queenstown and Tekapo had snow, it was 8-12C when we were here.
The weather in the Catlins can be very changeable though and rain is common. The good thing is, that these waterfall tracks are often "somewhat" sheltered by forest canopy, and the waterfalls come alive in the rain. So don't write off going outside anywhere just because of some rain.
It can be very windy here, especially on the Coast, so as always with New Zealand, keep a jacket handy.
Don't hightail it through the Catlins, find some great Catlins Accommodation
We stayed at Kaka Point so we could be close to Nugget Point (the famous Catlins Lighthouse) for sunrise. It was only a short drive back to Owaka and we explored a lot of waterfalls from here.
You may like the Whistling Frog Accommodation. They have campervan parks, campsites, chalets and motels too. This spot is very central on the Catlins scenic route and right near McLean Falls. Book this Catlins camping ground here. The Catlins Newhaven Holiday Park is also another popular option.
You can also find out some more great ideas about where to stay in the Catlins here.
Grab the Catlins Map
There's a great map of the Catlins coast and Southern Scenic Route that will help you map all your stops on your South Island Road Trip. You can download a copy here.
Fill up with fuel and food
Owaka is the main township, but it is very small. There is a 4 Square in Owaka, a small supermarket, so stock up on supplies before you arrive. Invercargill, Balclutha or Dunedin are good if you need major supermarkets.
There are not a lot of options for fuel, so arrive with a full tank. You can find fuel in Tokanui, Papatowai and Owaka.
McLean Falls, Catlins New Zealand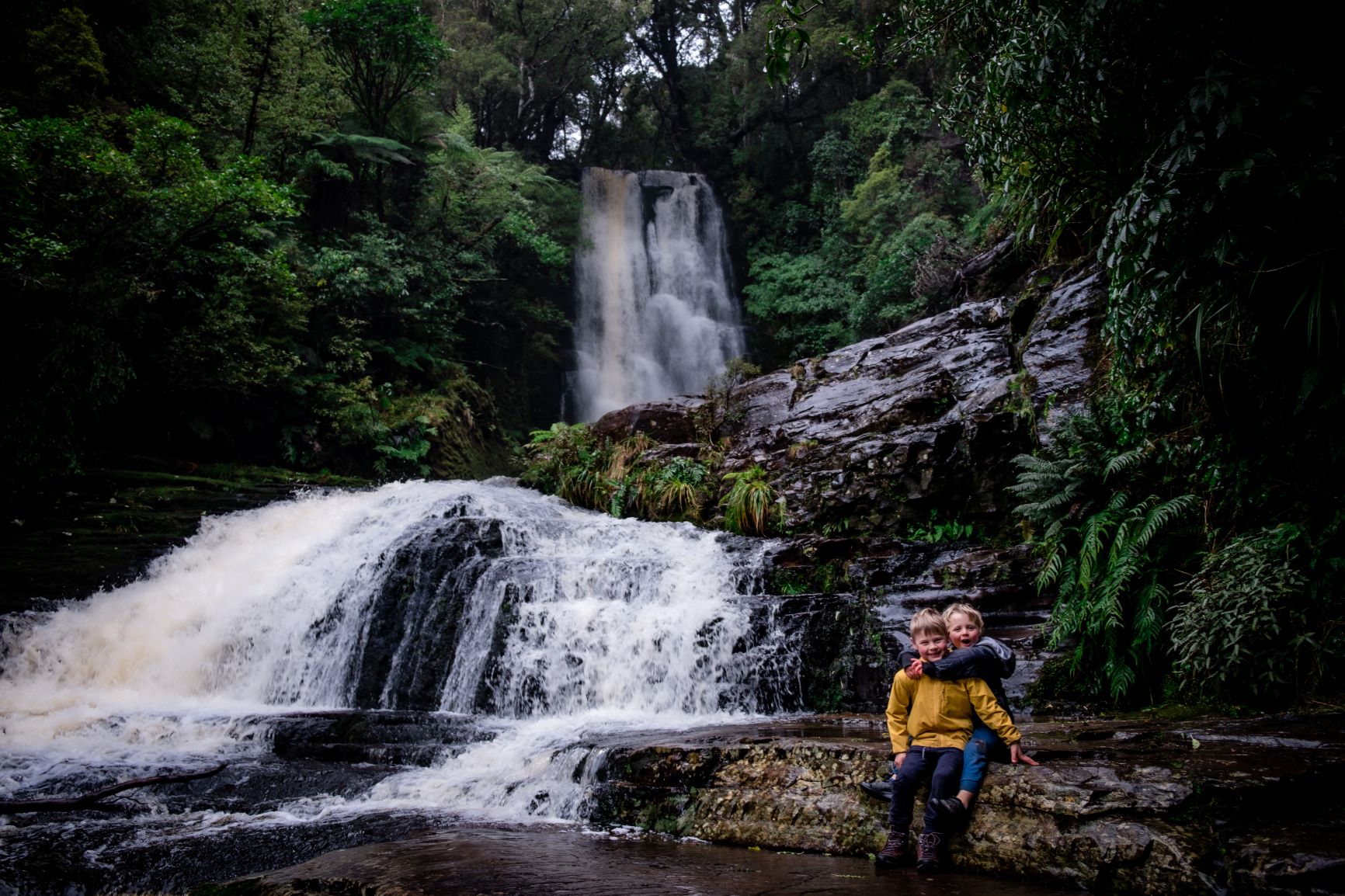 McLean Falls was at the top of my list of things to do in the Catlins, New Zealand. It is a beautiful tiered waterfall, with a few waterfalls melding into one. The tallest is 22m tall and it is absolutely stunning.
McLean Falls Walkway
The walking track to McLean Falls is a seriously beautiful bush track. If I was to recommend a short bush walk, then this would be near the top of the list. The track is well maintained and very easy to walk on. You could easily walk in jandals (flip flops) or normal running shoes, although if you want to climb on some rocks and do some exploring, I'd choose something with a bit of grip like hiking boots.
The bush track follows the river and is incredibly lush and green. You can hear lots of birds chirping away. I really feel like if you were trying to create a showpiece of bush track for someone prominent, you would make it like this.
Originally I thought the walk would be stroller accessible, but there are stairs near the end which are too awkward and slippery. Although you could just park it and carry the baby up the last way, if you didn't have a baby carrier.
How long is the walk to Mclean Falls?
The signpost says the walk will take 40 minutes return. It took us (4,6 year olds walking) about 20 minutes to meander up to the waterfall, and 12 minutes walking at a decent pace back down. So the 40 minutes is definitely generous. The waterfalls are beautiful so do allow time for photos and appreciating them. We tend to lose track of time when we are exploring.
Is McLean Falls suitable for kids?
The walk is very easy. It is mostly flat with some uphill towards the top of the waterfall. One word of warning, is that at the main viewpoint, you have access to the waterfall. It is very rocky and slippery up here, so do keep an eye on younger kids.
I had a two year old with me, but I didn't put her down to explore (being winter and also looking after the other two by myself).
Adventurous kids will love to climb up to the main 22m waterfall. You do have to scale a few rocks, but it's totally doable and so much fun! I think this is one of the highlights of the track and the kids definitely say this was one of their favourite things to do in the Catlins.
How to get to McLean Falls, Catlins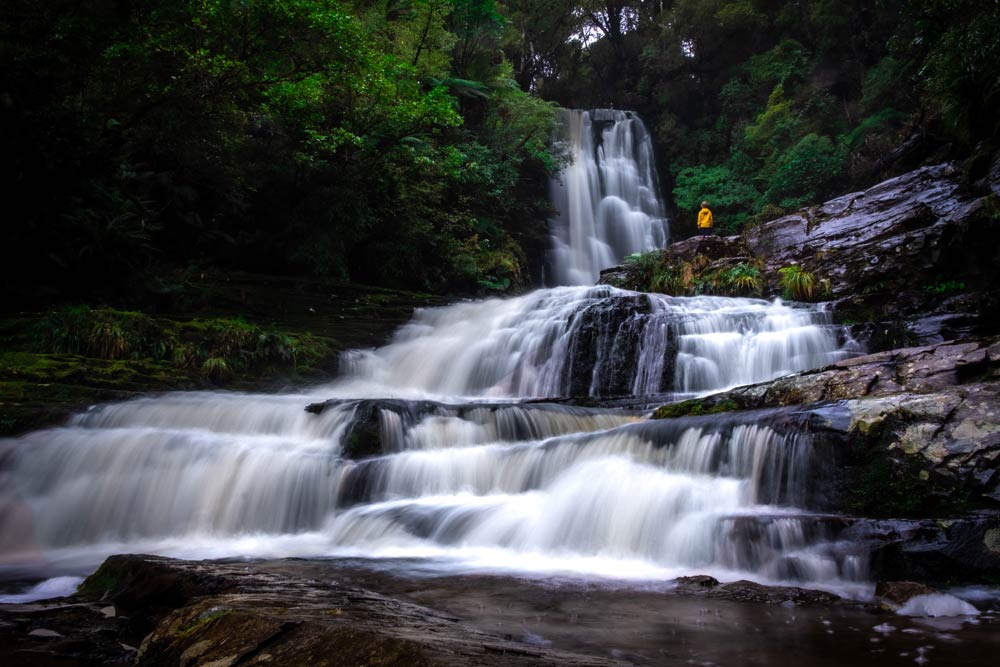 McLean Falls is located in the Catlins Forest Park, just off the main road of the Southern Scenic Route. The detour is only a 10 minute drive off the Chaslands Highway, at the end of Rewcastle Road.
It is a 40 minute drive from Curio Bay, or a 50 minute drive from Owaka, the main township in the Catlins.
Turn at the Whistling Frog Catlins Campground (Restaurant and Accommodation) and head along the dirt/gravel road to the end. The drive is easy, but be aware when it is wet and muddy, you will just have to be a little careful on the dirt. There were already signs of vehicles having put their foot down and skidding on the dirt.
Facilities at the McLean Falls Walkway
There is a large carpark area and toilets at the beginning of the McLean Falls walkway.
Purakaunui Falls, Catlins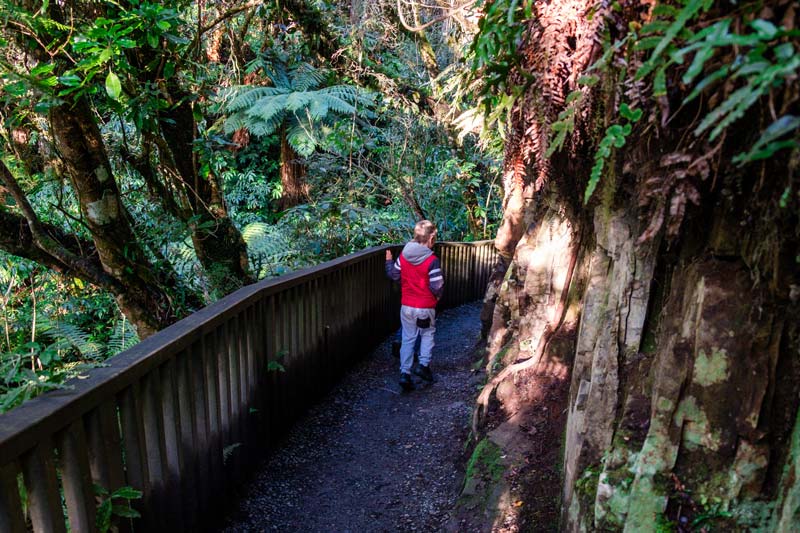 Purakaunui Falls is perhaps the most famous waterfall in the Catlins. Promotional information always talk about it being on the New Zealand stamp, and you can see why…. It's a really beautiful waterfall. You have to put this place on your Catlins itinerary.
Purakaunui Falls Walk
The Purakaunui Falls walk is an easy 20 minute return track through the bush, and down to the beautiful waterfall. Much like McLean Falls, the trail is well maintained and has gorgeous dense bush. Although this track heads down to the waterfall itself. So all the rushing water and little waterfalls you pass along the way, end up in the lovely cascade waterfall that is Purakaunui Falls.
The walk is stroller and wheelchair accessible to the upper platform, but the beauty really is at the bottom. So don't miss it, if it's possible. Head down the stairs and once at the bottom, there is a great safe viewing platform. But if you want to access the rocks and get a little closer, there are some safe places to do so (albeit a little slippery, but the adventure is part of the fun).
Is the Purakaunui Falls walk suitable for kids?
Yes! This walk is only very short, just 10 minutes each way. The track is very well formed, there's a small set of stairs that are manageable and there's a safe place for young ones to view the waterfall. My just turned 2 year old walked this with no problem at all.
How to get to Purakaunui Falls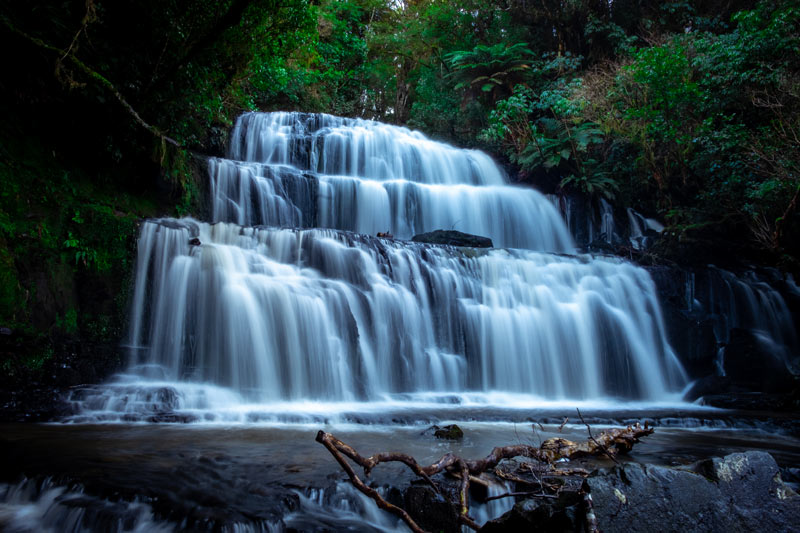 Purakaunui Falls is a little further off the Southern Scenic Route than other attractions, but is still worth the effort to get there. There are actually two points of access, whether you are heading from the East or the West, so take this into account when planning your route.
We headed in from the East, coming from Owaka. It kind of feels like you are driving into the middle of nowhere, but such is the adventure.
From Owaka to Purakaunui Falls, take Purakaunui Falls Road and follow it all the way until it is signposted. It is only a 15 minute drive from Owaka. The last few kilometres and a mixture of gravel and dirt, with a good steep hill, so just be careful coming down here when it is wet. There were plenty of campervans in the carpark, so I take it they managed it no problem.
From Papatowai to Purakaunui Falls (coming from the West) it will take about 20 minutes. We didn't drive in that way, so cannot comment on the road here (Have you done it? Let us know!).
Matai Falls and Horseshoe Falls
Matai Falls is another easy short walk and is the most well known of this list after McLean Falls and Purakaunui Falls. The 10m high waterfalls are only a 10-15 minute walk each way. Horseshoe Falls is right next door to Matai Falls, so you can easily visit two waterfalls in one go.
The Matai Falls are one of the more popular waterfalls in the Catlins, and that's easy to tell with the large car park, well-maintained track, and viewing platform. It's a 10-15 minute walk one way at most to reach them, but, there is a second waterfall called Horseshoe Falls further up the path for those who must see everything. As per most of the waterfall walks in the Catlins, you're surrounded by dense green bush.
The sturdy viewing platform is at the bottom of the falls looking up, and for the thrill-seekers, you can scramble across to the top of the falls and look down. The Matai Falls look similar to the lesser-known Koropuku Falls.
Is the Matai Falls, Catlins a suitable walk for kids?
Yes, the track is well-formed and the viewing platform is less than 1km to from the car park. The second waterfall further up the hill isn't necessary, with the track slightly more technical.
Thanks for Jub from Chur New Zealand for contributing this waterfall. We haven't had enough time to visit it yet.
Other waterfalls in the Catlins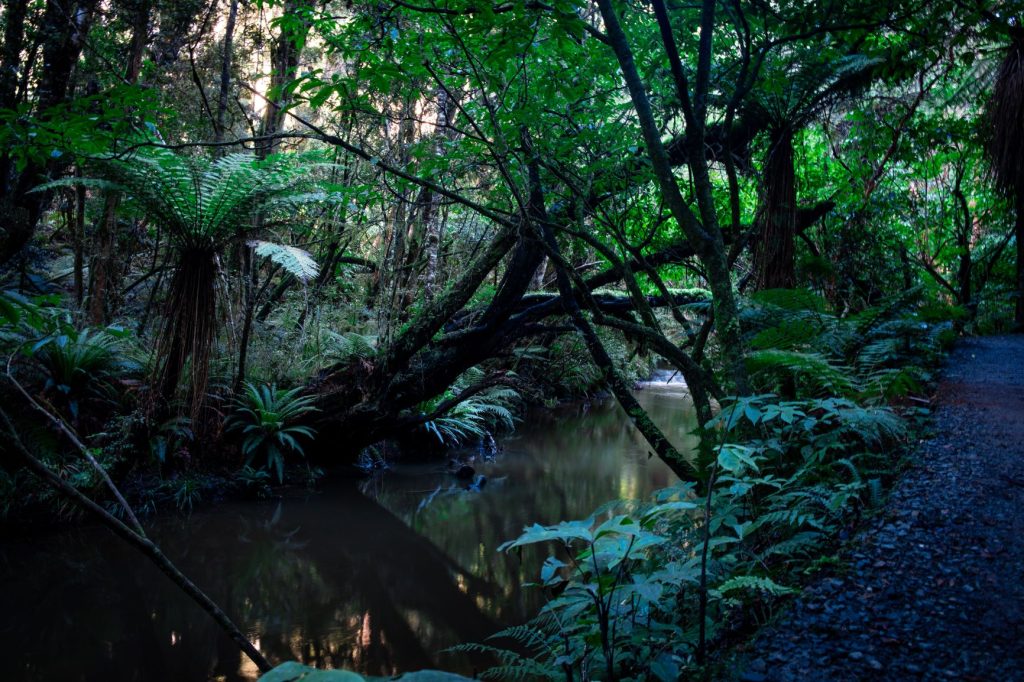 These waterfalls are smaller and not quite as grand as the first three waterfalls on the list. They are still lovely Catlins walks and if you are absolutely in love with the Catlins waterfalls, then by all means, check out these ones as well.
Koropuku Falls
Another lesser known Catlins Waterfall, Koropuku Falls is a 10m high waterfall, just 20 minutes down the road (heading West) on the Southern Scenic Route.
The track can also be quite muddy and will take about 40 minutes return. It doesn't have a DOC signpost, like many of the others. In fact, there's a lovely story about a local pair, rediscovering this waterfall and restoring the track. So keep an eye out for a smaller sign.
Of these other waterfalls to visit, Koropuku Falls would be the next one on my list.
Waipohatu Waterfall
The Waipohatu Falls Track is one of the longer Catlins waterfalls walks. This walk takes about three hours and there are two waterfalls on this trail. The Pouriwai Falls (the upper Waipohatu Falls) and the Punehu Falls (the Lower Waipohatu Falls). This is really the only waterfall walk that could be classified as a Catlins hike. The others are pretty short and the paths are very well looked after.
This tramping track can be quite muddy, so boots are recommended, and definitely a change of shoes for afterwards. The nice things about this trail is it can be walked as an out and back return track or there is an option for a loop.
The Waipohatu Falls track is about 5-6km long. We skipped this one as it had been raining and the thought of taking three kids in the mud on a longer hike didn't appeal when there were some other options. There is also 12km of unsurfaced road to read these Catlins waterfalls. Might be a great one to add to a further Catlins road trip.
Barrs Falls
Barrs Falls can be found on Barrs Falls Road, a 5 minute drive from the Catlins main township of Owaka. The Barrs Falls Track is best viewed after a lot of rain, otherwise it will be quite underwhelming.
The track is an easy five minute walk each way, but does have a few stairs, so is not suitable for wheelchairs. Also note that the turnaround point/parking area here is very tight, so if you are on a campervan road trip for example, you may want to park at the reserve and just walk down the road the last bit.
The somewhat comical Niagara Falls, Catlins
They say that Niagara Falls was named by someone with a mighty sense of humour, as in fact, Niagara Falls in the Catlins, does NOT live up to the grandeur of their North American counterparts.
Niagara Falls are barely a waterfall at all, more a set of rapids, but it can be quite fun to snap the waterfalls and sign for irony's sake. So don't go with any expectations, and don't feel this is a must stop either.
Niagara Falls is only 8 minutes from Curio Bay and the Petrified Forest heading East. You will see the signpost opposite the Niagara Falls Cafe.
Other things to do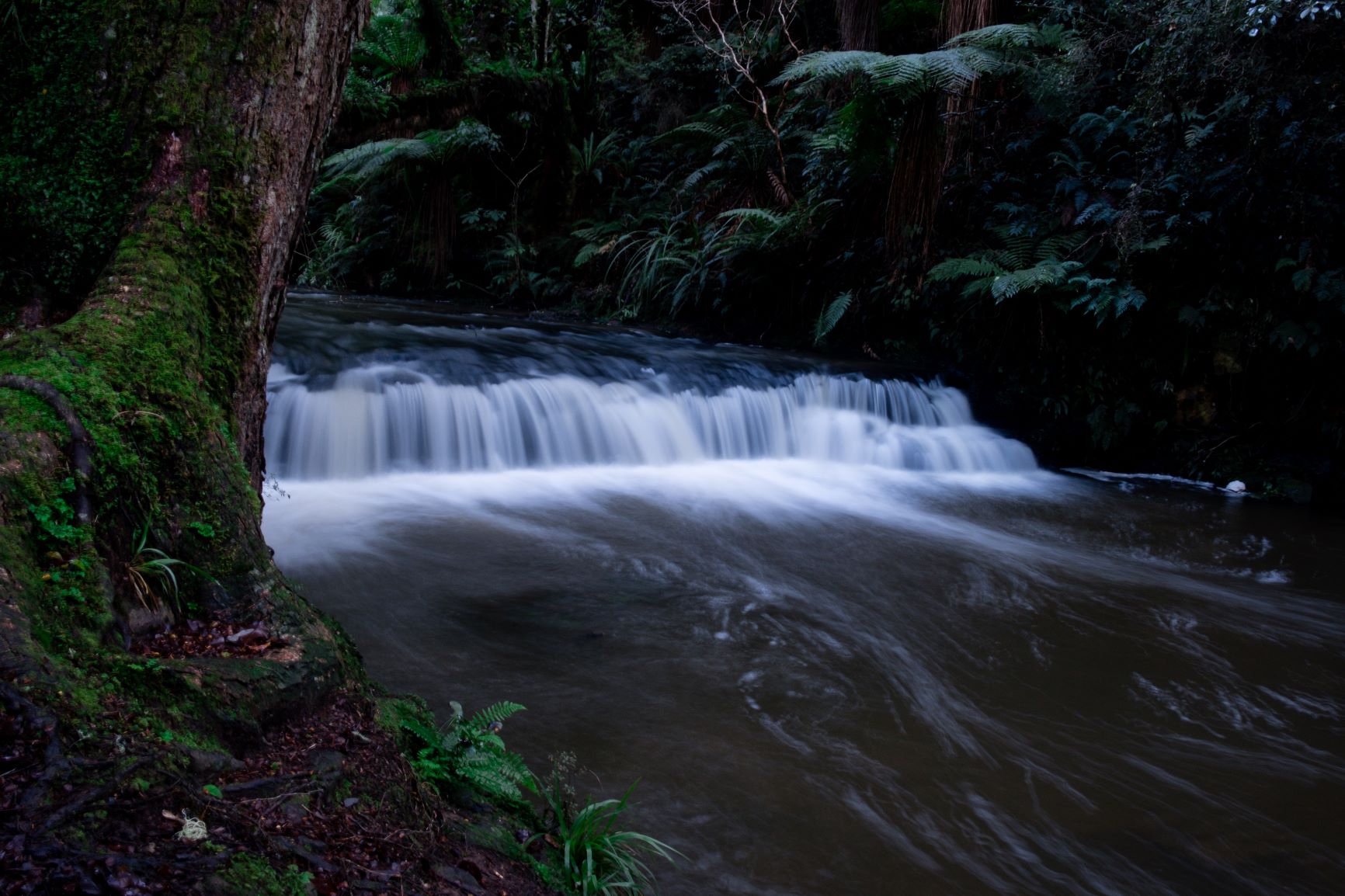 The answer to what to do in the Catlins is definitely the waterfalls. Once you have picked your favourites, you may also like to add a few of these to your list. There's actually quite a few things to do in the Catlins and all are pretty accessible and not too far off the Southern Scenic Coastal Route
Curio Bay, Catlins (the amazing petrified forest and kiwi walk)
Cathedral Caves
Jacks Blowhole
Slope Point, Catlins (Southernmost point in the South Island, New Zealand)
The Tunnel Walk
Nugget Point Lighthouse
Roaring Bay: Catlins Penguin Colony, with a great hide viewpoint
Owaka Playground, easily the best playground in the Catlins
If you are following the Southern Scenic Route, you may also like to check out these spots:
---
We know that visiting these waterfalls will be one of the best things to do in the Catlins, so make sure you let us know which is your favourite. We are always sharing more things to do in New Zealand on our Backyard Travel Family page over on Instagram and Facebook, so follow us and come and share your tips too.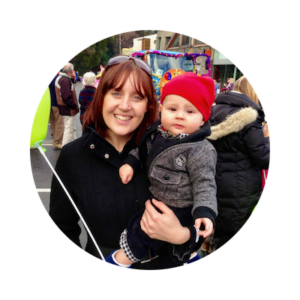 This article was originally published on backyardtravelfamily.com and was written by Jen. Jen is a super organiser when it comes to travel. Having travelled extensively in Europe and Africa, has lived in London and the USA and holidayed in many parts of Asia, she is not a newbie to the travel space. Jen has three young children, 5 and under and travels around New Zealand with them.
Photos courtesy of The Backyard Travel Family