Penguins, gorgeous views and a kid-friendly walkway
Akaroa is the largest town in Banks Peninsula and is a French settlement. Rather rare in New Zealand, you will find a number of distinctly French features in this small town, including French street names and a number of incredible French bakeries and restaurants.
While the food is good, it is the views that are the real highlight of the area. Go up high and see them from above, get in the water and see them at ground level but whatever you do, don't miss grabbing a snap of this amazing holiday spot.
How to get to Akaroa
Pick up your Ezi Car Rental from Christchurch Airport.  They are right on site, so there is no mucking around, having to shuttle your whole family to an offsite office.  We chose a Toyota Rav4 and just loved all the space in the boot for our family sized gear.  I love that the car was only 1 year old and it was like picking up a brand new vehicle.  
From here, it is just an easy 90 minute drive from the airport to Akaroa. Do make sure you allow some time to soak in the views along the way. There are some great viewpoints around the Hilltop, just past Little River, of the whole region. Then get ready to check out these awesome family friendly things to do in Akaroa
Get to see penguins up close on a Pohatu Penguins tour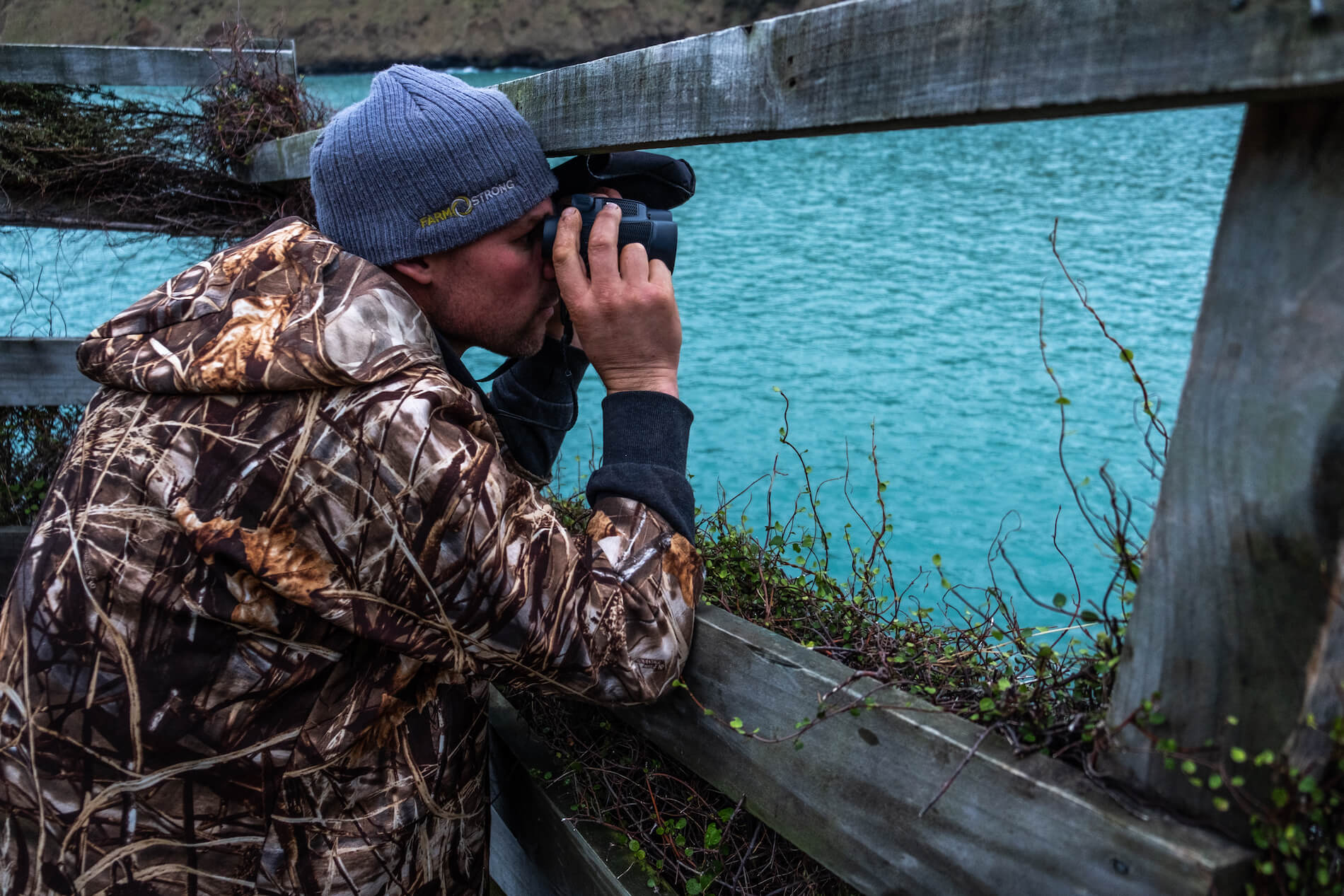 If you haven't heard of the Pohatu Penguins tour, then you're not alone. An incredible conservation project born out of necessity and championed by some incredible local owners.
The Pohatu Marine Reserve was created after realising that the penguin population was being decimated by predators such as stoats and ferrets. With the job too big for the Department of Conservation, Shireen and Francis Helps took it upon themselves to save the penguins. Their penguin conservation efforts are fully funded by the Pohatu Penguin Tours that are run regularly on their Flea Bay property.
Their signature tour is the evening penguin tour that takes about 3 hours. Our kids absolutely loved this, even in the middle of winter. The tour picks you up in Akaroa township and transports you by van to Flea Bay. Your guide will highlight some great history of the area and take a few stops along the way for some epic viewpoints.
As Canterbury locals, we often don't consider a tour, but it really was a great experience. The kids loved learning about how the area was a volcano and using the maps our lovely guide Sue brought along. There were a ton of things we learned about the area that I never would have known had I not taken the tour.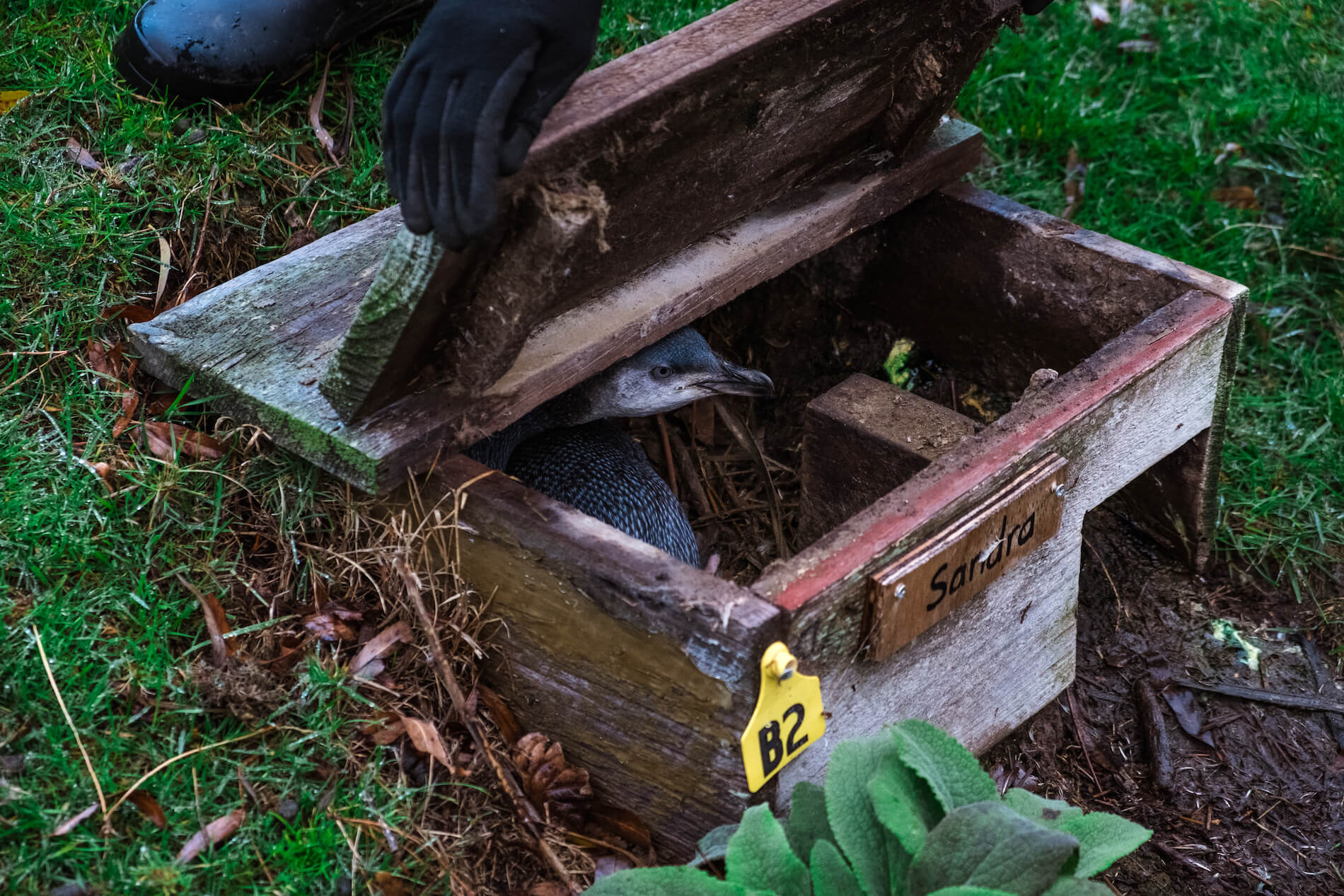 Once in Flea Bay, you get to see blue penguins and white flippered penguins up close in their nesting boxes. The guides inspect a few boxes each night and record this, but shhhh don't disturb them. Then you take a short 10 minute walk to the bird hide, where you are provided binoculars to view the penguins swimming to shore at dusk. They are hard to spot for kids, so the guide brings a large scope to make it easier for them.
If you are lucky, you may even see the penguins coming ashore on the beach as you head back to the van. We weren't that lucky, but perhaps next time.
Tips for kids:
If you do visit in winter, make sure the kids are well rugged up. They do provide camouflage fleeces, but a hat, gloves and winter jacket are necessities. It was much warmer at Flea Bay at sea level, compared to some of the viewpoints at the top of the harbour.
Pack some snacks for the ride home as its dinner time (6-6.30pm arrival back in Akaroa)
If you have older kids, you may also want to consider a kayaking tour where you will find penguins swimming in Flea Bay, or their overnight accommodation package where you can get to experience all of their tours.
The evening penguin tour was a great family friendly activity and whether your kids are young like my 2 year old (who squealed in delight… shhhh) or older, they'll definitely enjoy this close up experience.
Find a giant rhino on the Childrens Bay Walkway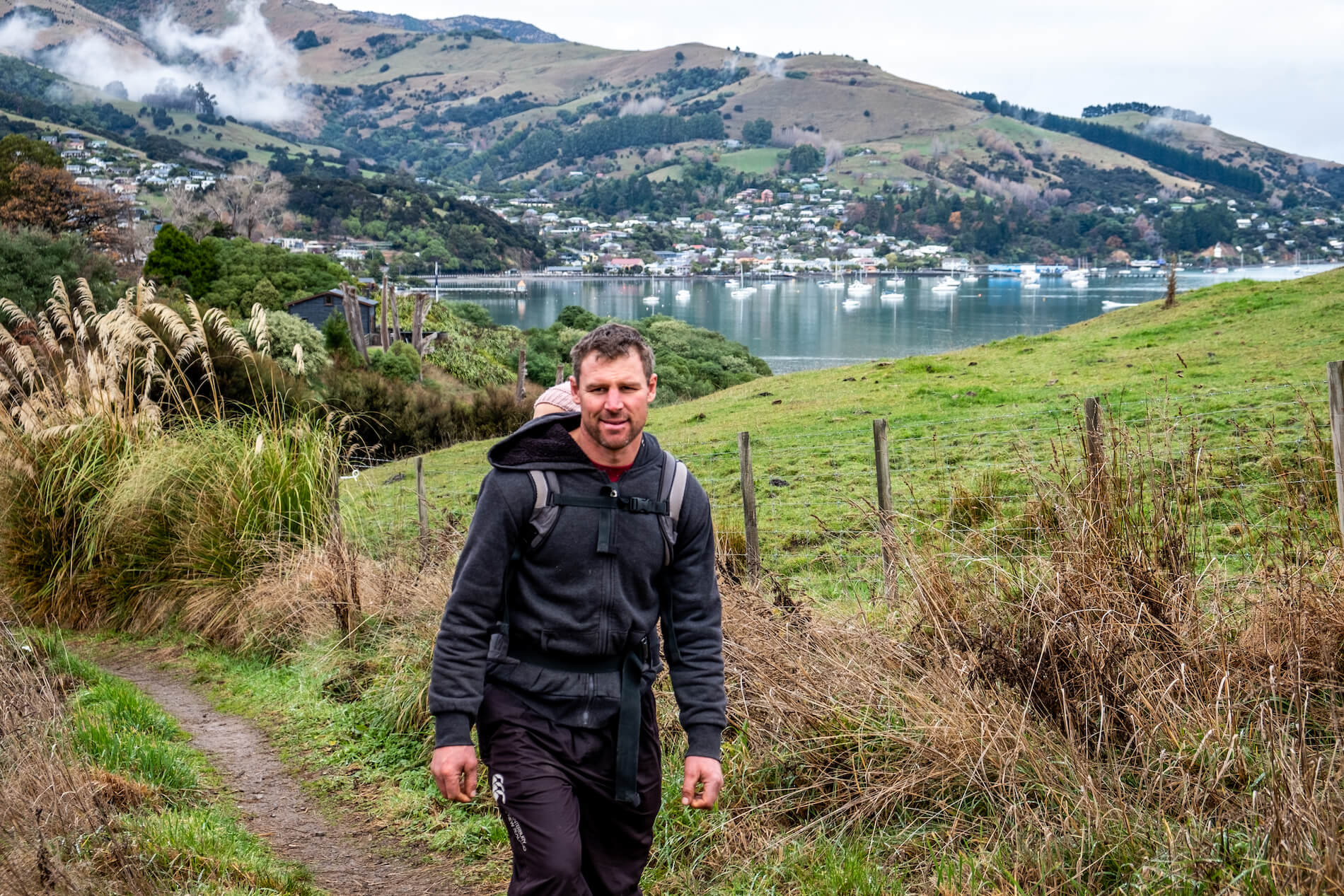 The Childrens Bay Walkway has to be the best walk in Akaroa for kids. Not only does it have great views over the harbour, there are a number of beautifully crafted animals to find. The short track to the harbour views and the giant rhino on the hill will take you about 30 minutes each way. The track is uphill the whole way, but not too steep so is great for young walkers. Do note: that it is a little slippery as it's a well worn track, so good shoes or gumboots with traction are advised if it's wet.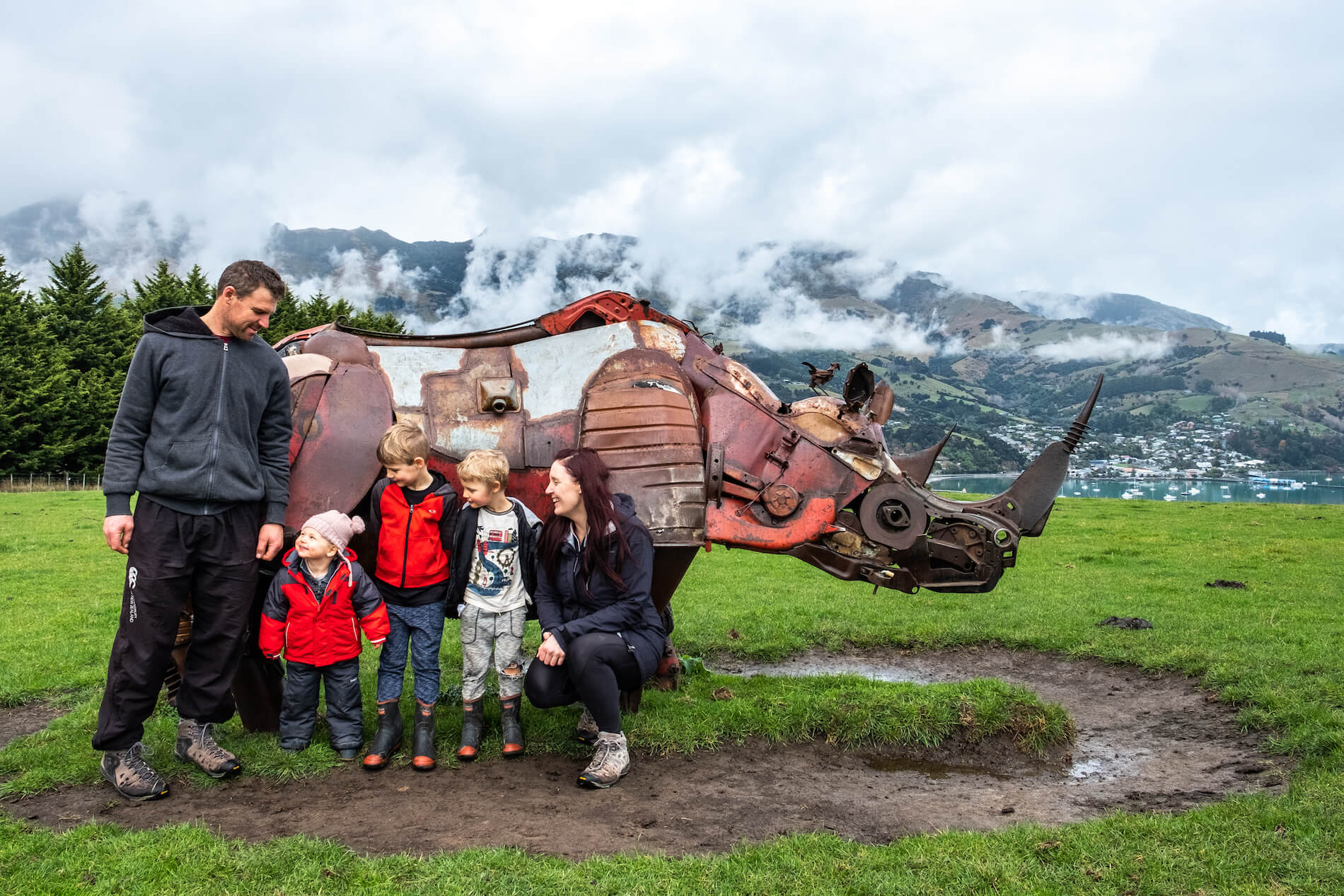 Kids should keep an eye out for an eagle, pig, crocodile, giraffes and the big rhino. A couple are quite hidden so do keep your eyes peeled. Our kids (2,4,6) loved racing ahead to see what they could find next, so you should have few complaints on this family walk.
If you want to continue on, you can take a walk up to Moa Point, another 40 minutes walk, or all around the peninsula. The full trip takes 2-3 hours and the views are just stunning.
Walk along the waterfront to the Akaroa Lighthouse
An easy thing for families is to head out to the Akaroa Lighthouse. You can drive directly to it, or you may prefer to walk. There is a footpath from the Akaroa Wharf all the way around to the Lighthouse, which is about 1.5km. This will take about 20-30 minutes depending on how fast the kids walk.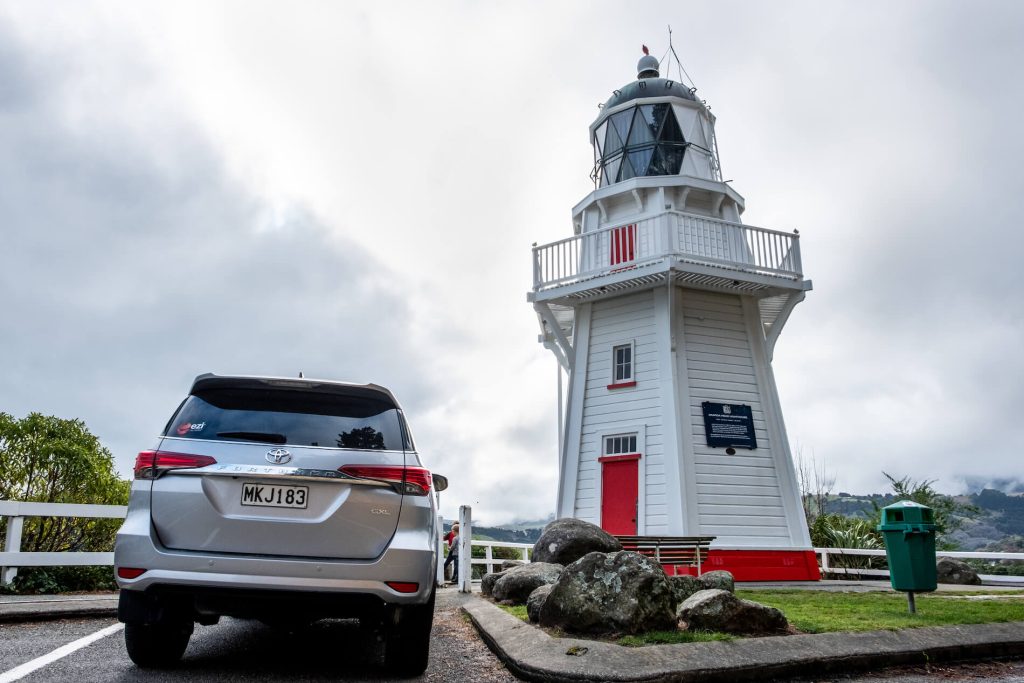 The lighthouse is a great viewpoint for the kids to spot boats and has a lovely view of the bay. The Akaroa Lighthouse has actually been relocated here from the heads and is a lovely part of the area's rich sea history.
Explore the Waterfront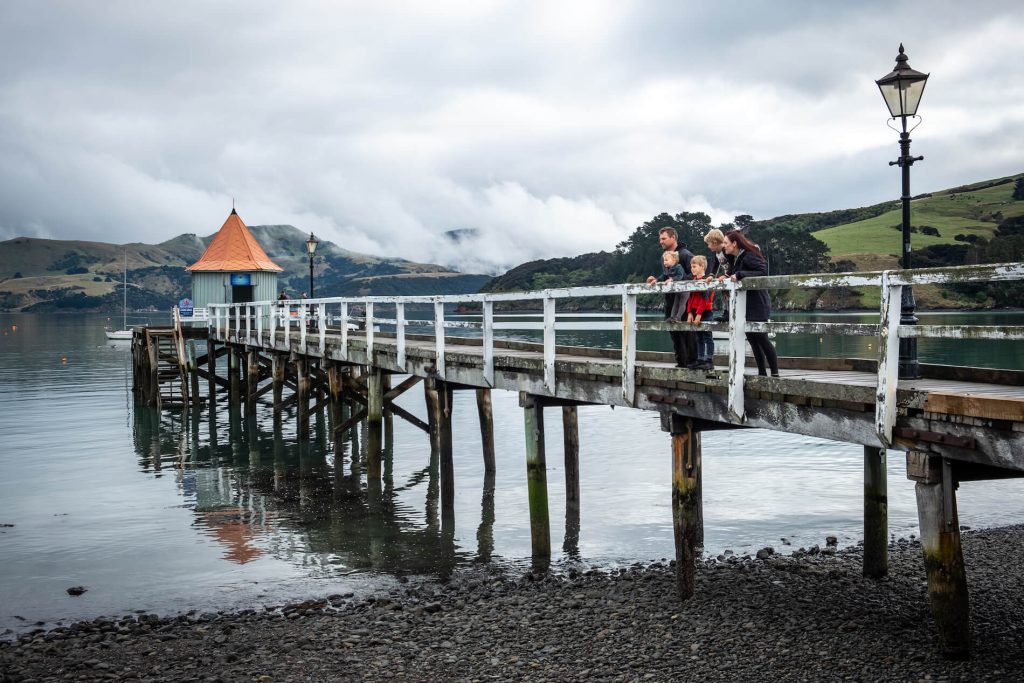 A highlight of Akaroa has to be its Waterfront. There's no better place to enjoy the sea than right by the water. Kids will love running down the wharf (carefully of course) and playing on the Akaroa Bay Playground. It is one of my favourite spots as the kids can enjoy playing while I can peacefully enjoy the view. The playground also has a very low section for toddlers which is neat.
There are some park benches here so it's the perfect place to bring a fresh croissant and a coffee and just relax and enjoy.
In summer, a great family activity is to hire a kayak or stand up paddleboard to explore the bay. A top tip for paddleboards, if you haven't tried this yet, is to get young kids to lie down between your legs while paddling. This will make it more stable.
Akaroa Museum
If the weather isn't performing, there isn't a lot to do with kids indoors, however the Akaroa Museum is a good option. The museum itself is more traditional, in that it doesn't have too many interactive things for kids, however my kids did find a few things that they were interested in.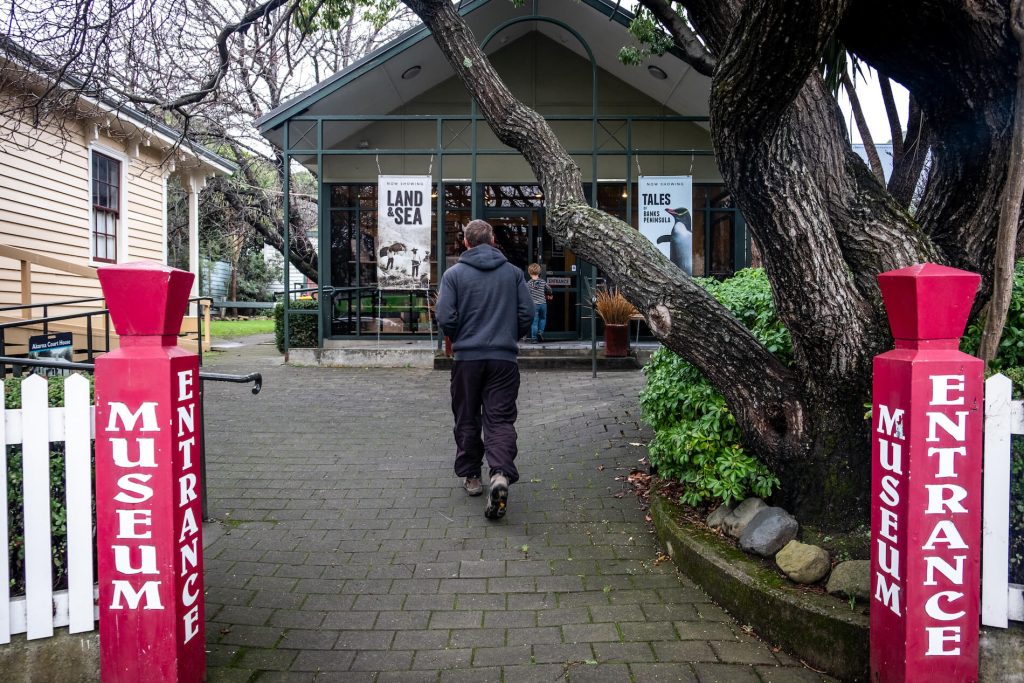 They loved looking at the old farming equipment in the rural section. There is a large tree trunk in the centre of this room that they discovered to be an old water trough. (which led to a number of discussions with their farmer dad) They also enjoyed learning about the famous Akaroa sailor, Frank Worsley, who captained Ernest Shackeltons disastrous journey to Antarctica.
Adults may enjoy exploring the colonial french cottage, the oldest and only building left standing from the French era of Akaroa. We didn't spend too long here, but it is good to learn more about the history of the area.
Find a rare Hectors dolphin on a Dolphin Cruise
One of the most iconic attractions in Akaroa is surely a Dolphin Cruise. There are a number of sailing companies who offer slightly different experiences. But in general they will offer a 2-3 hour cruise in the Akaroa Harbour and out to the heads to find the abundant wildlife in the area.
Dolphins are very common in the area, with most companies seeing dolphins in over 90% of their trips. Hectors Dolphins are the highlight here, as they are native to New Zealand and only found in some parts of the South Island. Akaroa has the highest population of Hectors Dolphins in one place. There are about 10,000 Hectors dolphins in New Zealands, with around 1000 residing in Banks Peninsula.
If you are lucky, you might also be able to spot seals, little blue penguins and a number of species of birds, including the shag.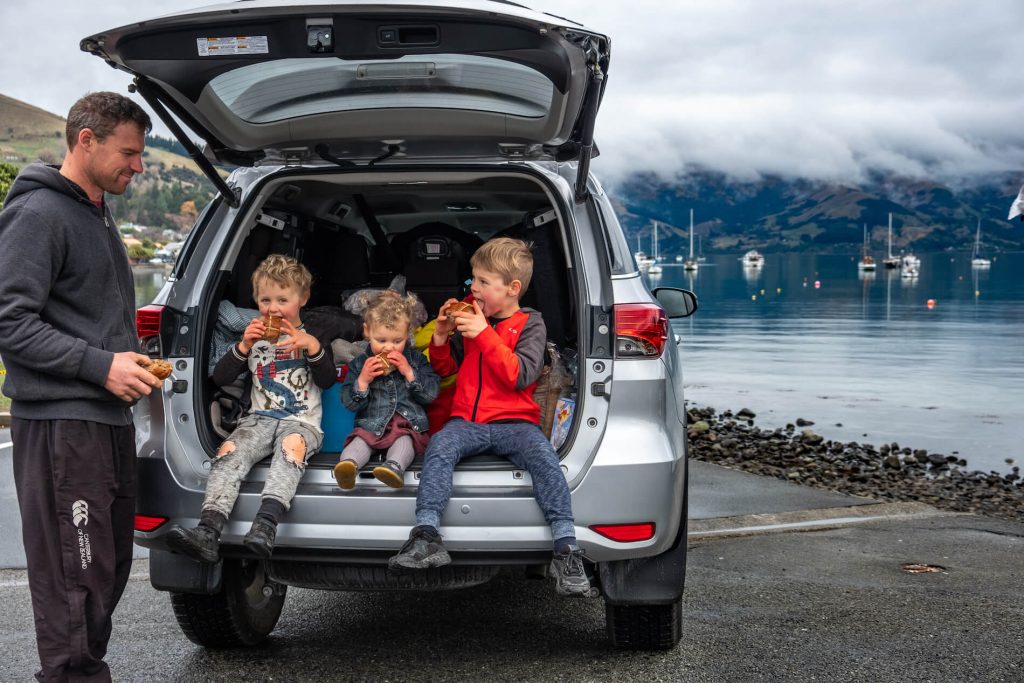 Relax at the beach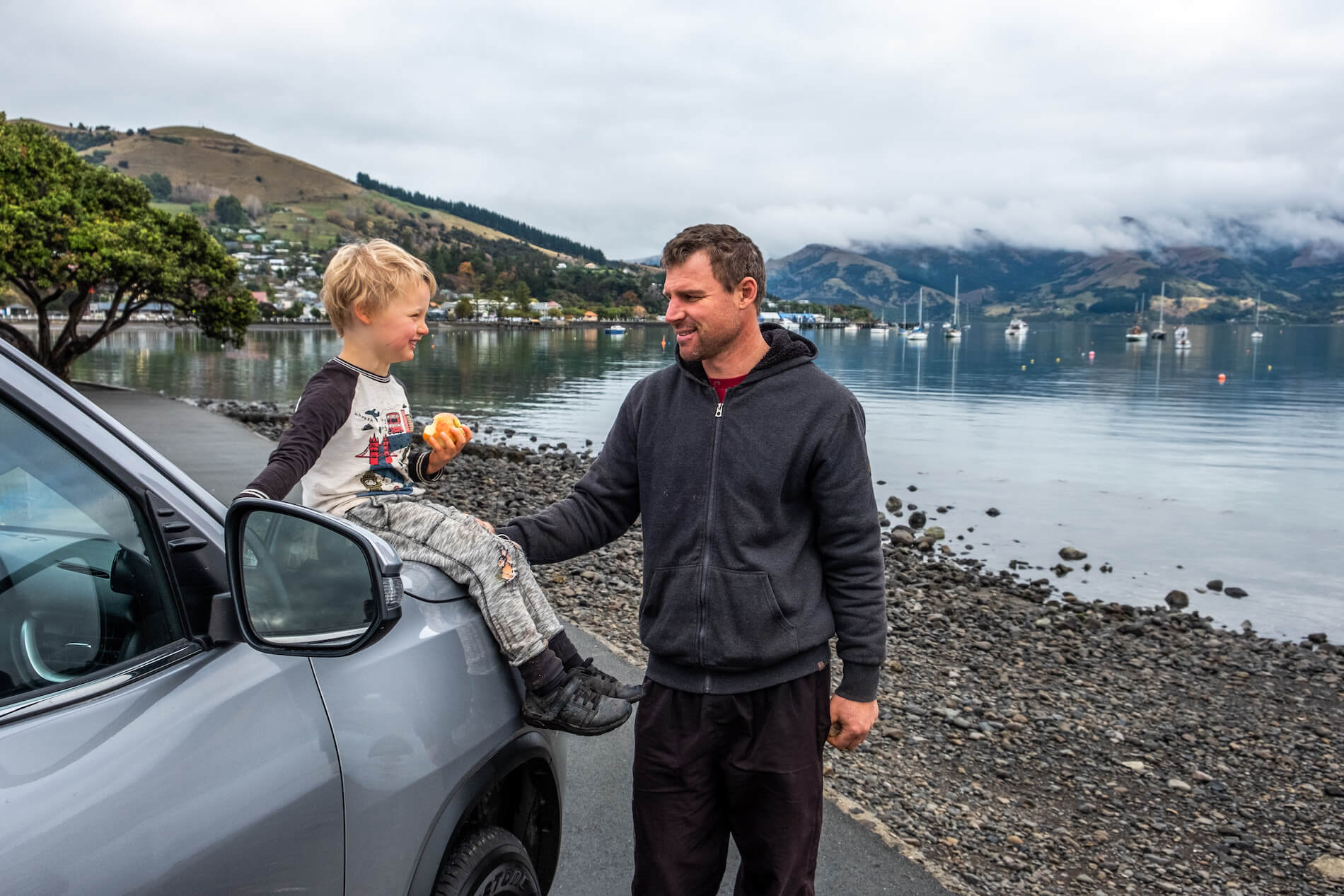 On a hot sunny day, you can't beat a beach in Banks Peninsula. While the Akaroa main beach can be a popular spot and is certainly convenient, make sure you grab the car and take a drive to explore one of the many incredible bays. Ditch the crowds and go exploring.
If you aren't sure where to try first, head over to Le Bons Bay. It is a popular little bach site and has a great shallow beach for the kids to play in. The drives up on the summit road are steep and windy, but you will be well rewarded with those epic Peninsula views.
Find crabs on the seashore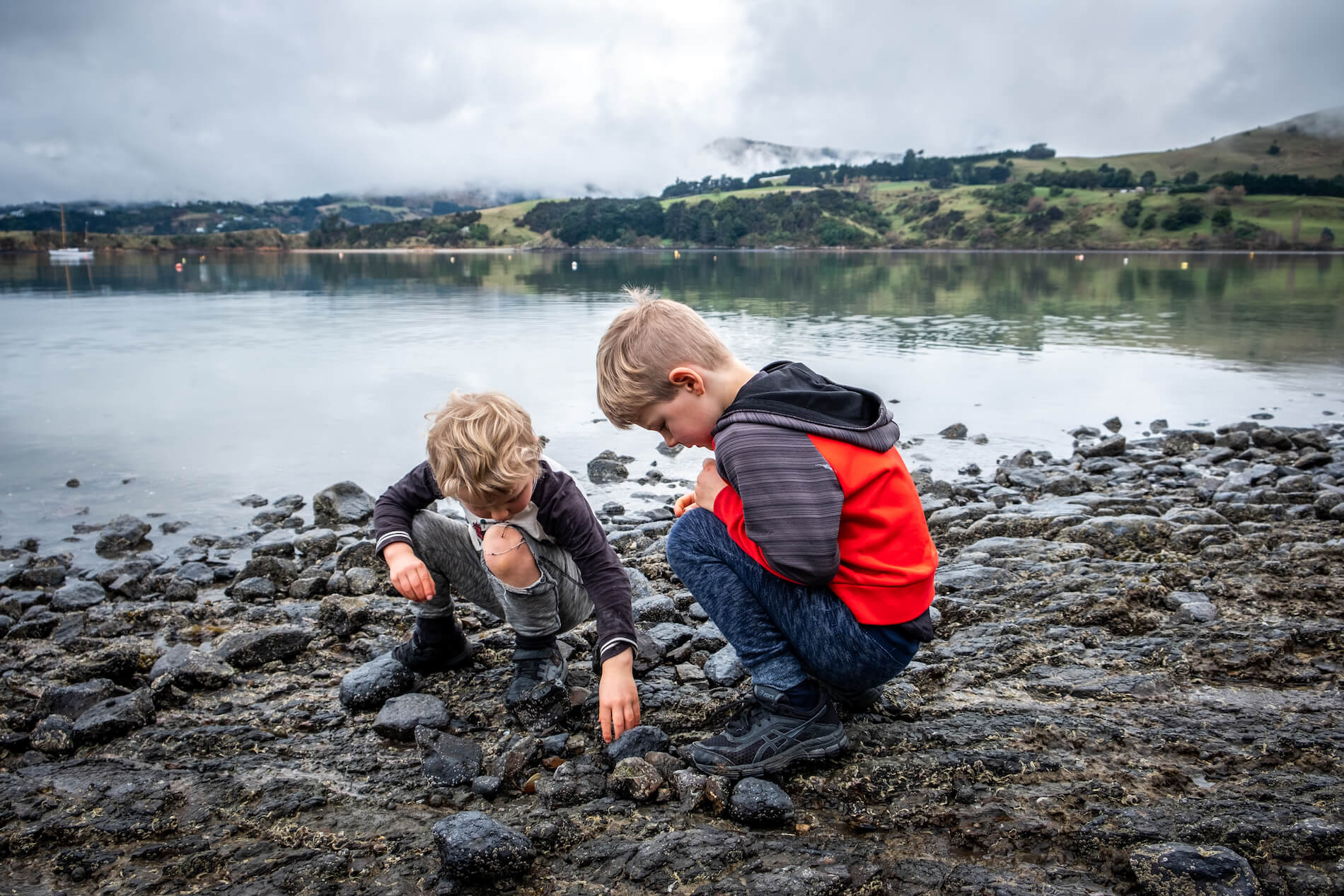 Wildlife is abundant in Akaroa and even the smallest of creatures can be found if you go looking. Despite some amazing views and great experiences, one of the kids highlights was exploring the shoreline and finding lots of crabs scuttling around under the rocks.
We explored Takamatua Bay and found lots of little sea creatures in the rocks at low tide. Sometimes it's the littlest of things that capture the minds of young ones.
---
Akaroa and Banks Peninsula is a great family destination. Not only is it awesome for beaches and bays to explore, you can see some incredible wildlife that is really quite special. So grab an Ezi vehicle from Christchurch, head on over and enjoy!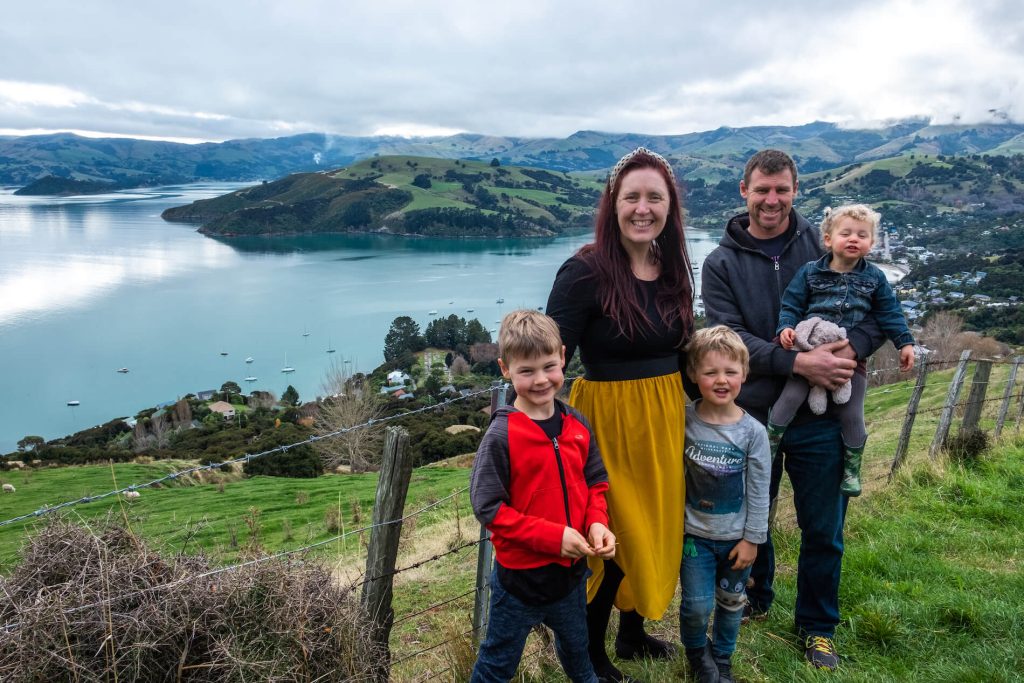 ---
This article was written by Jen from backyardtravelfamily.com. Jen is a super organiser when it comes to travel. Having travelled extensively in Europe and Africa, having lived in London and the USA and holidayed in many parts of Asia, she is not a newbie to the travel space. Jen has three young children, 5 and under and travels around New Zealand with them.
Photos courtesy of The Backyard Travel Family.