New Zealand's Stairway to Heaven on the Te Araroa Trail
The Paekakariki Escarpment Track is part of the Te Araroa Trail: The Walkway covering the length of New Zealand. Pretty cool huh? You can actually walk from the top to the bottom of New Zealand. Fortunately with this track, you don't have to walk for quite as long and it's a must do Wellington walk.
Easily one of the most scenic things to do in Wellington, this walk's highlights include epic coastline views, two amazing swing bridges and an adrenaline inducing stair climb. On a good day, you can see all the way to the South Island.
This track, also known as New Zealand's Stairway to Heaven, is still a relatively new track, opening in 2016. I used to live in Wellington and this trail is a short drive from our old house, but it didn't exist when we lived here. So on a recent visit to Wellington, it was at the top of my bucket list as it is one of the most beautiful walks in Wellington.
The Paekakariki Escarpment walk is 10km track that runs from Paekakariki to Pukerua Bay (or the reverse) It could easily be described as your classic bell curve… 2km of flat ish walking at either end and some hilly bits in the middle.
It isn't a particularly difficult walk, with the peak of the walk reaching 220m, but it is undulating and you walk up and down a wee bit. So you will get a sweat up and it is a bit of a workout. Our kids (4 and 5 years old) who are used to walking for a few hours uphill had no problem with this track. To be honest, they found the flatter section harder as there was less to look at and take their interest.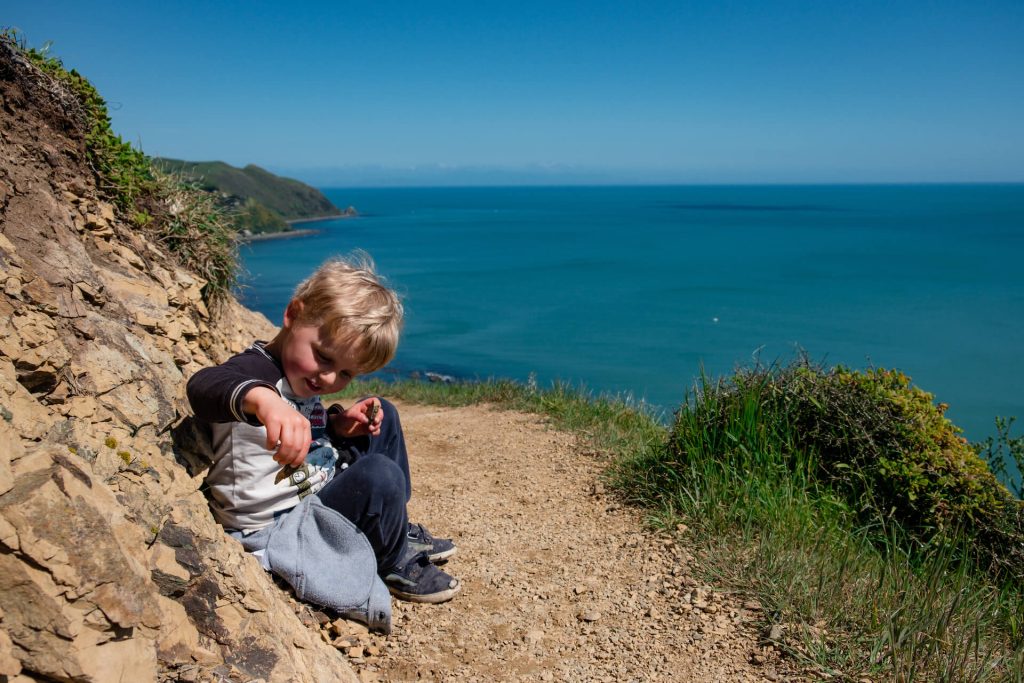 What direction should you walk the Paekakariki Escarpment Trail?
You can walk the Paekakariki Escarpment Trail in either direction. We came across a lot of people walking, and it was about 50/50.
We chose to walk from Paekakariki to Pukerua Bay (north to south) as it put the really steep part of the climb nearer to the beginning of the walk (ie. most of the stairs) and left the fun swing bridges to the last third of the walk. With kids, I always find having a good incentive is extremely useful and two big swing bridges were definitely a highlight for the boys. There is also a playground at the Pukerua Bay train station which is a good treat at the end.
If you chose to walk from Pukerua Bay to Paekakariki, you would have the swing bridges near the beginning, undulating through the forest, then the big steep hill to the summit of the track, before heading steeply down the stairs. I believe there are more uphill stairs from this direction, but don't ask me how many. Our 5 year old chief stair counter got a little distracted on the way.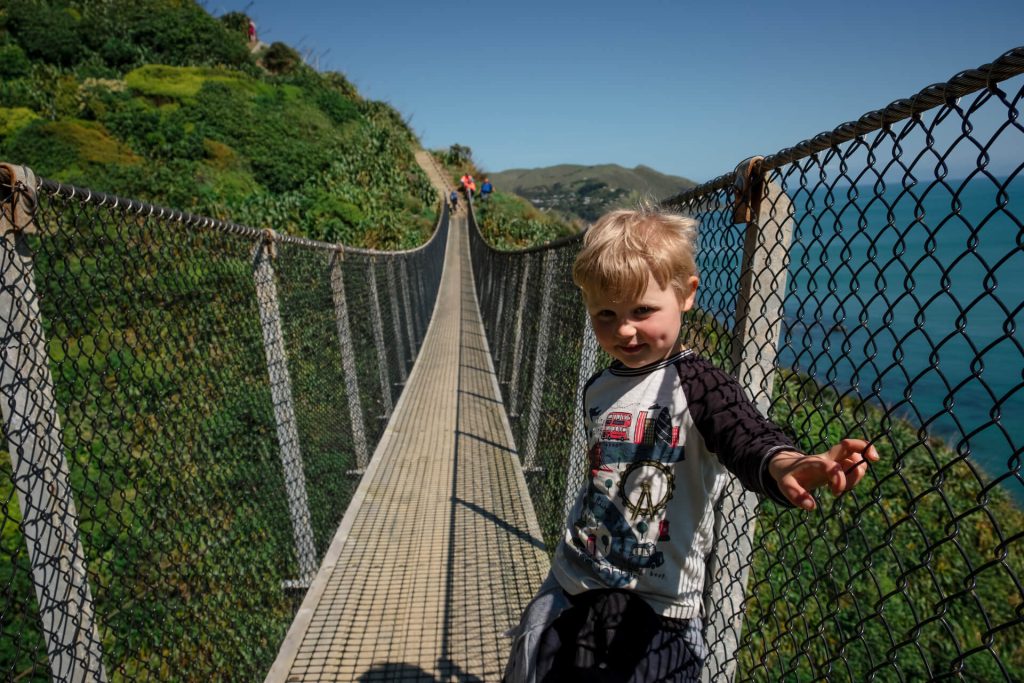 How to get to the start of the Paekakariki Escarpment Track?
You could drive or take the train to reach the Paekakariki Escarpment Trail. The train stations are actually the start and terminus of the track itself and is built to be used with public transport. You can take the train to one train station, and jump back on board at the other end.
Driving to the Paekakariki Escarpment Track
If you choose to drive, you can park at one train station, then take a train back to your car so you don't have to turn a 10km walk into a 20km walk.
Taking the train
You will want to make it to the Kapiti line (which runs from Wellington to Waikanae) Both the Paekakariki Train Station and Pukerua Bay Train Station are on this line. From Wellington Station to Paekakariki, the train journey will take just over an hour.
Buying tickets for the train.
You can buy your tickets on the train, just make sure you have cash with you. Otherwise you can use credit cards and EFTPOS at the stations. Be aware that not every station has a ticket office, and many are closed on Sundays (or all weekend) To find out more information about planning your train and bus journey, click here You may find that purchasing a day pass such as the Metlink Explorer is cheaper than individual return tickets. For example a day pass from Wellington City to Paekakariki (as at 1 November 2019) is $20 return. The pass can be used after 9am (ie peak morning traffic) during the week and all day on weekends and public holidays.
Do note: that particularly during weekends, the trains may only go every ½ hour or hour, so more infrequent than other major cities around the world. So do be prepared for a wait and check the train time table.
If you are going to be taking a bus journey as part of your travel, or you will be taking buses a lot on your trip, it may be worth picking up a Snapper Card. It costs $10 to purchase, but will save you 25% on bus fares and is very easy and fast to use. It can be purchased online and mailed to you, or you can buy one at a retailer (such a train stations, airports, corner stores, libraries etc.
Starting from Paekakariki Train Station (by car or train)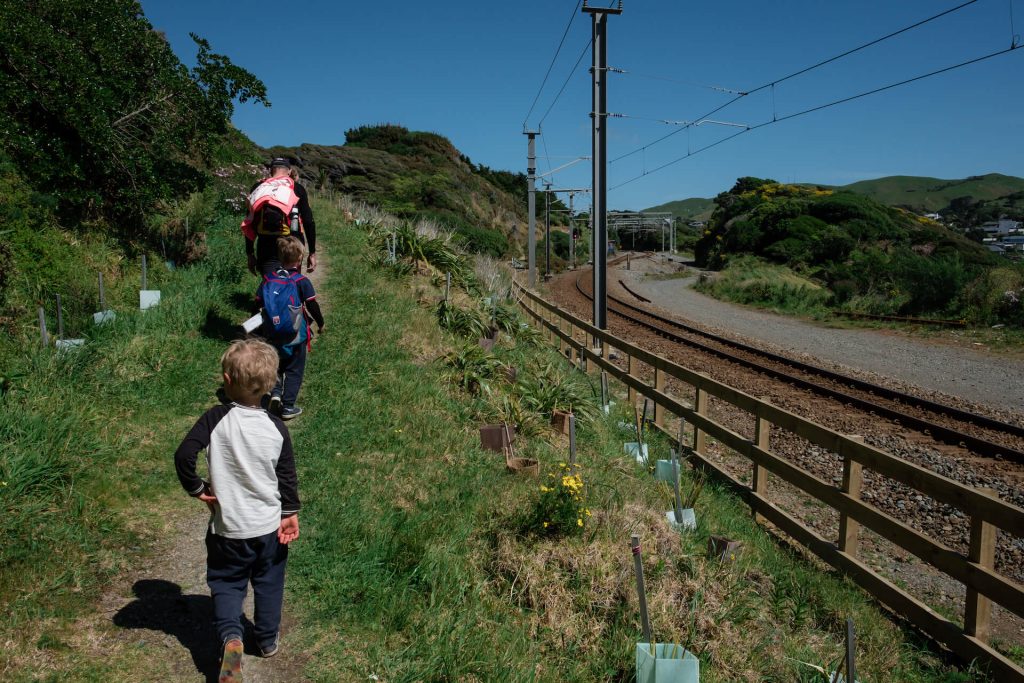 If you have a car, you can drive to Paekakariki train station and park there for free. There is plenty of parking here. Technically you could park in other neighbourhood streets, but there are signs asking you to leave this for residents. It is only such a small place, not even really a town, so do be courteous of the locals.
Or if you have taken the train, then just hop off!
You will have passed the little Paekakariki township when you drove in or passed in on the train. There is a cute cafe called the Perching Parrot that is a popular spot for cyclists, so pick up your coffee for some energy before you go. Note: Public toilets are on the corner of Ames Street and Beach Road. There aren't any toilets on the track.
Head up Beach Road (the main road with the cafe) and turn left into Ames Street.
Walk all the way to the end of Ames Street and you will hit the main highway.
Turn left, cross over the bridge, and take a hard left after the bridge. The little trail will go under the bridge and you will be at the start of Paekakariki Escarpment Trail.
When you look on Googlemaps, you will clearly see a gap between Ames Road and the trail. This is a major highway so don't even think about crossing it here.
How long does it take to walk the Paekakariki Escarpment track?
The official track information suggests this trail will take 3-4 hours to walk. This is a fair assessment, but for those with younger children, it will take longer. It took us 4 hours and 45 minutes, including a 30 minute stop for lunch. So that is just over 4 hours of walking with some snack and water breaks along the way.
The whole trail is 10km long. I would say the trail is 2km of relatively flat walking on either end and 6km of undulating track in the middle section.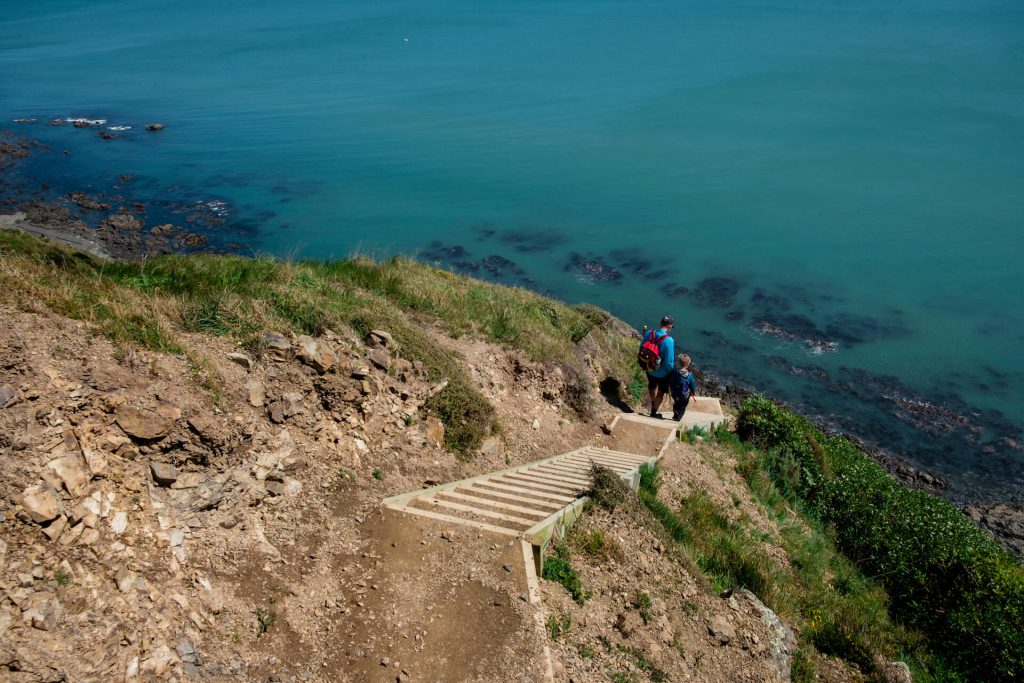 What about the weather on this track?
My biggest piece of advice is to do this trail on the day with the nicest possible weather, and preferably with the least wind. The track is extremely exposed, as you walking along the side of a hill, and your only reprieve is on the forest sections. If you are have done any research into Wellington, ie. Windy Wellington, you will know that gale force winds are not uncommon. So do check the weather and I wouldn't even attempt this with kids if its a windy day.
Safety on the Paekakariki Escarpment Track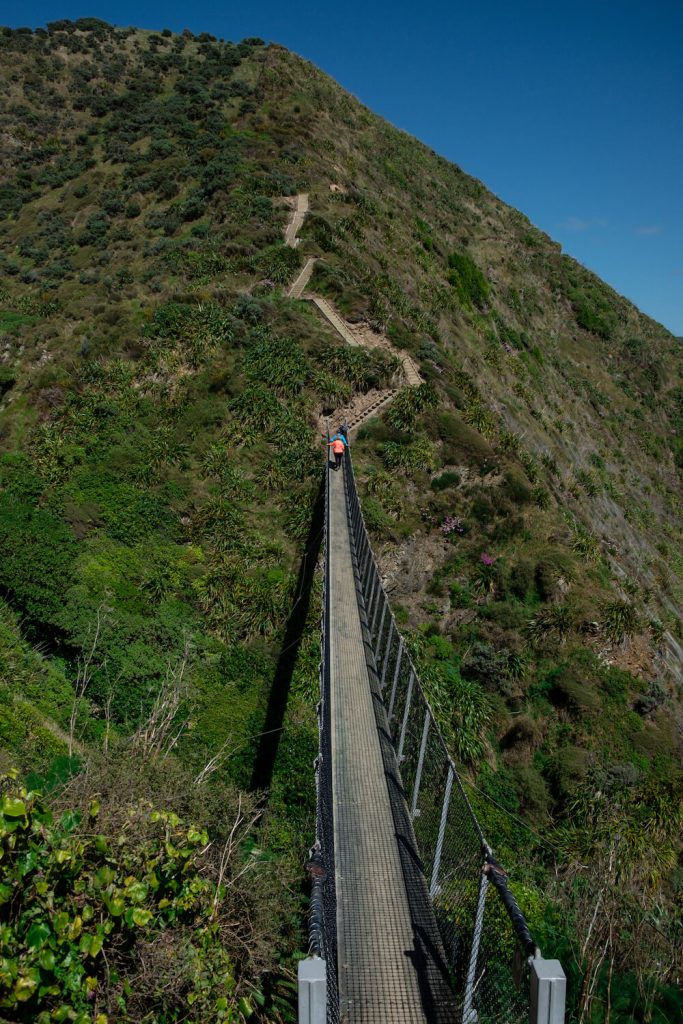 There are signs that say this track is not for young children and I completely agree. There are many stairs, all without rails and narrow tracks so if you want to take toddlers along, put them in a backpack.
Depending on your definition of young children, I felt this was suitable for my kids. My just turned 4 year old was fine going up the hills and stairs, but we kept a really close eye on him going down, having an adult in front, and often with his hand held. We did actually heed advice from the warnings and we took along some extra adults, just in case.
If you suffer from vertigo or problems with heights, you may want to consider other options. Coming down the stairs you realise how steep there are and you get a lovely view of the water below. But you are up high and one of our companions (adult) was less than thrilled with these downhill sections, or the swing bridges.
The swing bridges were very safe and you can see in the photos that the edges come up really high, so there is no risk of falling here. Kids will love the swing bridges and I found these ones to be extremely secure. They did move in the wind a bit, but it is a swing bridge, they swing.
As mentioned above, the track is very exposed to weather, including wind, rain, cold weather and hot! A still summers day would be extremely hot on this trail, so make sure you have appropriate clothing and like a good kiwi, bring your layers (It's always four seasons in one day in New Zealand).
So, what was the walk like?
First Section (<1 hour)
From Paekakariki Village to the start of the main stairs and real uphill, it took just under an hour. Do note, the kids are not very quick on the flat, so adults will do this easy section must faster. This section was mostly flat, with some undulating sections, but not too difficult at all.
Stair Section (<1 hour)
The stair section took just under an hour, with 2 x 10 minute breaks along the way. The kids were fine, this was mostly for Grandad who was completely his first walk of the year (in October – sorry Grandad) The stairs are quite steep but don't forget to turn around and look how far you have come. Steep stairs mean you make progress really quickly and the coastline is incredible.
It didn't feel like it took that long actually, although we had come off some longer hikes recently so were surprised to make the summit so quickly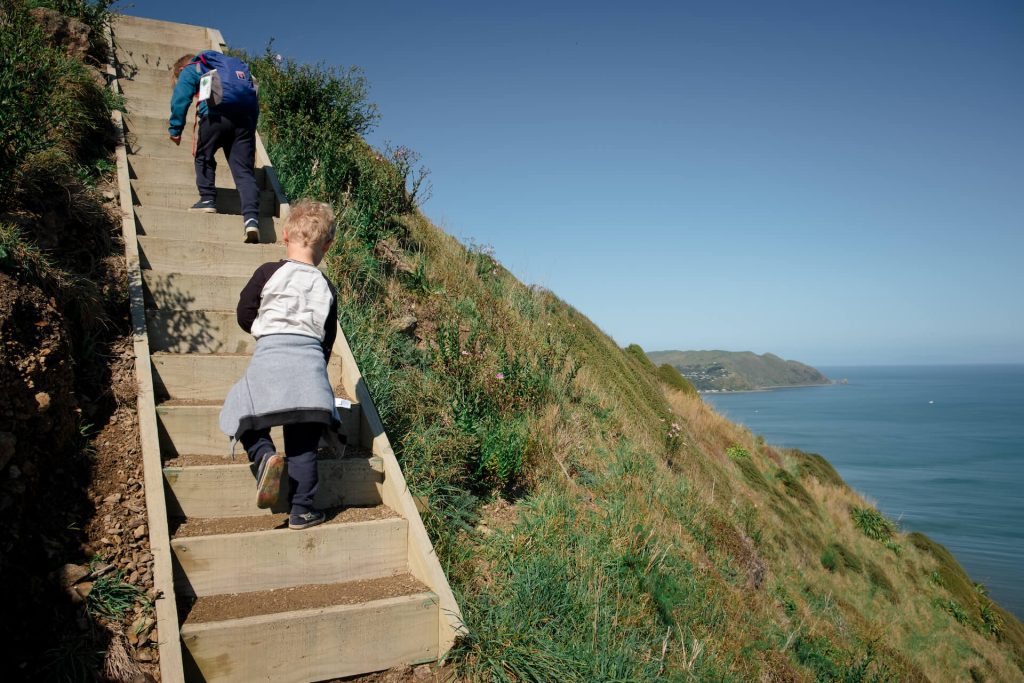 The Summit
The summit of the Paekakariki Escarpment Track isn't exactly marked, but you will notice it has a number of benches to rest on. The summit is just under 5km from the start. We found the 5km marker as we headed downhill from here.
Downhill, Swing Bridges and Forest (2.5 hours with lots of photo stops)
After the summit, you head steeply down a few hundred steps, but it is not downhill all the way to the finish. It is undulating and will head through the forest which makes a lovely change of scenery. But don't worry, the uphill sections are short and nothing like the few hundred stairs you have climbed already.
After 40 minutes we reached the first swing bridge and another 15 minutes later you will hit the second swing bridge. Depending on how long you stay to play or take photos of the swing bridge, it will be about an hour from here to the train station.
The track will go past an old train station, will cross Muri Park and head back along the streets, right to Pukerua Bay Train Station. Don't worry, the track is all signposted along here, but just keep your eyes peeled.
And there you have it! You made it to the end of the 10km walk and to Pukerua Bay Train Station. There is a playground here that was a great reward for the kids at the end. If you are after a well deserved ice cream, you can find a dairy (corner store) closeby. Head over to the other side of the railway tracks, and out to the main road, where you will be able to see it on the far side of the road.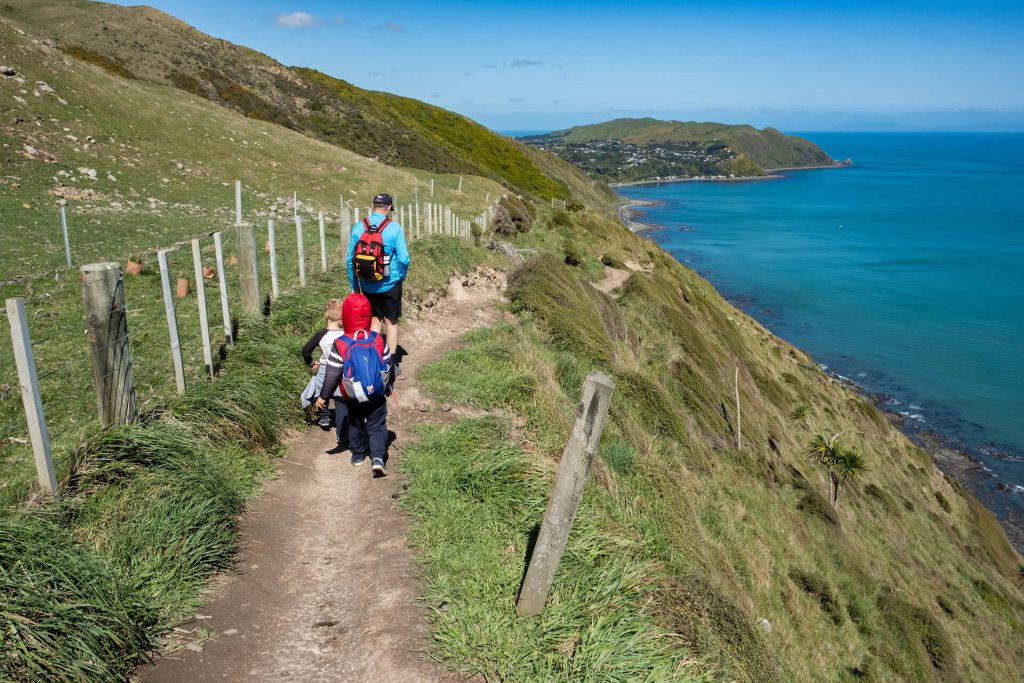 Walking from Pukerua Bay to Paekakariki on the Te Araroa Trail
If you are interested in walking the track in the other direction, you reverse our instructions. The good thing about walking this way, is that when you make it to the summit, it will be all downhill then flat back to Paekakariki.
To get more specifics on the trail, you can look up the Te Araroa Trail Map which also comes in a downloadable section for you to take along your walk with you.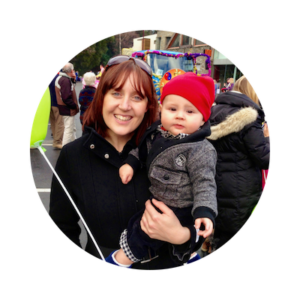 This article was originally published on backyardtravelfamily.com and was written by Jen. Jen is a super organiser when it comes to travel. Having travelled extensively in Europe and Africa, has lived in London and the USA and holidayed in many parts of Asia, she is not a newbie to the travel space. Jen has three young children, 5 and under and travels around New Zealand with them.
Photos courtesy of The Backyard Travel Family