Exploring a slot canyon with The Backyard Travel Family
Unique Rock Formations at the Omarama Clay Cliffs
The Omarama Clay Cliffs are a unique collection of rock formations with a slot canyon to explore, about 25 minutes drive north of Omarama. I have driven past the sign about half a dozen times and after failing our last mission to check them out (kids all asleep in the car) we finally made it. And we were not disappointed. It would be a great stop on the way from Oamaru or Christchurch to Queenstown.
The clay coloured cliffs reminded me of church organs, all different sizes poking out so tall and majestic. As we drove up to the carpark, the sight of the cliffs really did make you say wow! It's hard to describe the grandeur and size of the cliffs without seeing them for yourself, in real life.
---
How were the Clay Cliffs formed?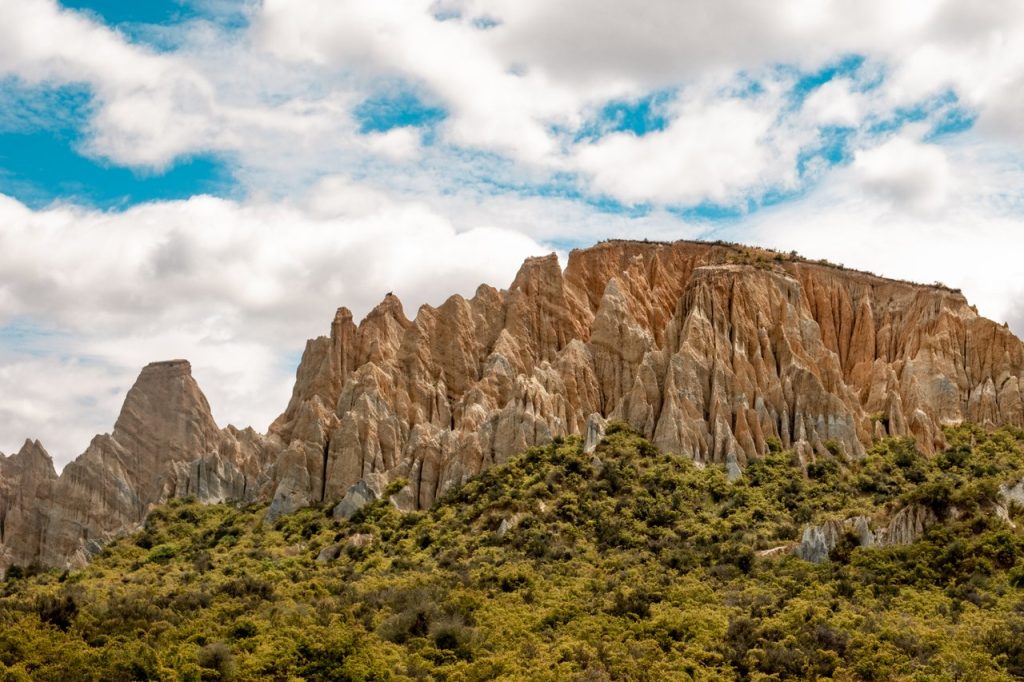 If you are wondering how the Clay Cliffs were formed, then you wouldn't be the first one to ask that question.
In a simplistic version (ie. the kids version) this is what happened:
The land was originally gravels and silts, river and lake deposits made over millions of years.
These were then compressed over time (smooshed down hard like you pack in sand into sandcastle bucket)
In earthquakes (in the nearby huge Southern Alps fault) the land rose up.
With erosion over time, the Clay Cliffs were formed.
You can see all the layers from the original silts and gravels etc.
---
Exploring the Clay Cliffs with kids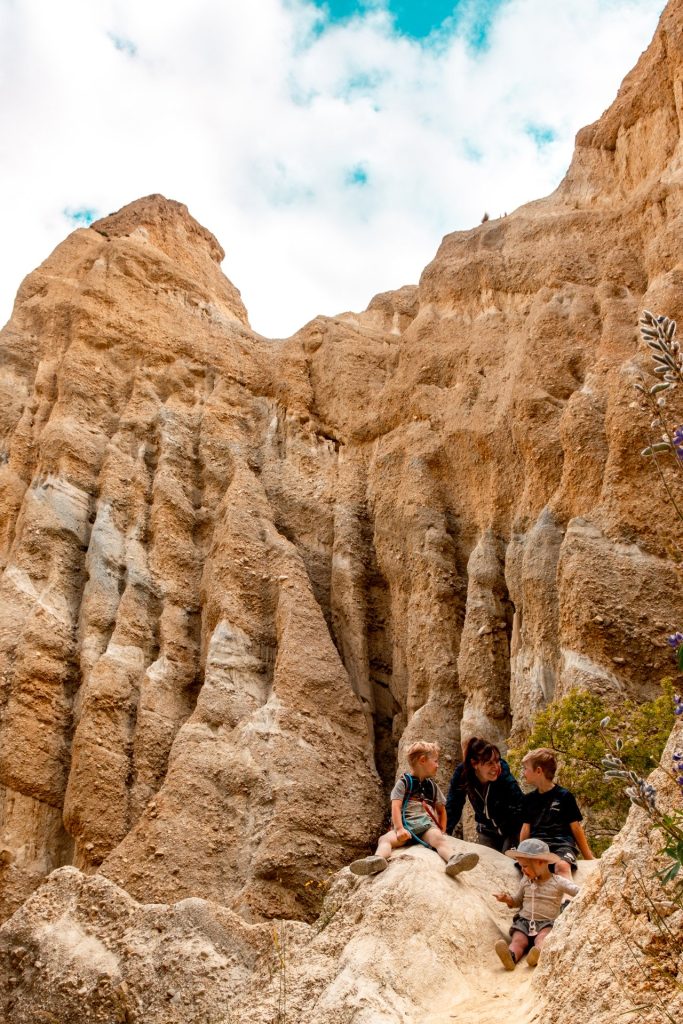 The walk to the Omarama Clay Cliffs is an easy 500m walk. As you walk along the dirt track, you can also look over the views of the Ahuriri River. The braided river and the vast deserted land reminded me of scenes we had seen in Africa. After driving past much farmland all across New Zealand, this "desert-like" setting was an unusual yet interesting site.
Once you reach the end of the Clay Cliffs tracks, you are free to explore the slot canyon. The kids had a ball trying to climb over the rocks, down a "rock slide" and seeing if they could make their way to the top of the caverns. It is the kind of Indiana Jones adventure your kids have always dreamed of.
Things to note about the Omarama Clay Cliffs
You really do need decent footwear. The ground is dirt and gravel, and as you head up into the Clay Cliffs, it is more scree-like. It is extremely dry and slippery and everyone was slowly trying to navigate their way back down the track. Of course you don't have to walk very far if you don't want to, but this is all part of the fun. I wore running shoes, but next time I would take tramping boots for more grip. Do not even attempt this with your jandals (flip flops) You will just ruin them. Kids will need decent shoes too.
If your kids are going to climb around and explore, be aware that it is incredibly dusty (aka dirty). The kids came out covered in it from falling down and sliding down the scree on their bottoms. Kipton turned white and when I took off Emilia's clothes to have a shower, they came off with a puff of dust (literally). I'm glad we were heading back to our accommodation afterwards to give them all a shower.
Entrance costs $5 per car or $20 per bus. This is an honesty box system, so you will need to have cash with you. The Clay Cliffs are on private land, so the money goes to the land owner towards maintaining the road. That seems fair to me.
You will need a car or bike to access the Clay Cliffs as there is no public transport to this area.
---
​
How to get here and what NOT to put in Google Maps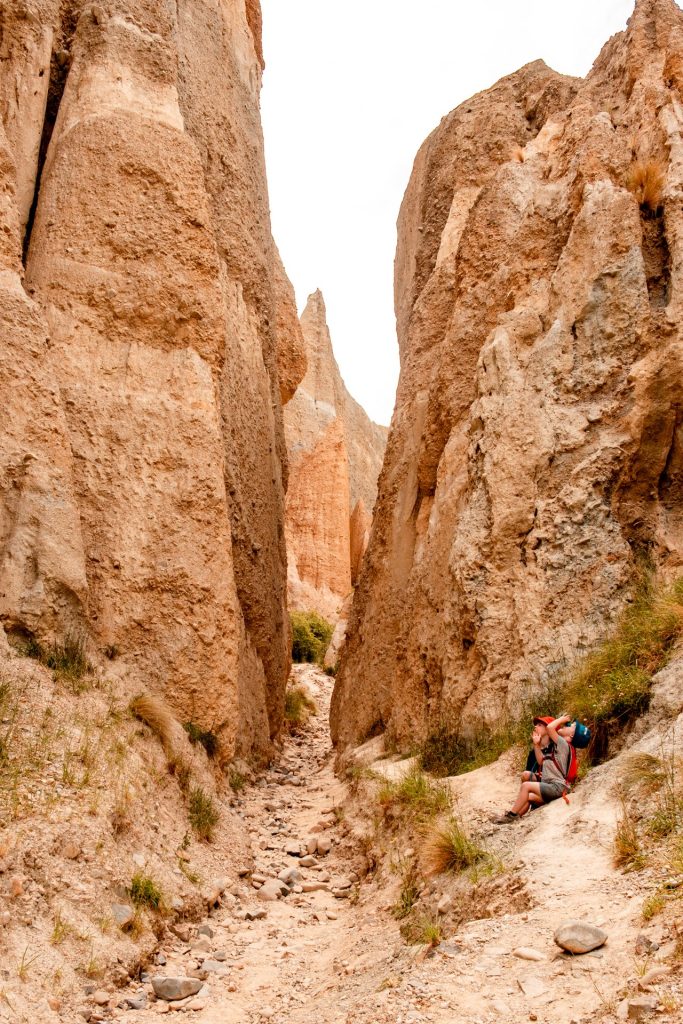 If you are driving between Christchurch and Queenstown, or Queenstown and Tekapo, any of these routes, you will see the turnoff along the way. It is a 20 minute drive off the the main road (State Highway 8) (although it doesn't feel that long as there's a decent gravel road).
The Omarama Clay Cliffs are clearly signposted, but if you are following Google Maps, make sure you put "clay cliffs" into google, not "omarama clay cliffs" which will take you to a road in the main town. (It is not in the main township)
Omarama Clay Cliffs are located off Henburn Road
Turn off State Highway 8 (Twizel-Omarama Road) towards the mountains onto Quailburn Road
Turn left onto Henburn Road. Travel down the road and you will see a sign on your left at a bend.
The sign will tell you that you need to pay your $5 on entry. If you are wondering where like I did, just drive forward to the gate and there is a lock box on your right hand side. Cash only obviously.
Welcome to the Omarama Clay Cliffs. There is a dirt carpark here. (FREE)
It will also be on your road trip itinerary if you are heading from Oamaru to Queenstown, or Oamaru to Mt Cook/Tekapo.
There are some amazing things to do in this area too… click these links for some ideas : Things to do in Tekapo, Walks in Mt Cook.
---
Things to do in Omarama with Kids
If you are staying in the Waitaki area for a little while, there are many things to do in Omarama nearby.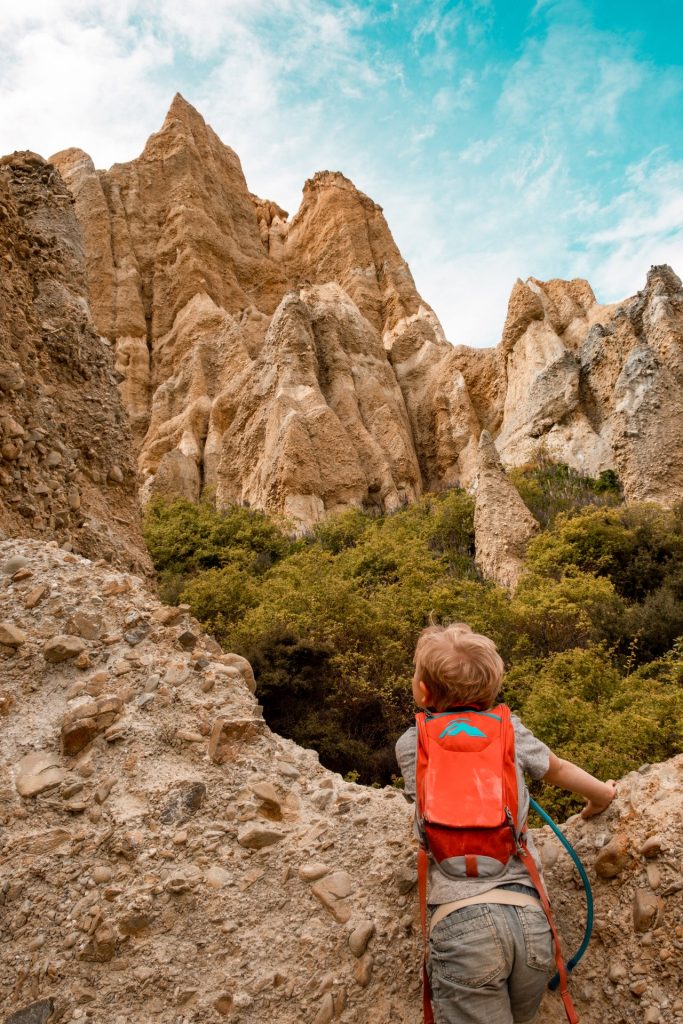 The Wrinkly Rams Shearing Show: See a live shearing show, bottle feed lambs and see a sheep dog demonstration. Kids under 5 are free here too.
Watching the gliders: Omarama has the perfect wind conditions for gliding. Even if you didn't try it out, it's amazing to watch.
Relaxing in the Omarama Hot Tubs: Okay adults, this is probably more for you, but you can bring the kids along. There are hot and cool tubs, and you can reserve a private one for up to 8 people. The coolest part is that the tubs are filled with glacial water… yes thats right, water straight from the mountains, and its chemical free. Think that's gross? Well they change it after every use so its pure and beautiful just for you.
Bike along a section of the Alps to Ocean trail: From Omarama you can bike up to Lake Ohau, towards Twizel/Mt Cook, or from Omarama to Otematata/Kurow. There are place to hire bikes in Omarama, as well as services who can shuttle your gear, or drop you off, and you can bike back to down. Cycling is well supported in the area.
Childrens Playground: Sometimes you just need a place for the kids to play safely while you do the groceries. I hear you! On the main street near Omarama Reserve (35 Chain Hills Highway) is a playground for kids. Perfect place for a stop.
Kids Bike Track: In the Omarama Reserve, to the righthand side of the playground is a neat bike track that is perfect for kids. If you have your mountain bikes with you on the back on the campervan, or choose to hire some, this is a safe place to practice their skills and has some good little downhills too.
Also head further 20-40 minutes inland to discover the hidden gems of Kurow, Otematata, Benmore and Duntroon.
---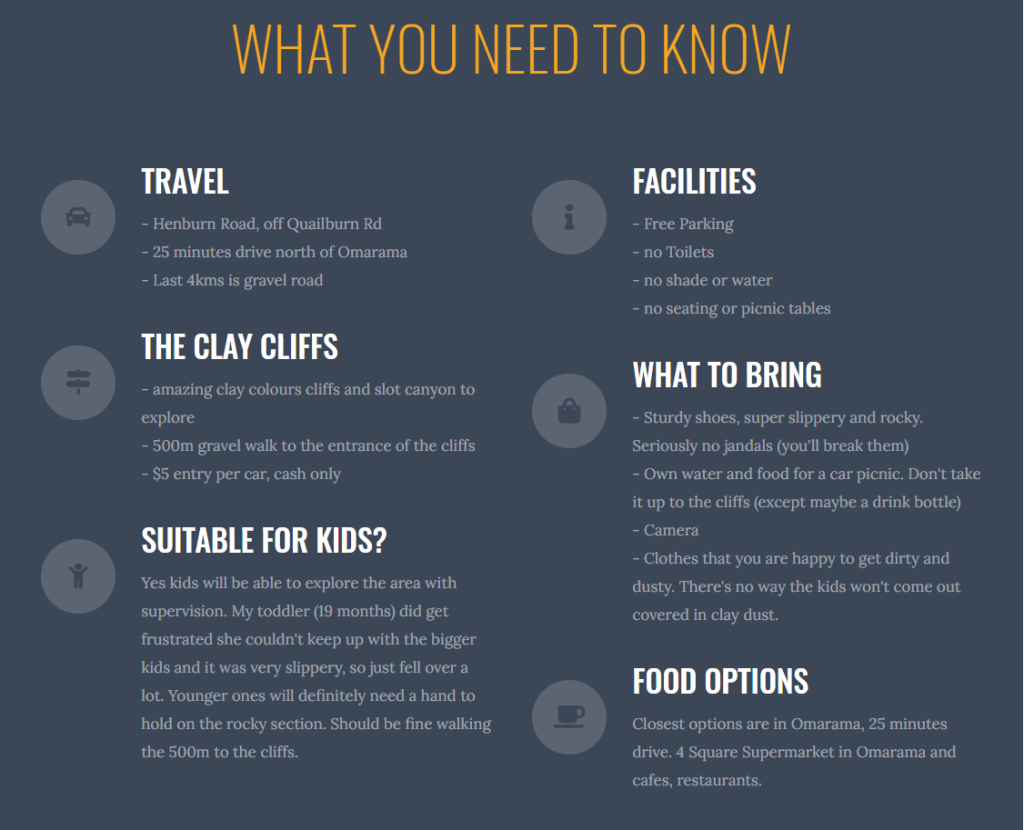 ---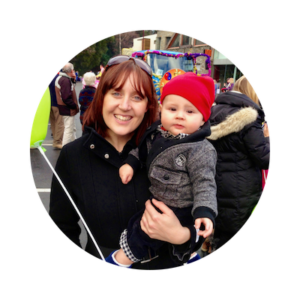 This article was originally published on backyardtravelfamily.com and was written by Jen. Jen is a super organiser when it comes to travel. Having travelled extensively in Europe and Africa, has lived in London and the USA and holidayed in many parts of Asia, she is not a newbie to the travel space. Jen has three youn