Can you teach preschoolers to ski and have a good time?
Jen from The Backyard Travel Family tell us how!
Mt Hutt Skifield is located just 90 minutes from Christchurch and about 45 minutes from Methven in in Mid Canterbury. It is a great family friendly South Island skifield and a great place to ski with kids. In fact, it has to be one of the best places to ski with kids in New Zealand, as kids under 10 ski for free! Yes, you heard that right, kids ski for free at Mount Hutt! Skiing Mt Hutt with kids – surely the best winter day trip in Canterbury!
But if you aren't a skiier, you may be thinking… is it possible to teach kids to ski? The answer to that, is yes, you are absolutely teach kids to ski at Mt Hutt, whether you are skilled or an absolute amateur. If you're an amateur like me, I do think lessons would be the fastest and best way to teach kids, but sometimes you want to test the waters before you shell out a reasonable amount of money.
This article will cover the following topics. Just click to skip to a section.
---
So why is Mt Hutt great for kids?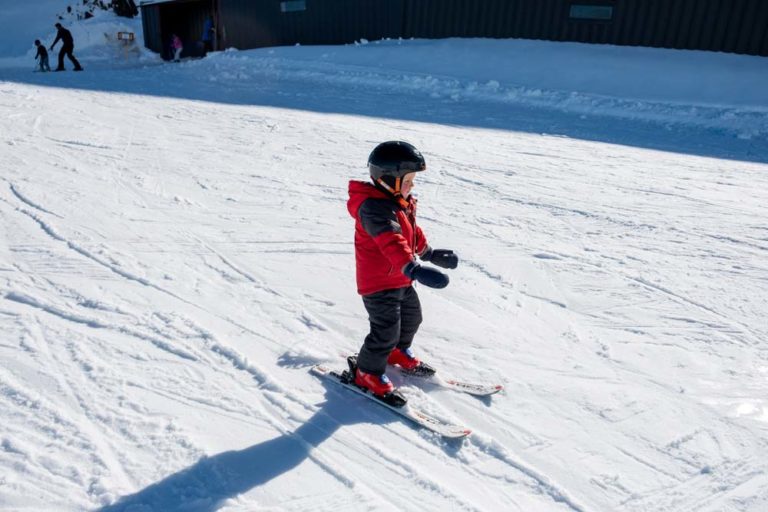 The beginner slope at Mt Hutt is perfect for learning and the kids just love the magic carpet. The magic carpet is like an uphill travelator, for skis. Kids can just jump on and they will be easily transported to the top of the beginners slope. Now let me tell you what a savior this is for parents, as you don't have to haul a kid up the hill, wayward skiis and all. Many other skifields will just have a tow rope. (Basically a rope that they just hold onto and are dragged up the hill) This works great for older kids who can give this a go with a bit of balance, however with under 5s, this can be a bit of a mission to teach them. So when we found out about the magic carpet at Mt Hutt Skifield, we were sold.
The beginner slope is not far from the cafe and inside seating as well as the toilets. Top tip: Make sure they go to the bathroom BEFORE you put all their gear in. One of the downsides of skiing is it takes forever to put their gear on and off!
---
How do you get to Mt Hutt Skifield, Methven?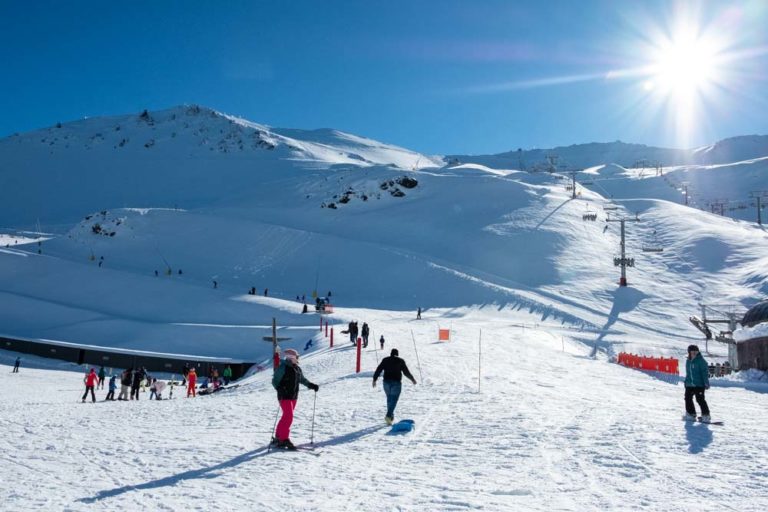 Mt Hutt Skifield is about 45 minutes drive from Methven, to the carpark. It doesn't take long to get to the skifield turnoff, but don't underestimate how long it takes to slowly drive the 13km or so up the mountain. If you are coming from Christchurch, it will take about 90 minutes.
The road to Mt Hutt Skifield is quite hair raising if you haven't driven an alpine ski road before. It is an unsealed gravel and dirt road that can get icy. There are few guard rails on the winding road so you do have to be very careful. Be very careful around Shady Corner. One our first trip up here, a vehicle coming down the hill took the corner too fast and crashed into us coming up. So please do be careful and wary of other drivers.
Driving your own vehicle or a rental up Mt Hutt
Given all the gear you have to take, it makes sense for families to drive to Mt Hutt in their own vehicle or rent a car with Ezi Car Rental. This is totally doable but you may need chains on the road. The Mt Hutt Skifield website and Facebook page have all your up to date weather information during the winter season and will let you know what you will need. Even on clear days, 2WD vehicles often need chains, and 4WD will sometimes. Be in touch with them if you are unsure, they are pretty responsive and helpful with information. There is a info booth at the start of the Mt Hutt Access Road, just a short way up the gravel road that will check you have all the correct equipment. They won't let pass if you don't comply. They also run a chain hire and fitting service at this checkpoint but their website does mention it may not be able to cater for low profile vehicles or larger 4WDs. Ezi Car Rental provides snow chains for as little as $10 a day, with a maximum of $40 per hire.
Take the Methven Ski Bus to Mt Hutt
Another option if you don't want to drive or hire chains is to take the Methven Ski Bus.  It is $25 per adult for a return journey from Methven or $60 return from Christchurch and one child goes free as well.  
---
Top tips for skiing, before you even step foot on the mountain
Youtube Skiing Videos: Show them some videos on YouTube so they know what they are in for. You can even show them the "pizza" skill, so they are open to giving it a go on the snow. (The pizza is when you turn your skis inward to create a triangle/pizza shape with your skis. You use this ski to slow down and stop. It is the easiest way to teach kids to stop)
Teach them that falling down is ok. We pointed out that everyone falls down, even the adults, and that it is fun and doesn't hurt.
Bring a lot of clothes. If you haven't been for a full day skiing or to the mountain before, know that kids will get cold and wet. They will get snow in places you can only imagine, and they will eat snow no matter how many times you tell them not to. Pack multiple layers of thermals and warm layers. You won't regret it. And don't forget clothes for the drive home. Waterproof gloves are essential! It is the one thing we had to buy, as their poor little fingers will just get so cold from crashing and putting their hands in the snow. Other fabric gloves just won't cut it.
Bring a lot of food. I'm sure you know already how much kids seem to eat when they are swimming or on the water, well it is the same on the mountain. Food is always more expensive in the mountain cafes, so even if you plan to lunch there, as hot food is always nice, do bring a lot of snacks, fruit, yoghurt etc to save on costs. All that activity seems to make them super hungry. (I can attest to the pizza it's really good!)
Bring Sunscreen. It may be the middle of winter, but like how you get burnt from the reflection in the water at the beach, well check out the bright glare on the skifield. This white reflection is beautiful, yet dangerous, so make sure you lather up before you ski.
Bring a bucket of patience. Especially if you have toddlers, skiing with kids is exhausting. It is arduous picking them up all the time, and it's so tiring on their bodies. Don't feel bad if they just need to take a rest and eat snow. You have to remember that just playing in the snow is a huge adventure for them and the main thing, is that they have fun. Our three year old hit a wall, and after a big play, he got up with renewed energy and actually did really well. Have low expectations and they might surprise you.
---
What do we do when we get to Mount Hutt?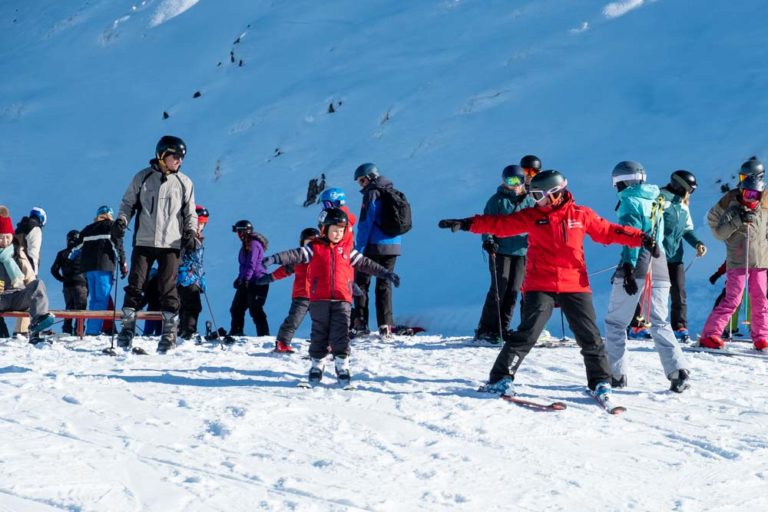 1. Head inside to the ticket booth.
You can pick up their free lift pass here, even if you think they might not head up the mountain further, it definitely gives you the option and saves you time coming back to get it later. It is here that you pay for your ski and boot hire, and whatever else you need here. You can even get snow boots for walking and head up to lift without even skiing, just to see the views for a small price.
2. Head to the hire centre.
Pass over your paid voucher and let them kit you out with all your gear.
3. Drop off your gear at the lockers.
There is a small fee for the day, or else leave your extra gear in the car if you are close, or on the veranda like most people do. We don't leave our valuables, but if people really want my lunch that badly, then I say they are welcome to it. We haven't had a problem with theft before.
4. Get on the mountain.
When you head out, looking at the mountain you will see the learner slopes to the left and the main chairlift right out in front of you. You are all ready to go, enjoy your day!
---
Teaching kids to ski at Mt Hutt Skifield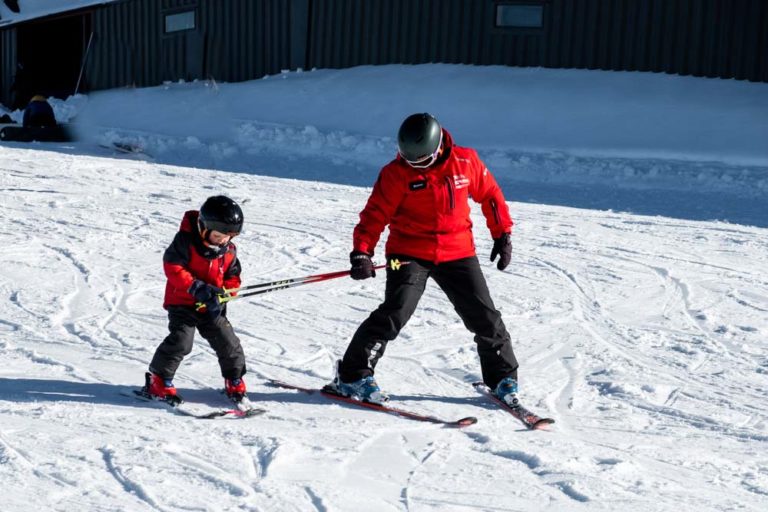 Firstly, Mt Hutt offer lessons to help teach your children to ski. You can buy a private lesson or group lesson, or if you kids are under 5, they run a full preschool programme from 9am-4pm, including lessons and equipment for those kids who are old enough to ski. This is a great way for the kids to experience the snow, have some expert instruction and allow you the freedom to ski as well. If your kids are not very good at listening or learning from you (which I'm sure most kids go through this stage at some time or another) then a lesson will definitely set them up with good technique and good habits for the future.
If you want to read more about the Skiwiland Preschool Programme and Kea Kids Ski School, including photos of the childcare facilities and lessons, check out our detailed guide here
The other option is to teach them yourself. While ski lessons are probably a little faster, we hear you when you say you want to keep the cost of your family days out down. So in the past, we have opted to help them by ourselves. (Check out our top tips below for DIY Skiing)

Private Ski Lessons for kids at Mt Hutt
The second time we took the boys to Mt Hutt, the kids were able to test out a private lesson, thanks to Experience Mid Canterbury. The things that I loved about this private lesson were:
Our instructor had so much experience with kids, she knew exactly what she was doing and how to engage with the kids at their level. She was asking them their favourite thing on toast, and teaching them to "spread it on their toast" with their skis. She was brilliant.
The boys were able to be together, even though they were both at different levels. I loved they were doing it together and there was no hesitation about joining in with kids they don't know. (Even our kids get a bit apprehensive at times)
They could tailor the lesson to really suit their needs and concentrate just on them. I definitely think this helps them to learn faster and I loved the one on one time. Nathan learned to stop effectively in just a couple of runs, and they helped Kipton by adding a wee bungy cord to the top of his skis. They know all the tricks!
One thing to note, is that one hour definitely isn't enough when they are learning to ski. It takes quite a long time to get them up the magic carpet, fall over a few times, learn some tricks and practice it, and repeat. To make it really worthwhile and make some real progress, I would recommend at least two.
Do be aware that they get super tired, so have this in mind when setting your own expectations for the day. We found a refresh of having lunch, drawing in the kids corner, then heading out again a game changer.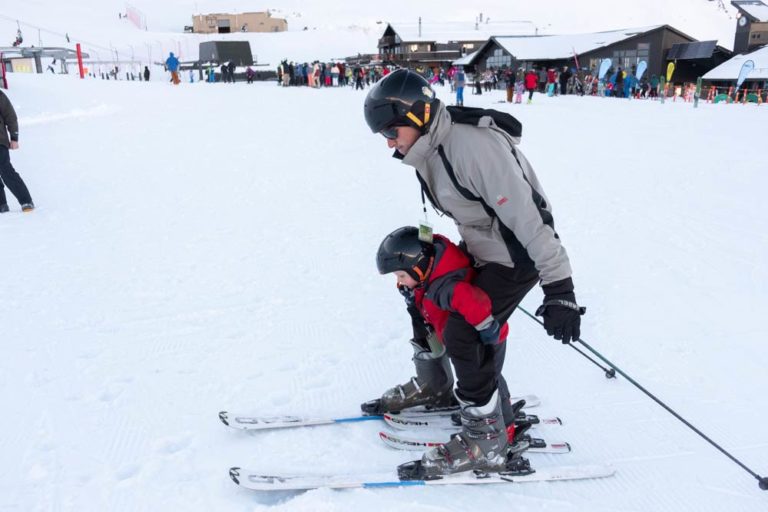 Top tips for teaching toddlers, preschoolers and young kids to ski
Don't hold their hands. They put too much weight on you and don't actually figure out where their balance is if they are holding onto you. Instead, try standing behind them with your hands on their waist, then let go when they are ready.
Get them to bend their knees and squat a bit. This will help them to lower their centre of gravity, making it easy to balance. Once they find this balance, they end up standing back up a bit anyway, but it definitely helps them when they first start.
Leaning forward is key as they won't go anywhere leaning backward.
Teach them the "pizza" which will help them slow down and stop. You can show them by turning their skis inward, so they look just like a piece of pizza. This will help give them control if they end up going too fast.
Teach them to get up. Always have your skis facing sideways (ie. not pointing up or down the mountain. You don't want them to go anywhere.. yet) Once facing sideways, get them to sit on the back of their ski, hug their knees and pull up to standing. The other way, once your skiis are sideways, are to sit on the uphill side of your skis, then lean forward with your hands in front of your boots and push your way back up. They will get the hang of it, and it will save your poor body from the hauling all day. They fall down a lot.
Just these few tips, allowed our four year old to ski down the beginners slope all by himself. He could walk across to the magic carpet, and ski down independently. He got the hang of it a bit late in the day, so it did get a bit more mushy, but he was pretty proud of himself. You can see our first time skiing at Mt Hutt video here
Our just turned 3 year old really started to get the hang of it in the afternoon. He could ski for a good 10-15 seconds before falling down. He had such a great time and is already asking when he can go "skating" again. (We really need to tell him its not skating, but it's just so damn cute)
---
How much does it cost for kids to ski at Mt Hutt?
Kids can hire boots and skis/snowboards directly from Mt Hutt Skifield for $40 per day (June 2019) and can get a free lift pass if they are 10 or under. Children 11 years and over will need to pay $59 for their lift pass.
So it was a great value day on the snow for us, spending under $100 for a day of family fun and some hot drinks on the balcony, our apres ski
For further information about the cost of skiing at Mt Hutt, click here
---
What do you do with a baby when learning to ski?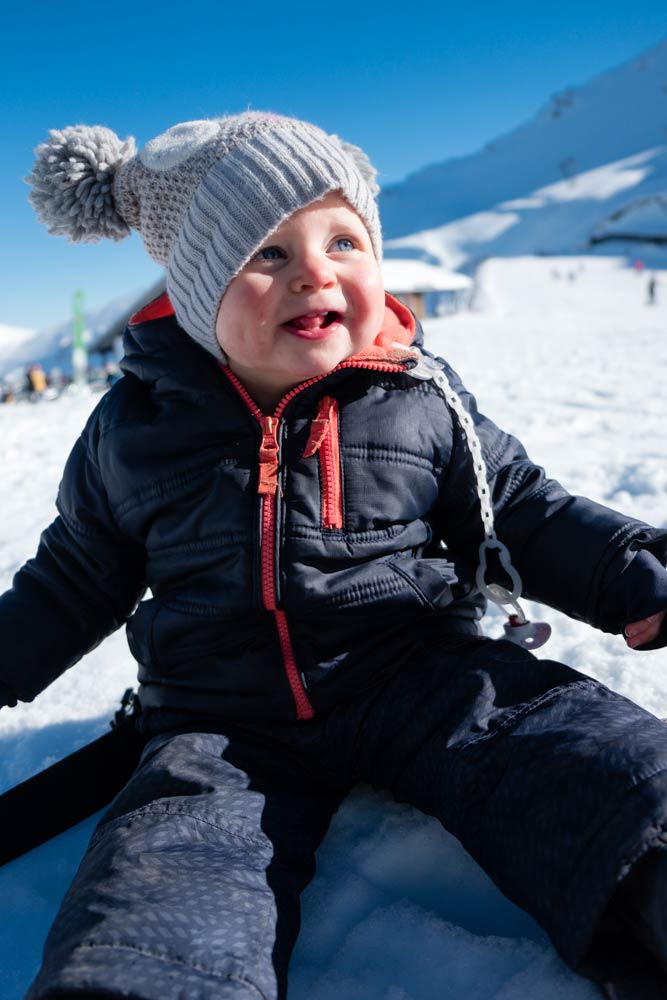 When the kids learned to ski at Mt Hutt, wee Emilia was only 4 months old. So what do you do on a skifield with a baby?
1. Mt Hutt Skifield Childcare Facilities:
It's pretty awesome that the childcare facilities take babies from just 3 months old. How amazing is that? We could have left her there, but we chose to take her along with us.
2. Front Pack or backpack:
For the morning, we rugged Emilia up in merino wool layers and a bear suit, that covered her hands and feet, popped on a hat and her bear hood and she was a warm and toasty little baby. At the beginning, I even wrapped a blanket around her too, but it got a lot warmer as the day went on. She happily slept despite all the running around I was doing. When she was 4.5 months she slept for a few hours, but when we visited when she was 1, she was on my back during the day, but would only sleep on my front for a short time. I think she just wanted to play… The good thing is that if they don't sleep much, you've probably got a decent wee drive home for them to nap on.
3. Extra hands:
We were lucky enough to have two adults on this ski trip, so in the afternoon, one was outside with the kids and the other was inside with the stroller for Emilia. By now I think nobody minded a coffee break and it was great to have a rest with her.
4. Ski with them:
We actually saw a couple of parents with baby carriers on their backs, and their young kids in there skiing on the back of their parents. I'm not a confident enough skier to give this a go, but would definitely be an option if you know what you are doing.
---
Adult Learn to Ski
1. Buy a learn to ski package
Mount Hutt has some great beginner learn to ski packages, starting from just $149 for 2 lessons, a beginners lift pass and all equipment hire included, so if you too want to try to learn to ski, this is a great option.
2. Hire ski equipment and give it a go
You can hire ski equipment from $50 per day and grab a lift pass from $119 per day. While we didn't learn to ski at Mt Hutt, on our first time skiing, we just bought a gear and lift pass combo and gave it a go! It was a whole lot of fun, and we were passable! And it was great to ski with our friends, rather than be tied up in a lesson, so the flexibility was great for us.
3. Private Lesson at Mt Hutt
Another option is to have a private lesson for the family, where everyone can learn together. While these are more expensive, (from $389 for 3 hours) you may find the smaller group is a faster way to learn, and a nice way for the family to ski and learn together.
---
Can you sled at Mt Hutt?
Yes you can sled at Mt Hutt! It is not very well advertised but there is a small area to sled behind the beginners ski area. If you are looking straight at the magic carpet, look up behind it and there is a slope where lots of young kids were sledding. There is no cost to sled here.
If you think you will sled more than once, the best idea is to purchase one prior to coming up the skifield. You can pick up cheap plastic sleds from about $30 from your local outdoor store, Mitre 10, Bunnings, Torpedo 7 etc. The Warehouse even has plastic single "snow sledges" for $9.
---
Other Activities in the area, or within an hours drive
If it all becomes a bit much, or the kids are just done, then you can also check out these local activities while you are in the Mt Hutt and Methven Area.
Methven Family Activities (website)
---
In short – all you need to know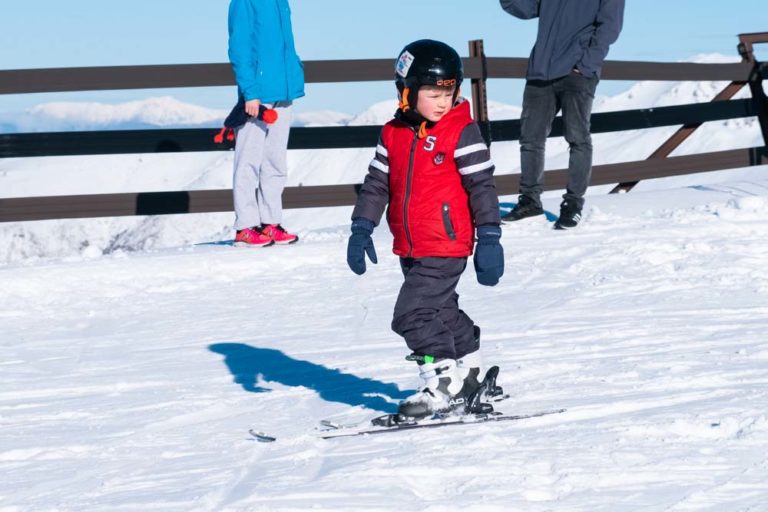 Travel
– 45 minutes drive from Methven
– 90 minutes drive from Christchurch
– Mount Hutt Access Road can be snowy and icy, and drives along the cliff edge in places. Please be careful
The skifield
– 2 learners slopes for kids
– Magic Carpet
– Kids 10 and under ski free
– Small sledding area
Suitable for kids?
Suitable for all kids
Young babies will need a solution for keeping warm and dry, either in the childcare facilities, stroller or backpack/frontpack.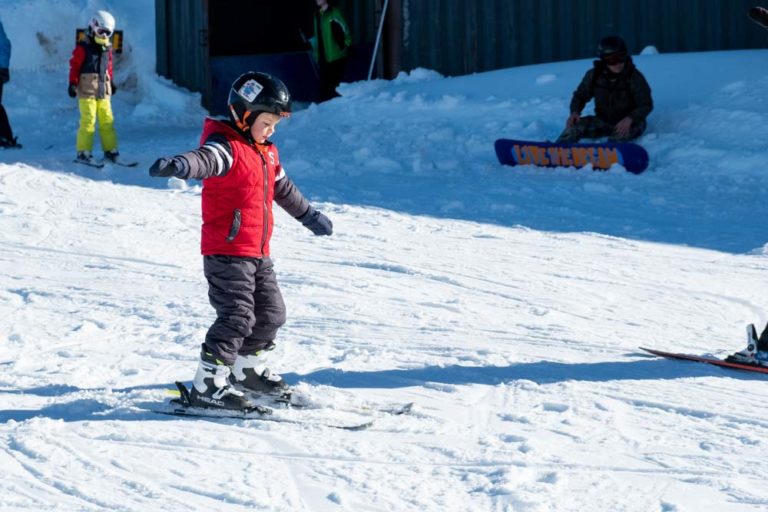 Facilities
– Cafe
– Hot Coffee and Food
– Toilets
– Indoor cafe seating area which is warm
– Outdoor picnic tables on the verandah
– Ski/Snowboard Hire/Boots/Clothing
– Free parking
What to bring
– Lots of clothes including waterproof pants and jacket
– Waterproof shoes/boots
– Waterproof gloves
– Sunglasses and sunscreen
– Lots of food or money to purchase
– A positive attitude and a lot of patience
– Chains for your vehicle
Food options
– Cafe food and hot drinks on site
– Small supermarket, cafes and restaurants in Methven, 45 minutes away (these often do kids meals for free at early dining)
Further information
Click the here to be taken to the Mt Hutt Skifield Website
---
Are you ready for a Mt Hutt family ski holiday?
If you aren't too exhausted already by reading all this, then I think you are ready to take your kids to ski for the first time. I wish you plenty of luck… And let me tell you, that feeling when they ski all by themselves, and the smile on their faces when they do, is totally worth all of the effort!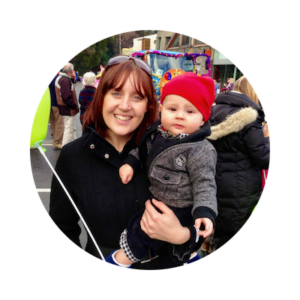 This article was originally published on backyardtravelfamily.com and was written by Jen. Jen is a super organiser when it comes to travel. Having travelled extensively in Europe and Africa, has lived in London and the USA and holidayed in many parts of Asia, she is not a newbie to the travel space. Jen has three young children, 5 and under and travels around New Zealand with them.
Photos courtesy of The Backyard Travel Family.