Why visit Rotorua? Jen from the Backyard Travel Family lets us know why!
Rotorua is an absolute playground for families. It is a great place to base yourself and is a mecca of family activities. It is easily New Zealand's cultural capital and is a great place to get a sense of Aotearoa. There are so many things to do in Rotorua with kids, you would have to spend a couple of weeks to complete them all.
If you love adventure activities, learning about native culture, the outdoors, hot pools and geysers and real kiwi experiences, then Rotorua is a must do on your New Zealand itinerary. If you are wondering whether all these fun things to do, means you will break the bank, don't worry, there are plenty of free things to do in Rotorua and we will tell you about them below. Our favourite Rotorua family activities are the adventure ones, so if you love mountain biking, waterfall finding, being up high and going fast, then you will love some of these suggestions in this article.
In our things to do in Rotorua with kids guide you will find: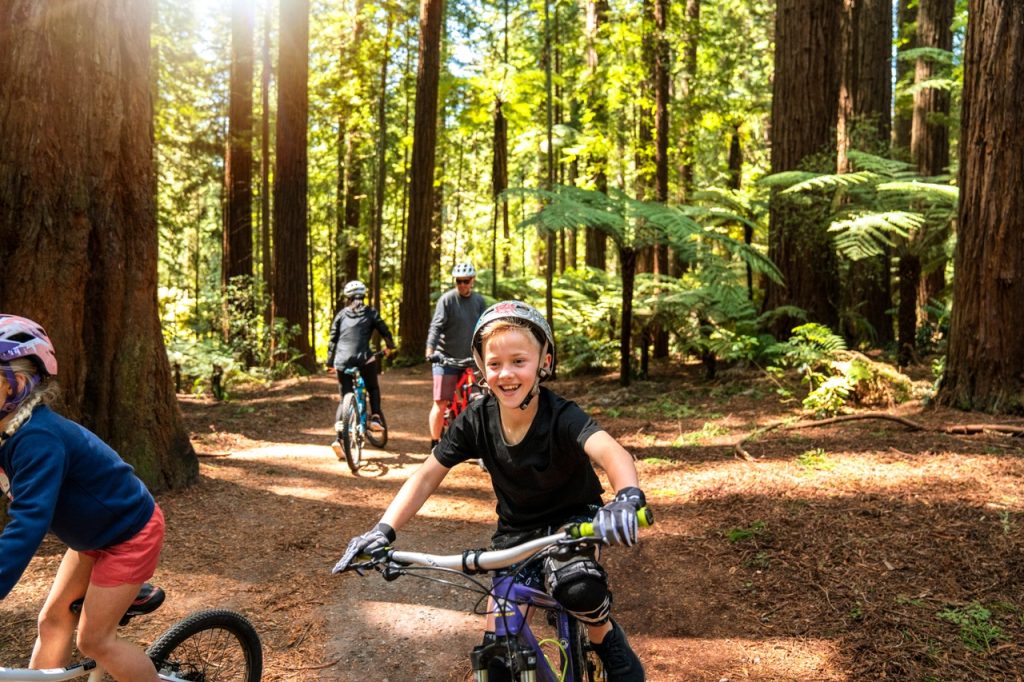 ---
Weather in Rotorua
Rotorua has quite a temperature climate, so is good for visiting all year around. Winter temperatures in Rotorua are around 10-16C and Summer temperatures rise to 22-26C. Rotorua has a lot of sunshine hours and clear days over winter. There is a lot of love about Rotorua weather.
How to get to Rotorua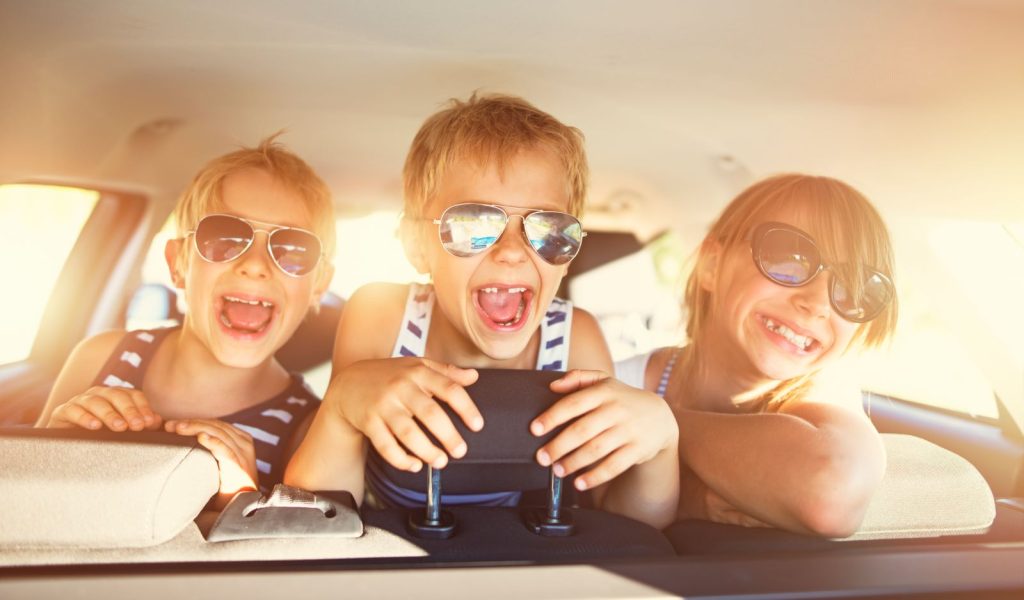 Rotorua is located in the Central North Island and is a great base for exploring the region. You could easily stay in Rotorua and take day trips to Taupo, Tauranga and Hamilton. But don't forget, there are plenty of places to visit in Rotorua so make sure you leave enough time.
How long does it take to get to Rotorua by car?
Auckland to Rotorua – 3 hours
Hamilton to Rotorua – 1 hour, 20 minutes
Tauranga to Rotorua – 55 minutes
Taupo to Rotorua – 1 hour
Napier to Rotorua – 2 hours, 45 minutes
Gisborne to Rotorua – 3 hours, 40 mins
Wellington to Rotorua – 5 ½ – 6 hours (allow 7 hours with stops)
---
Top 10 Things to Do in Rotorua with Kids
This list includes my favourite family activities in Rotorua, and these should be on your Rotorua Must Do List. I will detail them all in the relevant sections below, but I always get asked about my top 10. So here they are in no particular order:
---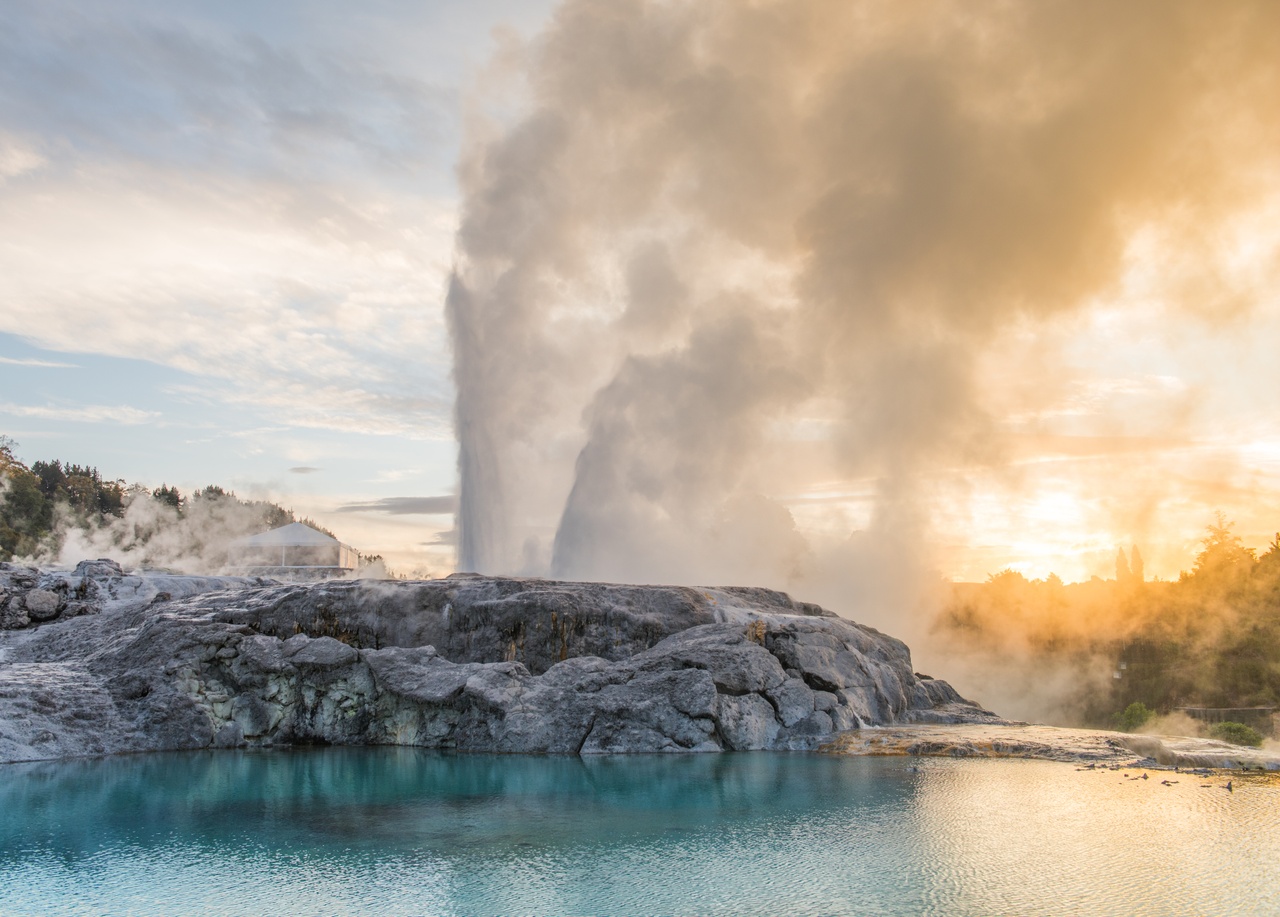 Geothermal Activities in Rotorua
If you are wondering what to see in Rotorua, then geothermal activities MUST be on your list. In fact, Rotorua is part of the Taupo Volcanic Zone. This zone runs from White Island in the north to Lake Taupo in the south. You may or may not know that Lake Taupo is in fact a crater lake and the volcano is considered dormant. With the tragic events of the White Island volcanic eruption at the end of 2019, you will understand that the area is still very active.
But don't worry, all of New Zealand is very closely monitored for any activity. The fun part is that these geothermal areas are very exciting and interesting to visit. All over Rotorua you can find hot pools and bubbling waters. Rotorua Accommodation is also more likely to have a swimming pool as it can be thermally heated, saving owners thousands of dollars on heating.
One of the most famous areas in Rotorua was the Pink and White Terraces. Travellers used to come from all over the world to bathe in the healing waters and admire their beauty, but the volcanic eruption of Mt Tarawera in late 1800s destroyed them. You can now take a boat tour to visit the site and learn all about its history
One of the best free things to do in Rotorua is to visit Kerosene Creek and Kuirau Park. It is free to access these Rotorua thermal parks, which makes a great cheap thing to do in Rotorua. We know with families, having some budget friendly options in amongst to splurge activities really helps to create that once in a lifetime holiday.
---
Hot Pools Rotorua
Polynesian Spa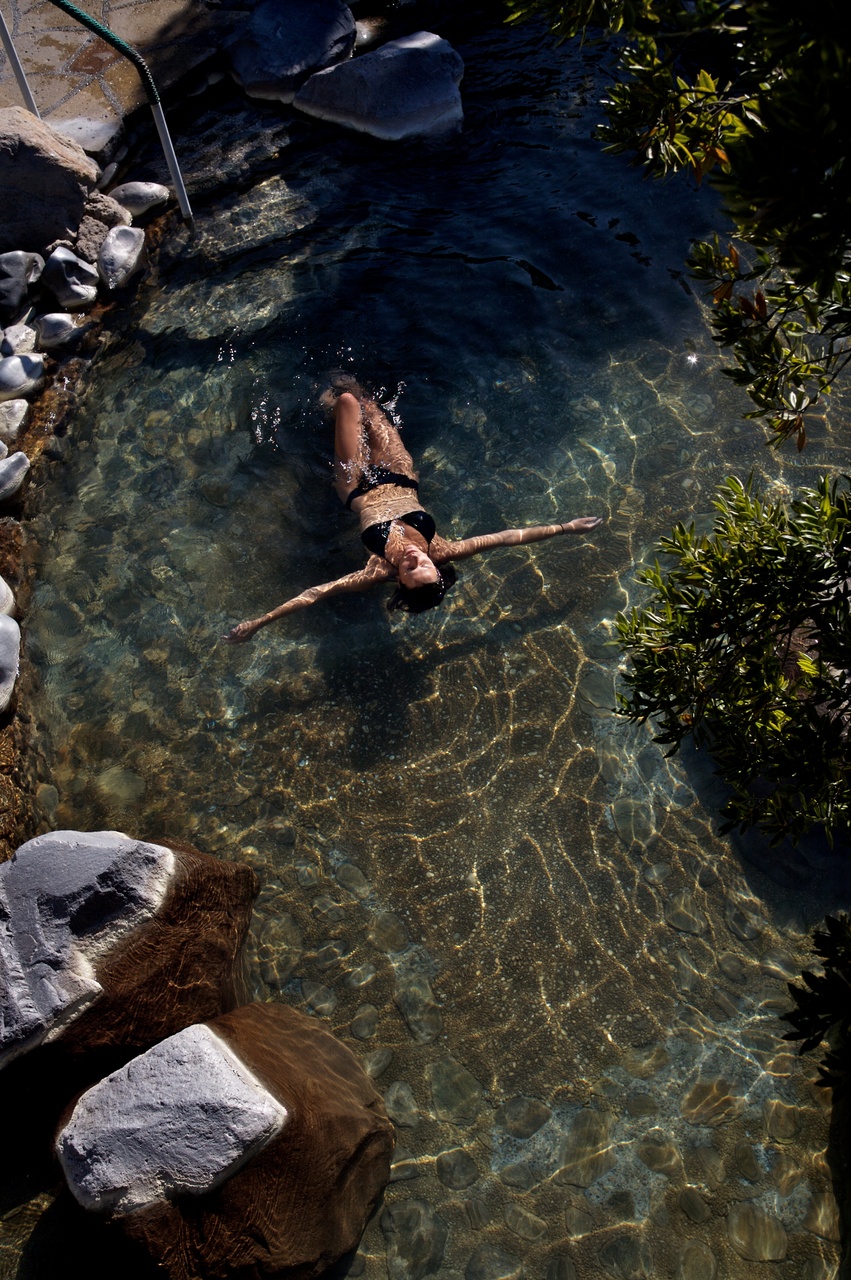 If you are looking for pampering and relaxing, you can't go past the most famous of Rotorua hot pools, the Polynesian Spa. This Rotorua spa is full of bathing experiences, from family pool with a small slide, to lakeview spas to alkaline and acidic pools. Combination passes allow you to choose one type of experience, or to try them all.
The Polynesian Spa offers world renowned beauty treatments and massages. It is advisable to book these in advance if you are not too flexible with your timings. To find out the cost of family passes or beauty treatments, click here
How to get to Polynesian Spa: You will find the Polynesian Spa right in the city centre, on the lake at 1000 Hinemoa Street.
Kerosene Creek (FREE)
Kerosene Creek is a thermally heated stream where you can swim and relax. The water is warm and is heated from the natural spring. There is also a small 2m waterfall, so if you have ever dreamed of bathing in a hot waterfall, this is your chance.
DANGER: Please note, that you should not put your head under the water in any thermally heated pools. It is very rare, but there is a chance of contracting amoebic meningitis. There is a little organism called an amoeba and this lives in geothermal pools and the illness can be contracted through the nose if you put your head underwater.
There is no imminent danger in bathing in geothermal pools, we take our kids all the time, but do remind them not to put their head under. (It is the same in commercial thermal pools, you will notice the signs and lifeguards are vigilant)
How to get to Kerosene Creek: Kerosene Creek is located abot 35 minutes south of Rotorua (towards Taupo) It can be found at the end of Old Waiotapu Road. Turn left off State Highway 1 south onto Old Waiotapu Road, head down the gravel road for about 2km and you can park your car on the grass on the righthand side. It is just a short walk from here to Kerosene Creek. Make sure you take all rubbish with you. Limited cell phone reception.
Hot and Cold Pools Rotorua (FREE)
Another secret, yet not so secret Rotorua hot pool, and arguably among the top things to do in Rotorua. The Hot and Cold Pools are a great spot for swimming out in the bush right near a steamy stream. As you have probably worked out, there are hot and cold pools here. The Waiotapu thermal stream, meets a freshwater stream, making the perfect place to swim. Just like a spa pool really.
There are a few stairs to get down to get here and the stream bed is rocky, so can be difficult to walk on. Just take some care here with kids and always test the water before they hop in. It can be super hot in places.
How to get to Hot and Cold Rotorua: Head south towards Taupo on State Highway 5. Turn left onto Waiotapu Loop road. Keep an eye out for the Waiotapu Thermal Park sign on the left, but don't take this entrance, take the next one. Head down the narrow road and when you come to small bridge you can park close to here. Head down the bank from here.
---
Rotorua Thermal Parks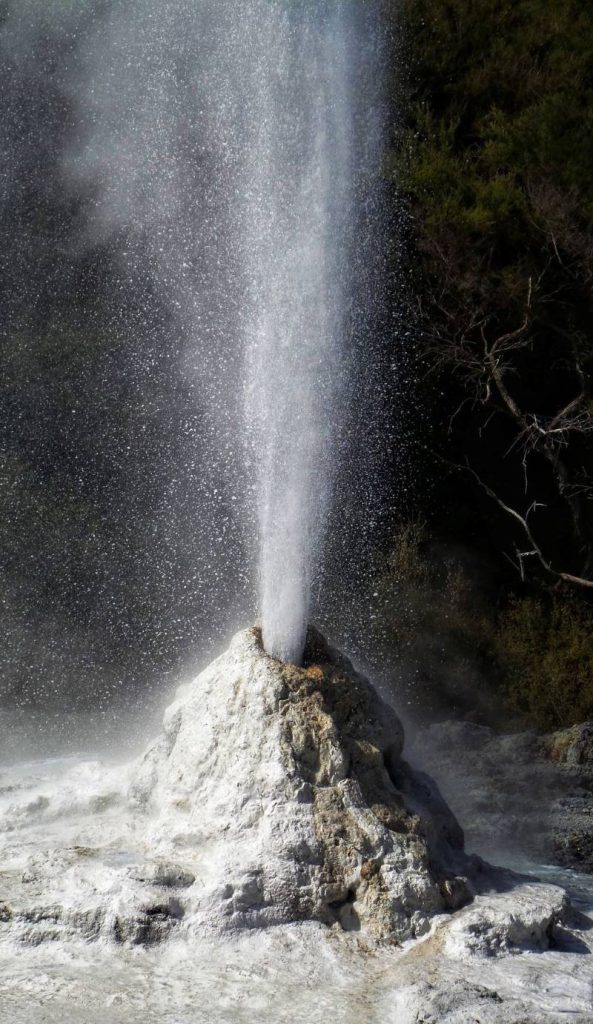 Kuirau Park (FREE)
Kuirau Park is New Zealands only geothermal public park. The great thing about this place is that it is more than just a few bubbling pools. It has beautiful gardens, mud pools, a playground for the kids, BBQs to use for picnics and it even has a food market on Saturday mornings. You cannot swim in these hot pools, but there is an area especially set up for your own free "foot spa". So take off your shoes, bring a towel to sit on and bathe your feet in the warm waters. If you are doing a Rotorua walk while you are in town, this is a great place to rest those feet. Parents, you will love these free activities in Rotorua. There are some nice walking tracks in Kuirau Park, with boardwalks, making it easy for babies in strollers.
How to get to Kuirau Park: If you are staying in Central Rotorua, it is likely you can walk there. It is located on Ranolf and Pukuatua Street. If you are staying at the Rotorua Top 10 Holiday Park or YHA Backpackers, it is just next door.
Waimangui Volcanic Valley
Waimangu Volcanic Valley is particularly famous as this is where the Pink and White Terraces (once the 8th wonder of the world) used to be, however they were destroyed in a Mt Tarawera volcanic eruption in the late 1800s. Now you can explore the Waimangu Volcanic Valley by self guided walk, and also visit the site of the terraces via a boat cruise on Lake Rotomohana.
Visiting the volcanic valley is a half day experience and it is suggested to allow at least 3 hours. It is stroller and wheelchair accessible. The highlights walk is 1.5km and takes around an hour, or allow 1.5 hours for the 4km Waimangu easy walk.
The best part of these walks is that you can walk one way and catch the shuttle bus back to the start. Great for tired little legs and to keep it interesting. They also have a Waimangu app that gives you all the history and information for your self guided walk (free)
Click for a great deal on your walk and boat cruise
Wai-o-tapu Thermal Wonderland
Rotoruas famous geyser, the Lady Knox Geyser can be found at Wai-o-tapu Thermal Wonderland. Every day the geyser erupts at 10.15am, reaching heights of 10-20m in the air. It is very impressive, so make sure you organise your day to be here at this time.
One of the things we loved the most about the Wai-o-tapu Thermal Wonderland was the different colours of the water. From pastel blue, to lime green, to hues of orange, it was so interesting to see how the different geothermal areas led to these crazy colours. You will probably recognise the "Champagne Pool" from photos as it bubbles up like a glass of champagne and has a distinct orange colour.
Kids will love seeing the largest mud pool in New Zealand as it bubbles, pops and explodes to the surface. No touching though, it is extremely hot!
It is worth noting that Wai-o-tapu is a cashless site, so make sure you bring a card with you for payments. Or make it easy by booking your discounted tickets in advance here. Children under 5 are free.
Te Puia
Te Puia is a great place to visit to combine learning about maori culture, visit kiwis and visit a geothermal area. If you are short on time, having all of these Rotorua attractions in one place will definitely appeal to you.
There are two types of passes, a day pass (Te Ra Experience) and night pass (Te Po Experience).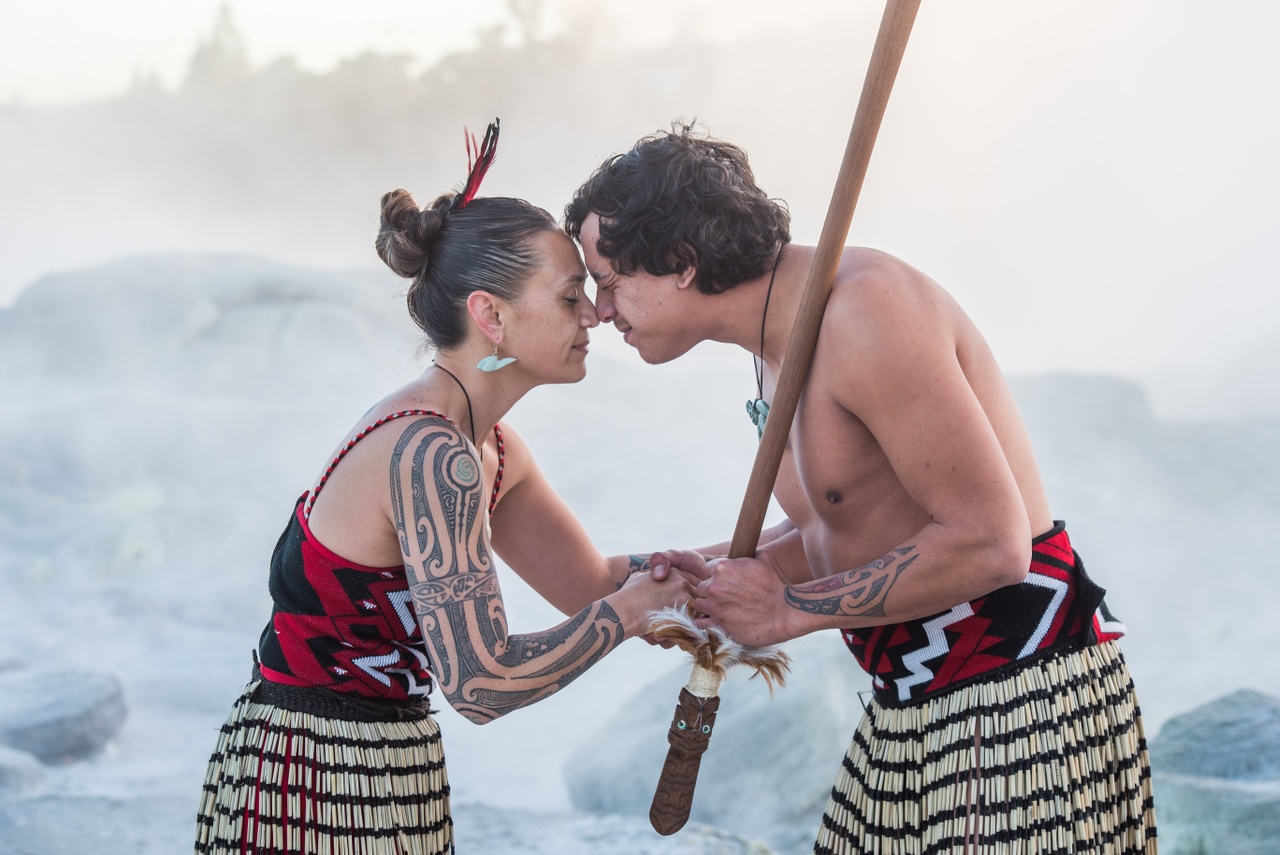 Te Po Night Experience
This is great if you are arriving in Rotorua in the afternoon and still want to make the most of your day, or if you have a busy schedule. I love fitting in extra experiences in the early evening, especially if I don't have to cook. There is an early option on certain days (4.30-7.30pm) which is great if you have young kids, or the regular daily option starting at 6.15pm
The night experience includes
A traditional maori hangi for dinner (must do experience of a meal cooked in the ground)
Traditional powhiri (welcome)
Motorised waka (boat) tour through the geothermal valley under lights
See the Pohutu geyser
Maori cultural performance and storytelling for entertainment
Click for discount prices for Te Puia Night Cultural Experience (cheaper than booking direct)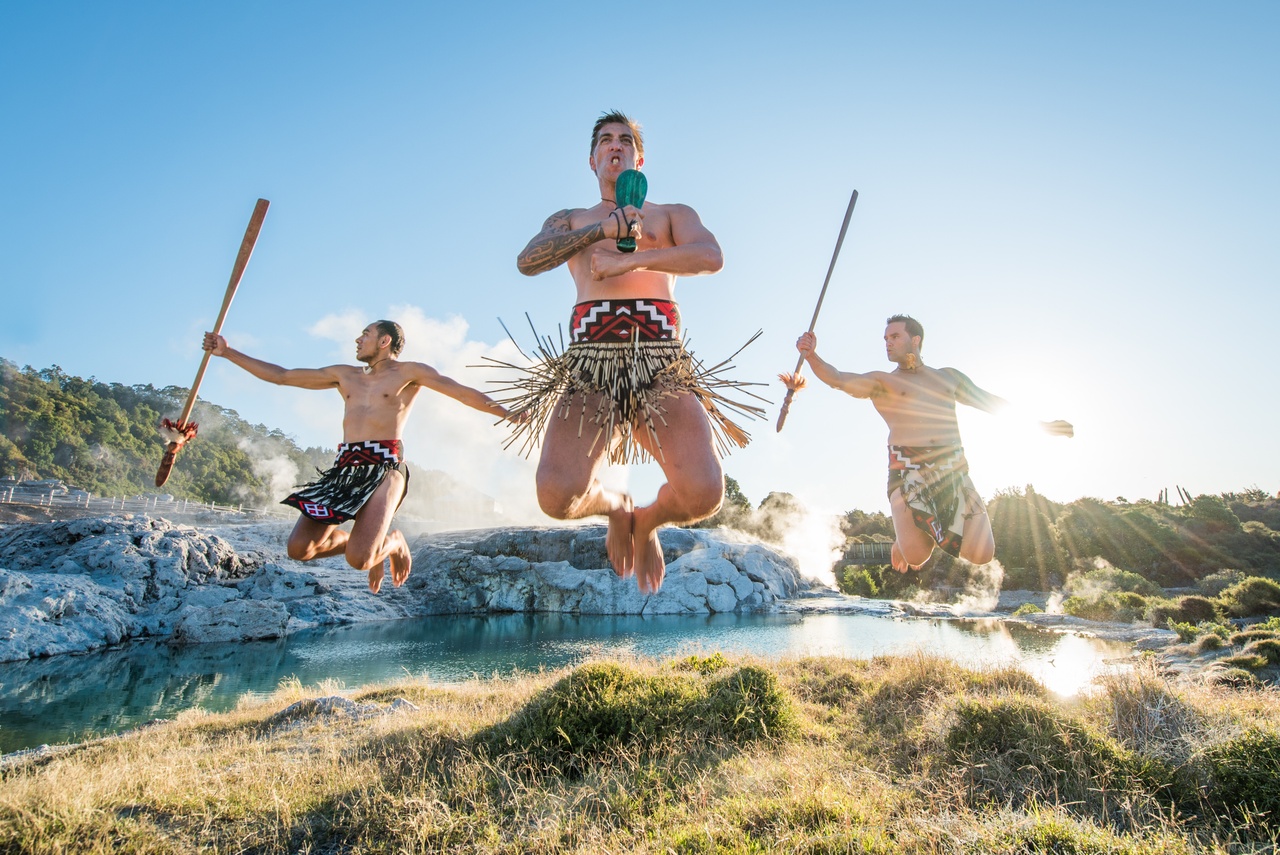 Te Ra Experience
Visiting Te Puia in the day is another great option as you have a guided tour included in your pass, and can explore the whole attraction at your own leisure
The day pass includes
Kiwi House viewing
Traditional maori carving and weaving
Maori Arts, Architecture and History
Exploring Te Whakarewarewa geothermal valley and Pohutu Geyser
With your day pass, there are options to add on a cultural show or hangi steambox lunch.
Click here for the cheapest day pass for Te Puia
Hells Gate
Hells Gate is another beautiful geothermal reserve which includes a 2km geothermal walk, a sulphur spa and mud spa. It also has the largest hot waterfall in the whole Southern Hemisphere.
For me the mud spa has to be one of the highlights of visiting here. The mud spa is great for exfoliating the body and it just feels amazing. Then use the mineral rich sulphur spa to relax and heal your body. This Rotorua mud spa is one of my favourite sights and the photos you get of your kids covered in mud from head to toe will be a memory you keep for a lifetime.
The minimum age for the sulphur spa is 6 months old and children must be 2.5 years or older to enter the mud spa.
Click here for discount offers at Hells Gate – cheaper than booking direct.
---
Rotorua Playgrounds
Playground at Government Gardens (FREE)
The Rotorua Government Gardens is a great place to let off some steam. Near the Rose Gardens there is a playground, and a sheltered area to sit. If kids are a little older they may also enjoy the mini golf, driving range and baseball batting cage at Ball Busters Golf nearby
How to get here: Government Gardens is located on Queens Drive, close to where it intersects Oruawhata Drive (have a check on Google maps).
Volcanic Playground by the lake (FREE)
Traditional playground with equipment for young kids and older children. Do be aware that it is not fenced off from the lake, so keep an eye on the kids. Makes for a pretty view though.
How to get here: The Lakefront playground is located on Lakefront Drive, right on the lake. There is a carpark right in front of the playground.
---
Cultural Activities in Rotorua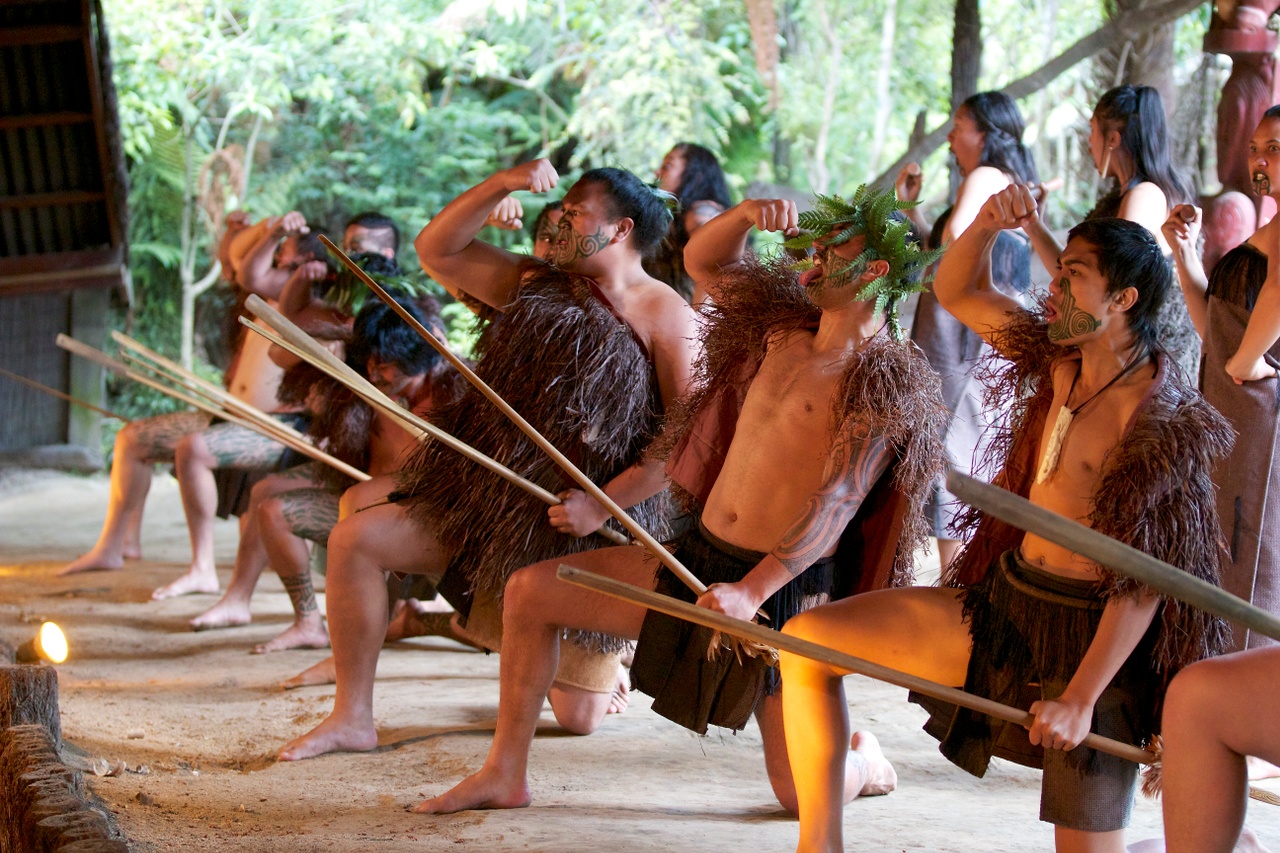 Mitai Maori Village
Learning about Maori culture and eating a traditional hangi really is a New Zealand must do! The Mitai Maori Village is an excellent evening experience including a cultural concert, haka, learning about and eating a hangi, learning about Maori customs, dance, tattoos, waka and more. You will get a real sense of our culture, giving a much better understanding of customs as you travel around New Zealand. I remember visiting as a teenager and it was an incredible experience. It will be something that you don't forget. This really is one of the best things to do in Rotorua at night and you will leave with such authentic memories of New Zealand. A "Rotorua Must Do", book this today! To find out the latest prices, and cheaper than booking direct, click here
Ohinemutu (FREE)
Ohineumutu is a living Maori village. It is free to enter and you can walk around the village to view how the tribe used the geothermal energy for cooking, heating and bathing. There is a marae and meeting house, but you cannot enter these. Instead marvel at the architecture and amazing wood carvings and shells. It is still an impressive site. St Faiths Church, over 100 years old, stands on the lake edge and you may visit the church or join a bilingual service on Sundays.
Te Puia
Te Puia combines both cultural experiences as well as a geothermal park. You can find more info under our Geothermal Activities section about Te Puias cultural offerings
---
Adventure Activities in Rotorua
Family White Water Rafting in Rotorua
When you visit New Zealand, a sense of adventure is a must! A great way to adventure on with your family is to take a rafting trip, but these aren't for the faint of heart. The Rotorua region is a great place to raft and has grade 5 rapids including the largest commercially rafted waterfall in the world; the 7m Tutea Falls. You do not need any particular skills, just some enthusiasm. Please note that white water rafting does have age restrictions as it is dangerous and you can fall out. This is not an activity for very young ones. There are a couple of scenic rafting trips that take primary/elementary school children. Please note we have not tested out all of these companies personally, this is just to give you an idea of the options for your own children.Most of the operators below run the pinnacle grade 5 rapid rafting trip with the 7m waterfall drop and some run a more scenic grade 2 or grade 3 run that is suitable for primary school kids. Here is a summary of the age restrictions, but do go check out what each company offers to help you make the best decision for your family.
Age Restrictions:
Kaituna Cascades: You must be 13 years and older for the grade 5 trip or a minimum of 10 years old for the grade 3 white water trip. Click here for pricing
Kaitiaki Adventures: You must be at least 13 years old to raft on any of their trips. For more information including pricing click here
Rotorua Rafting: Minimum age of 13 years on the full day trip with grade 5 rapids and 10 years old on the half day trip. Click for up to date prices here
River Rats run a grade 2 family adventure that is both a scenic journey and a bit of fun.  The experience is 5.5 hours including a picnic lunch and 1.5 hours of river time. The minimum age for this trip is 5 years old, so could be a great family adventure option if you have younger children.  River Rats also have grade 3-4 trips for 10 year olds and up and grade 5 trips (minimum 13 years old) run trips from grade 2 to 5.  Their minimum ages are grade 2 (3 years +), grade 3 (8 years +) grade 4 (10 years +) and grade 5 (13 years +).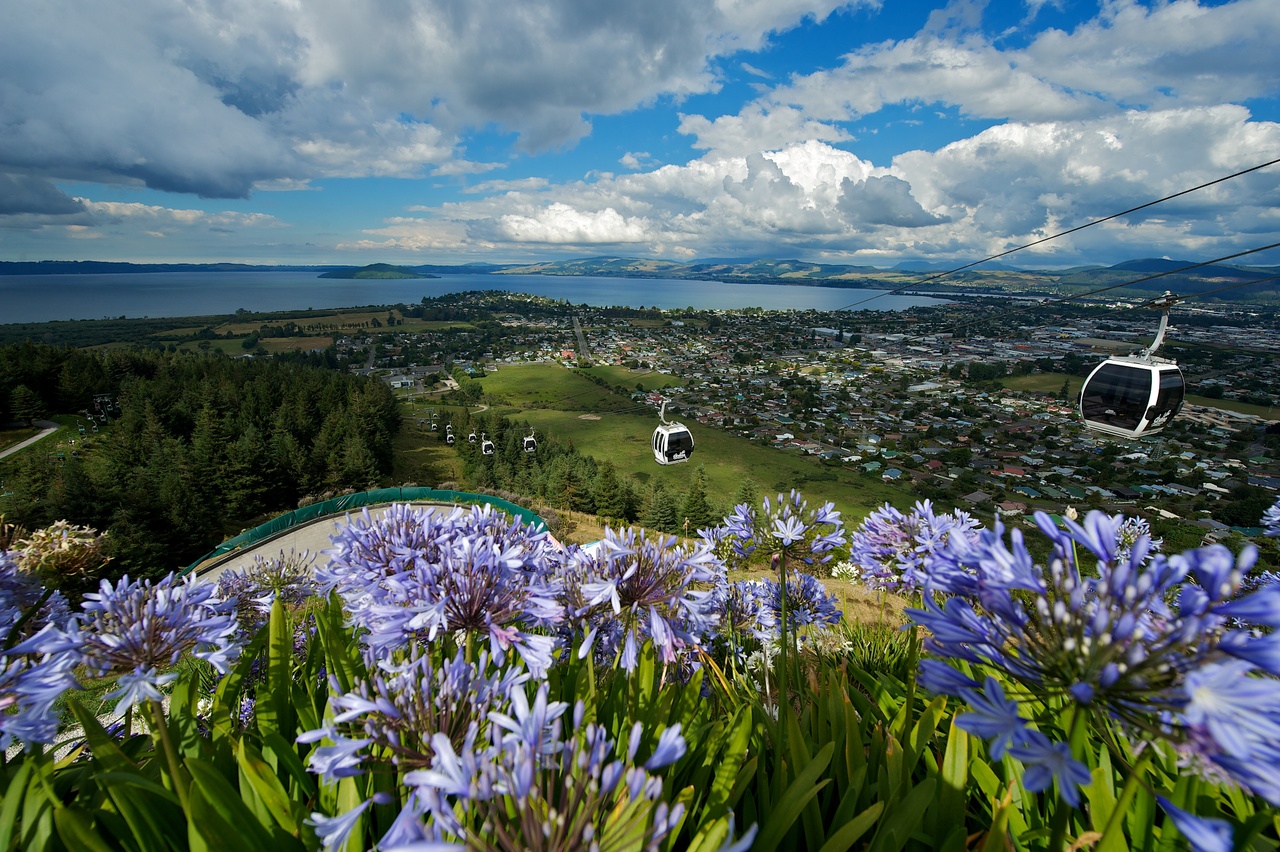 Skyline Rotorua Gondola and Luge
Taking the Gondola to the top of the Skyline is a great way to get a sense of Rotorua from up above. But Skyline Gondola Rotorua is far more than just a gondola ride. There are a raft of activities to do while you are here. These activities include
Luge down the hill (and ride the Gondola back up to do it again)
Mountain bike down the 12km of tracks
Stargazing tour: 1 hour tour finding stars and planets with a huge telescope
Zoom Ziplines: Race through the forest with your family on a parallel zipline, finishing with a 13m freefall. (Riders must be 27kg – 11kg)
Jelly Belly Store: New Zealands first Jelly Belly concept store
Take a 20-60 minute walk on the nature trails
Visit the alpacas
Kids can check out the mini diggers (coin operated) at the sandpit
Dine at one of the excellent establishments onsite
Even if you just do the gondola and luge, this is one of the best attractions in Rotorua for families and you definitely won't be disappointed by a visit here. Skyline Rotorua have a great adventure deal including a gondola, 5 luge rides, zipline, skyswing and photo, which is a great deal. Click here for the price of this dealClick here for more Skyline Rotorua deals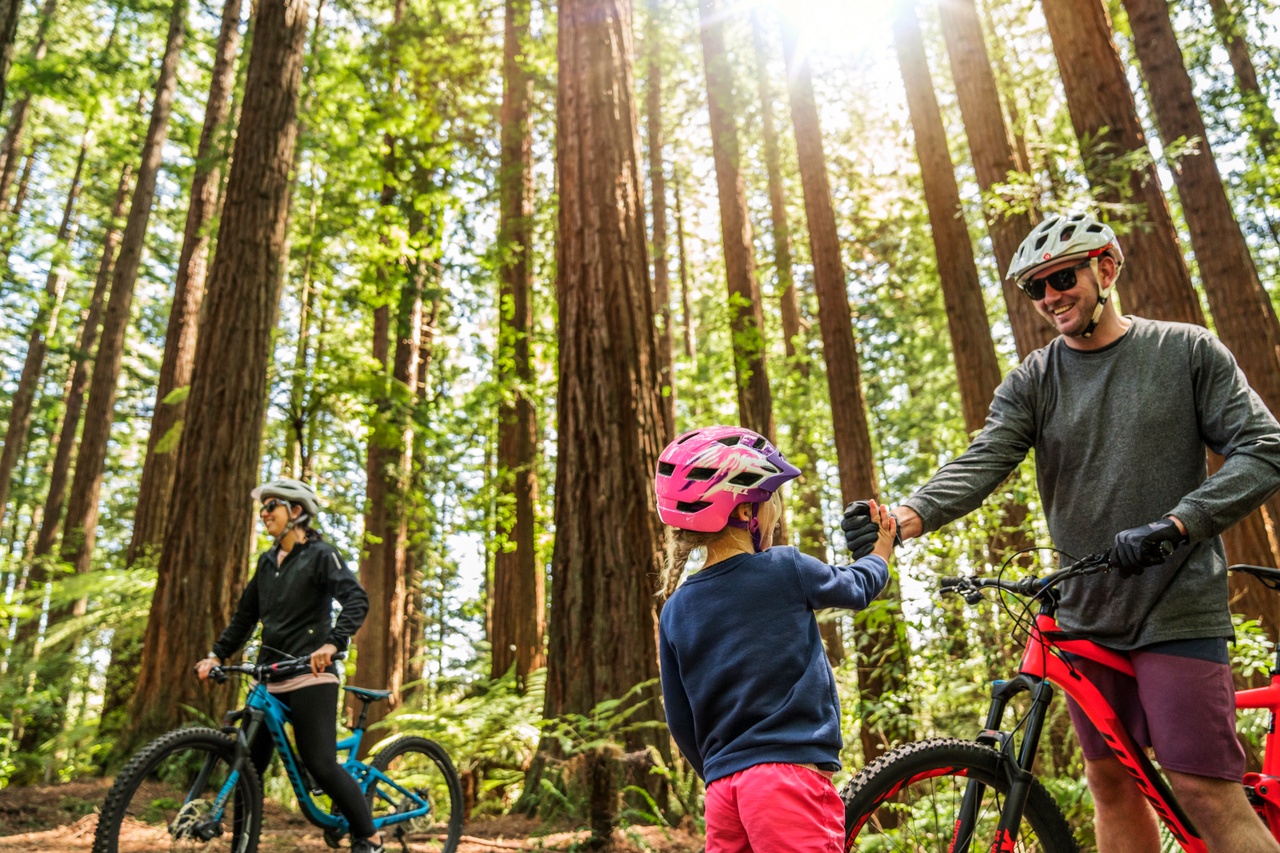 Mountain bike in the Redwoods (FREE)
The Rotorua Redwoods is a mountain biking mecca. There are over 130km of trails from beginners and families to death defying runs. We have found mountain biking to be a great activity for our young family, especially when using a toddler seat like a Kids Ride Shotgun seat which is ideal for mountain biking and can take kids from 2-5 years old. If you get a seat like this, mountain biking will be one of your favourite things to do in Rotorua with a toddler.
It is completely free to mountain bike in the Rotorua Redwoods, but if you need to hire a bike, this will obviously cost to hire. You can hire mountain bikes from various places, check out here for the best deals
Not sure where to start? Try to the Kids Loop, a grade 2 trail which is 4.5km long. While it is a great trail for kids, it is not flat. It is undulating and there are a few steep sections, but you can always just get off and walk your bike through those. A good challenge for beginner mountain bikers. The loops through the forest can be a little complicated as there are so many, so check out this map of the Kids Loop to help you along.
Ziplining at Adrenalin Forest Bay of Plenty
Ziplining is a great family activity. There is something about sailing through the trees, crossing bridges and swinging on flying foxes that is just so fun. Adventuring up to 20m in the air, you will need your nerves, but it will surely be a family bonding experience.
There are 6 levels ranging from less than 3m above the ground to 20m. Please note: All zipliners must be 1.4m tall to participate.
How to get here: Adrenalin Forest Bay of Plenty is located just 30 minutes from Rotorua (towards Tauranga) It is onsite at TECT All Terrain Park, just off State Highway 36 on Whataroa Road.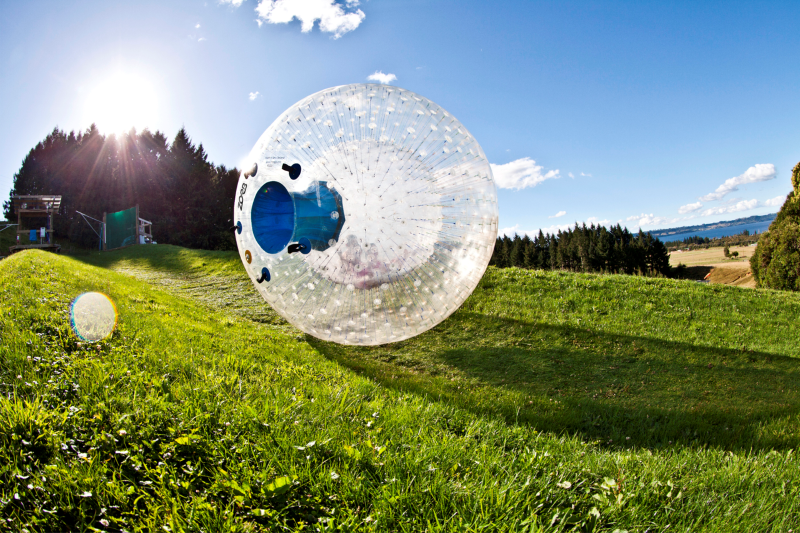 Rotorua – the Home of the Zorb
If you have ever dreamed of rolling down the hill in a blow up ball, then this is your chance! Rotorua is the home of the Zorb. Dive in, but don't bother holding on as you tumble to the bottom of the grassy tracks. You can ride with water, or without, take a straight track, or try the sidewinder zig zag track. Kids must be a minimum of 5 years old to ride. If you choose water, its warm water inside and there are hot tubs to warm up in. You don't even have to walk up the hill, they have a 4WD to take you up the steep hill! (they've thought of everything) This will be one of your favourite kids activites in Rotorua. Don't miss out on this awesome kiwi invention. Click here for the cheapest Zorb prices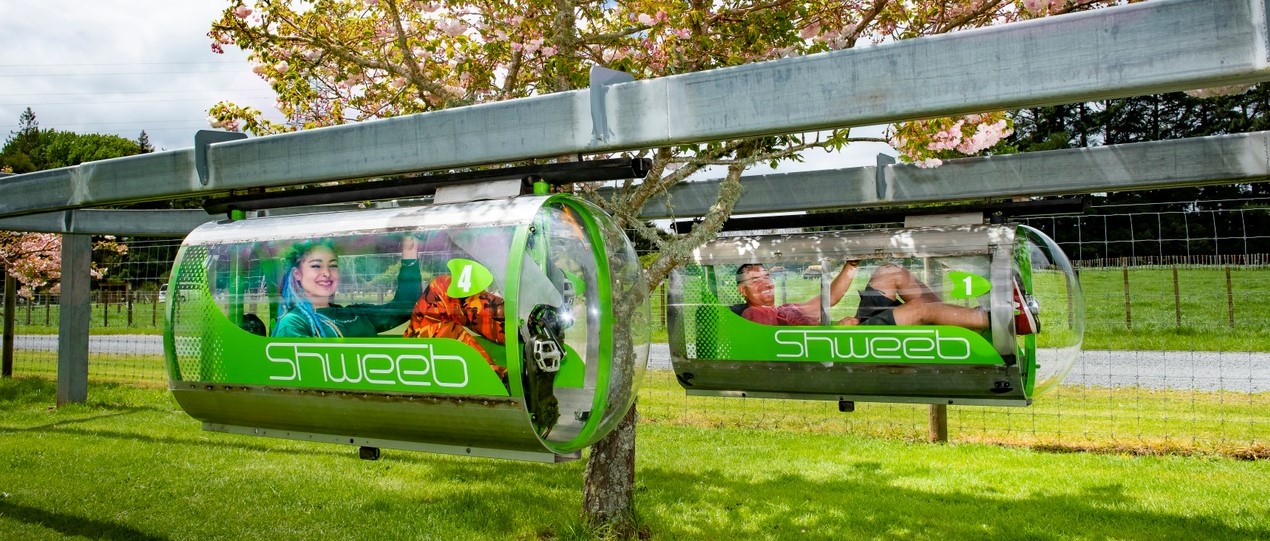 Velocity Valley: A Hub of Adventure Activities
Velocity Valley is a hub of all extreme adventure sports in one location. Here you can try the Freefall Extreme (aka you're flying), the Agrojet, Rotorua Bungy and the Swoop (big swing where you are strapped in and "fly." An alternate to the bungy) There is also a freestyle air bag for bikers who want to try out new tricks (and not hurt themselves, hallelujah) and the Shweeb Racer. Now the Shweeb racer is very unique. Imagine a monorail track, where the glass pod runs on the underside of the track. The pod is pedal powered, so you can race around the track, up to 50km/h if you pedal hard. You race 3 laps around a 200m track and I'm pretty sure you would be knackered after that. Great if you have someone to race against. Minimum height of 1.3m.
The best way to make the most of these facilities at Velocity Valley is to buy a family pass. For example, buying a 10 ride pass, and sharing these 10 rides between family members. This will make it far more economical. If you are looking for adventuring activities in Rotorua for kids, then check out the best deals at Velocity Valley here
---
Getting out in Nature
Redwoods Treewalk
The Redwoods Treewalk, located in the Rotorua Redwoods Forest, is an incredible nature experience that is accessible to most people. It's easily one of the best things to do in Rotorua with kids. The Treewalk is a collection of platforms and high bridges, suspended above the forest floor. You can walk the track during the day, taking about 40 minutes to complete or experience at night, where it is lit up by 30 beautiful lanterns (designed by world famous designer David Trubridge) Kids under 5 are also free!
The walks is 700m long, has 28 suspension bridges and 27 platforms. I can't decide if it is better by day or night, so thankfully there is a pass so that you can do both!
If you are up for a bit of adrenalin, then try to Redwoods Altitude Course which is 25m high, with jungle style bridges and even flying foxes. For this walk you are all clipped in like a high ropes course, and you have a guide. This will take about 2 hours. Children must be 10 years to do the Redwoods Altitude Course.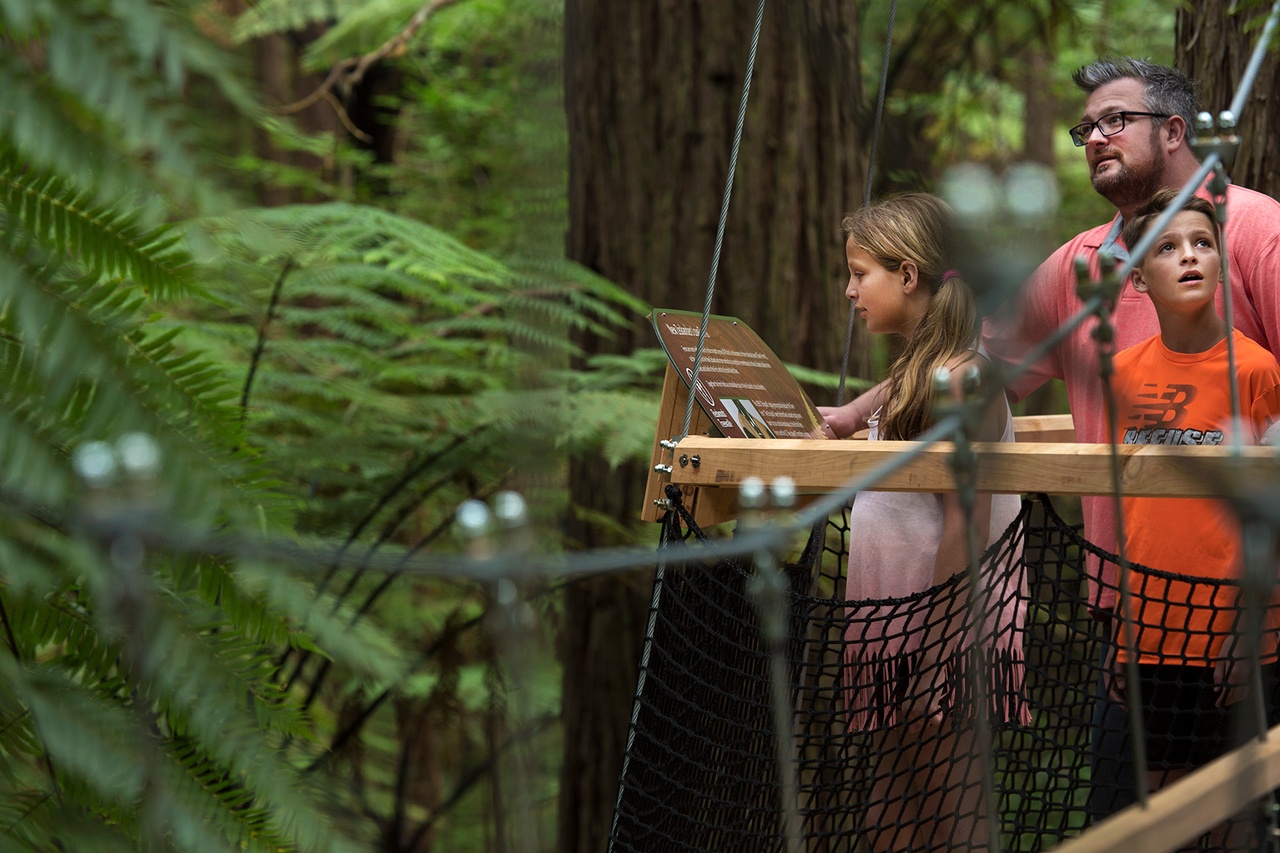 Please note: For the main treetops walk, children are not allowed to be carried at all. This makes sense as you are not harnesses in on these walks, and they do not want your kids to fall. So they must be able to walk, OR they have four baby trolleys that can be borrowed on a first in/first served basis. They take two people to operate the trolley, but they will help you if you only have one adult. Just keeps the safe. (They won't allow front or backpack baby carriers either) So the option is that they walk, or go in the trolley.
How to get to the Redwoods Treewalk: Located on 1 Long Mile Road
Tarawera Falls Track
Tarawera Falls are such a beauty. They are huge and in such an amazing setting. The walk here is only 20 minutes one way (700m) which will be easy for kids. One of the best parts is that many people opt to skip it, as there is a $10 per vehicle permit to access the area. It is a wee drive from Rotorua, but still in the region and totally worth it.
But seriously, it's beautiful, so you need to do it. You can get a permit from the Kawerau I-site information centre on Plunket Street in Kawerau
How to get to Tarawera Falls: It takes about 1 hour, 20 mins to reach Tarawera Falls from Rotorua. You can find them on Tarawera Road in Rotoiti Forest, near Lake Tarawera.
Rainbow Mountain Summit (long – 3-4 hours) and Crater Lake Walk (short – 30-40 mins return) (FREE)
An easy 1km walk with views over two aqua coloured crater laters. This short walk will take about 15 minutes each way. You continue on to the Rainbow Mountain summit (3 hours return from the crater lake)
How to get here: On State Highway 5 (the road to Taupo) heading south (about 26km from Rotorua). It is just after the turnoff for SH38 and before Old Waiotapu Rd (the road to Kerosene Creek) If you google Rainbow Mountain Scenic Reserve – you can zoom in, you can see the stretch of road it is on.
Lake Okareka (Walks, Swimming and Wetlands) (FREE)
Lake Okareka is a small lake about 12km from Rotorua City Centre. It is a popular place for boaters and waterskiiers, and has a few sandy beaches
The Lake Okareka Walkway is a great easy walk of about 5km return, taking about 90 minutes to walk. The walkway is wheelchair and stroller accessible to the 2km mark at Silver Beach. Kids will enjoy walking over the boardwalk in the Wetlands section of this walk, spotting our native wildlife which is abundant here.
There is also a small playground and beach area at Boyes Beach
How to get here: Drive to Acacia Road, where there is parking at the lakeside reserve. You can start the walk from here.
Okere Falls Track and Glow Worms (FREE)
The Okere Falls Track ticks a lot of boxes in that it has the beautiful, there is a great lookout over the Kaituna River where you can see the white water rafts topple down the largest commercially rafted waterfall in the world, and it has glow worms at night.
The track is short, meaning it's great for families. It is 30 minutes each way and 2.4km in total. The scenic drive there is also worth it, as you will see Lake Rotorua from the other side (compared to the city).
Kuirau Park
Kuirau Park is a great place to walk in the city centre as it has geothermal sites, and it's free. We talk about this more above under Geothermal Areas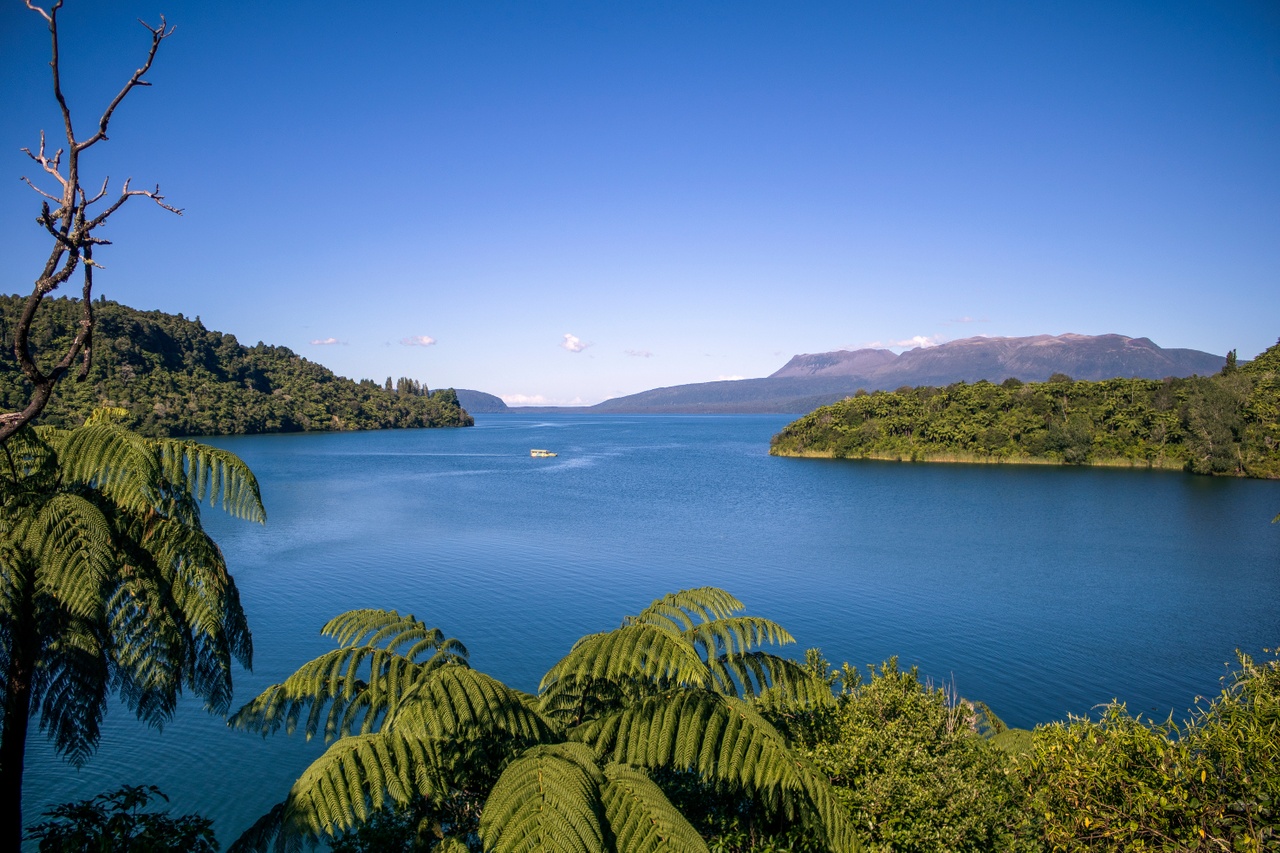 Blue Lake (FREE)
Blue Lake is perhaps my favourite of all of Rotorua's lakes. It is a only a short 15 minute drive from the city centre. It is a great place to swim with kids, has a holiday park on the lakeside if you would prefer to stay somewhere peaceful and there is a lovely walk around the outside of the lake.
The Blue Lake Track is a 5.5km loop track that will take around 90 minutes to walk and runs around the outside of Blue Lake. An alternative for a shorter walk, is the nearby Tikitapu Nature Walk which is only 30 minutes. It has a few steep sections but is only a short walk.
How to get to Blue Lake: Located on Tarawera Road. Directions: Head out of Rotorua town centre onto State Highway 30A as if you are heading towards Rotorua Airport. Turn right at the roundabout onto Tarawera Road and follow it all the way until you reach Blue Lake (you can't miss it).
---
Hanging out with animals
If you are at a loss of what to do in Rotorua with kids that is super kid-friendly, then taking an opportunity to hang out with animals is surely a winner. I don't know about your kids, but mine go nuts over animals. Even seeing calfs, which we have at home… it just doesn't get old.
Agrodome Rotorua
As I'm sure you are well aware by now, agriculture is a large part of kiwi life. What better way to experience true farm life, than at the Agrodome farm experience. Kids will love getting hands on and seeing all the different types of animals. Here are some of the best things to do at Agrodome: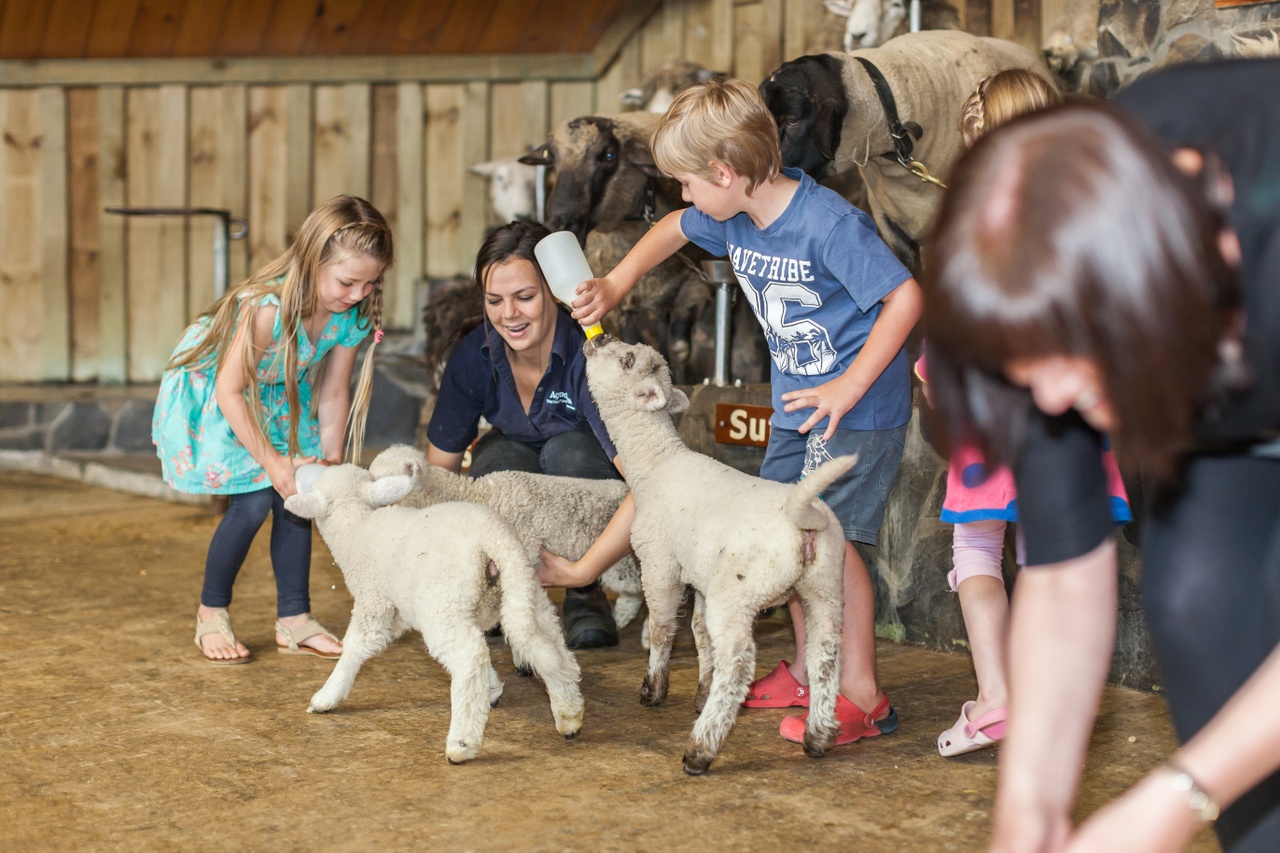 Farm Show: Sheeping shearing, sheep auction, feed lambs, milk a cow
Farm Tour: Hop on an ATV to tour a real working farm and hand feed animals, explore the orchard etc
Farmyard Nursery: Pet and cuddle baby animals
Kids under 5 are free. Find out up to date costs of tickets and package deals hereHow to get to Agrodome: 141 Western Road, Ngongotaha, about 15 minutes drive from Rotorua City Centre.
Wingspan Bird of Prey Centre
If birds interest you, then head down to the new Wingspan Bird of Prey Centre. You will have a chance to get up close with falcon, owls, eagles etc. One of the highlights is a flying display over the farmland each afternoon. See how fast they are and watch the swoop. They have just moved to new site which is still a bit under construction, so take a look at their website for hours and prices.
Glow Worms (FREE option available)
Glow worms are an exciting night time experience. If you want to take advantage of some evening sightseeing and wondering what to do in Rotorua at night, finding glowworms is the best family option. They are like little bugs that light up like Christmas fairy lights, but in fact they are larvae. But lets gloss over that fact. They are pretty to see and are surprisingly bright. They are often found in bushes and forest that are dense and damp. You can take a guided glowworm tour which includes an easy 2km guided walk in native forest. You can check ticket prices here Or you can find your own way to where glow worms are known to live, such as Okere Falls. Okere Falls is a 20 minute drive from Rotorua City Centre. The track is a 1.2km walk (30 mins one way), but you can often find glow worms early on in the walk. So take a flashlight/torch with you and go and explore. Don't forget you will need to turn off your torch to actually see the glow worms.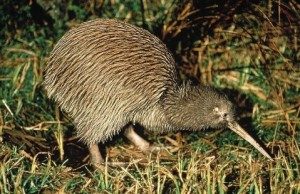 Rainbow Springs Nature Park (see Kiwis here)
Rainbow Springs Nature Park is just made for kids. You could really spend a whole day here if you wanted to, and it comes with an eclectic mix of attractions. Essential Rainbow Springs a native wildlife park with the opportunity to see kiwi, birds, reptiles including our native tuatara, only found here in New Zealand.
They also have a Big Splash water ride, must be 5 years old and older to ride it. They often have Kids Go Free deals in the holidays, so make sure you check into their website. Click here for the best discounts for Rainbow Springs Nature Park
Surico Alpaca Farm Tour
Nothing says family fun like cuddling a cute alpaca. Check out a real New Zealand alpaca farm with a guided tour of Surico Alpaca Farm. Feed an alpaca, walk one on a lead and learn all about this real life farming operation. Bookings essential, find out more information here
Paradise Valley Springs Wildlife Park Rotorua
At Paradise Valley Springs you can see a raft of farm animals, bird and trout as well as alpaca, deer, tahr, wallaby, and wait for it…. Lions. There is lion feeding every day at 2.30pm and kea and possum feeding at 3pm. Included in Paradise Springs is also an elevated treetop walk which is up to 6m high above the tree canopy, as well as a freshwater spring you can drink from. For more information on Paradise Springs, click here
---
Rotorua Attractions
Rotorua Duck Tours (a car and boat tour in one)
Rotorua Duck Tours use amphibious vehicles to take you on a tour around Rotorua. What makes these vehicles unique is that they are able to go on road and water. You can take a tour of Rotorua City and Lake Tikitapu (Blue Lake) and Lake Okareka or a 2 hour Tarawera and Lakes Eco Tour. Rotorua Duck Tours recommend the city and lake tour as best for families. To find out the latest prices of the Rotorua Duck Tours, click here
Lakeland Queen Cruises
My kids love getting out on the water. Anything with a boat and they are in. So take the kids out on Lake Rotorua on the Lakeland Queen. They have numerous cruise options, some including meals, tea and coffee. Can you imagine a full buffet breakfast as the sun rises?Check prices and book a Lakeland Queen Cruise here
3D Trick Art Gallery
Now I have to admit, I haven't been to the 3D Trick Art Gallery Rotorua, but even since I saw a friend post about it, I haven't been able to stop thinking about how fun this would be to do with kids.The Trick Art Gallery is a collection of 2D paintings, which transform into 3D when you take our picture. It totally looks like you are in the scene. They even have helpful footprints to guide you where to stand and where to take the photos so your images will be mindblowing. We think this would be a great thing to do in Rotorua on a rainy day, or if you are looking for indoor activities. So bring the whole family and get yourself some unique photos.Click here for more information and to book tickets
Rotorua Museum
The Rotorua Museum is the perfect way to start learning about the local area and Maori culture. Unfortunately it is closed for repairs from earthquake damage but should be on your list if you are planning a trip in the future. (photo credit: Vaughan Brookfield).
Rotorua Night Market (FREE to enter)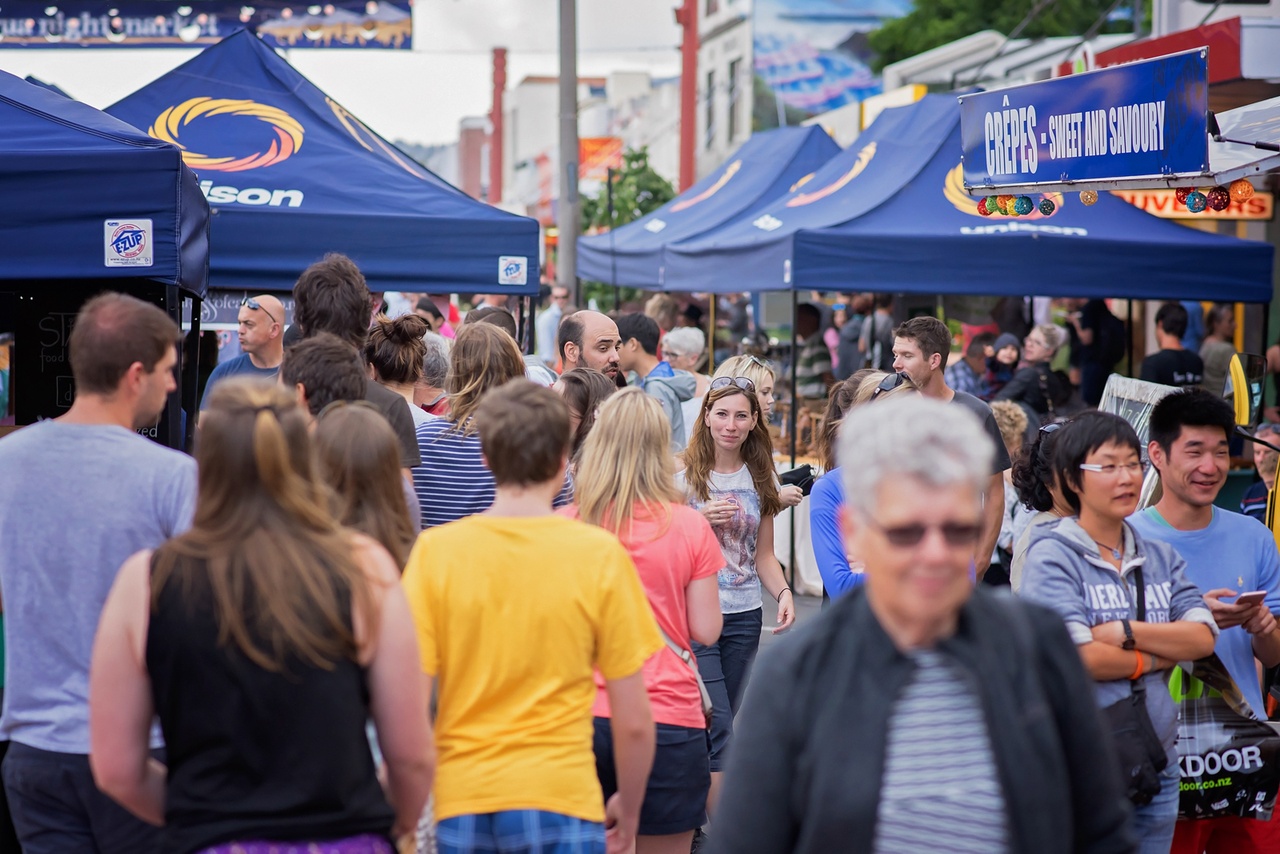 I always think the best way to get a sense of a place is to check out the local markets. The Rotorua Night Market is a popular event with both the locals and tourists. You will find it every Thursday night from 5-9pm on Tutanekai Street (between Haupapa and Hinemoa Street) There are plenty of tasty treats and cuisine from all over the world, so perhaps a great spot for your Thursday night dinner.
Where to find it: Tutanekai (between Haupapa and Hinemoa Streets).
AMAZEme maze
The aMAZEme maze is a great Rotorua family attraction that even the little kids will love. The 1.4km maze will keep you busy for a while, then check out McGregors garden to cuddle some bunnies and other small animals. They also have a butterfly house. Also good to know that it is suitable for strollers and wheelchairs. How to get here: 1335 Paradise Valley Road, Ngongotaha – not far from the Agrodome and Velocity Valley Adrenaline Park.
Cobb and Co Restaurant
It is not often that I put a restaurant on my things to do list, but Cobb & Co is a kiwi institution. There are a lot of places to eat in Rotorua, but this is absolutely the best place for kids. All kids growing up in the 80s and 90s had special family dinners at Cobb & Co and the kid friendly restaurants have been making a bit of a resurgence. What makes Cobb&Co unique, is the indoor play space so the kids can play while waiting for their meals, or while parents enjoy their own meal in peace. There are toys, videos, and games for your big and little kids. I love that the kids menu is segmented by age, from sausage, mash and veges for 1-3 year olds, to teenage sized meals for the growing kids. It's all priced according to age, so you are no longer paying $15-$20 for a 3 year olds meal. All meals also include dessert. Go check out the menu and try out the best Rotorua family restaurant.
Motion Entertainment Rotorua
If you are here to sightsee in Rotorua and check out the uniquely New Zealand things to do, then skip this place.  But if you are looking for fun things to do in Rotorua on a rainy day, this indoor entertainment mall will definitely keep the kids busy all day. Motion Entertainment includes the following fun activities
Chipmunks Playland (great for toddlers and above)
Xtreme Air trampoline park
Megazone Laser Ta
XD Dark Ride
Lumberjax Mini Golf
Strike Zone Tenpin Bowling
Timezone (arcade zone)
Escape Masters (escape room)
Rotorua Aquatic Centre
If you are looking for indoor activities in Rotorua, when it does happen to rain, the Rotorua Aquatic Centre is a family favourite. They have a splash pad which is great for kids, a lazy river, pool toys, indoor and outdoor pools. Click here for more information.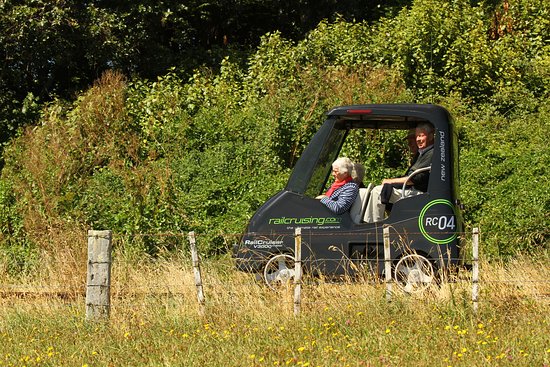 Railcruising self powered carts
One of most unique places to visit in Rotorua, Railcruising is travelling in on the old Rotorua Railway line by self drive RailCruiser car.  You get stunning views across Lake Rotorua and the New Zealand countryside, all while driving your own railcar.  The car seat up to 2 adults and 2-3 children, and you get the car all to yourself. They've thought of everything as there are even blankets to keep you warm in the winter, and rail carts have a roof for rain.  The track is 19km return and runs from Mamaku Railway Station to Tarukenga Station and return. Children under 6 are free and this whole experience will take about 90 minutes.
How to get here: Head to Mamaku Railway Station, 11 Kaponga Street, Mamaku (From Rotorua, head towards the Agrodome, turn left on Dansey Road, opposite Agrodome/Zorb and continue 10km down this road where you will find the railway tracks and Kaponga Street.
Rotofobia
Escape rooms are very popular at the moment and Rotorua has its own unique escape room. There are 3 rooms to choose from, including an R18 room if you are having a parents night out. In general, escape rooms are recommended for people 14 years and old. A great thing to do in Rotorua with teenagers. For more info, click here
---
Rotorua Events
Rotorua is such a popular place for events and festivals. From Tarawera Ultra Marathons, to the Crankworx Rotorua Mountain Biking Extravaganza or family friendly local festivals, there is always something to do in Rotorua. So if you are wondering "What's on in Rotorua today " or when you are in town, click here for all the up and coming Rotorua events.
---
Wow, if you made it to the end, then well done and thank you! There seriously are so many fun things to do with kids in Rotorua. Whether you are looking for cheap things to do, or are indulging in adventure activities or a bit of relaxation, we know that you will have such a ball. Please come and chat with us about your favourite places to see in Rotorua over on Instagram or Facebook. And if there are any Lake Rotorua activities that we have missed on this list, make sure to tell us so we can share with other families.
Jennifer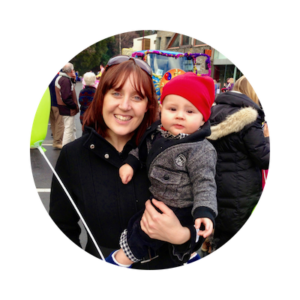 This article was originally published on backyardtravelfamily.com and was written by Jen. Jen is a super organiser when it comes to travel. Having travelled extensively in Europe and Africa, has lived in London and the USA and holidayed in many parts of Asia, she is not a newbie to the travel space. Jen has three young children, 5 and under and travels around New Zealand with them.
Photos courtesy of Rotorua Tourism, Hannah Wright at Unsplash, and Railcruising Rotorua.