Charming Beauty in Family Friendly Twizel
Twizel is a great place to base yourself when exploring the Mackenzie Region. It is the hub of the Mackenzie and is an easy day trip to other small towns and villages, making it the perfect place to relax for more than a few days.
The township of Twizel has everything you need including a 4 Square supermarket, cafes and restaurants, fuel, outdoor and sporting stores and farming supplies. Plus it is close to Mt Cook Village (50 minute drive), Lake Tekapo (35 minutes) and Omarama (20 minutes) There are lots of family friendly activities in the Twizel area, so make sure you explore your base too.
Visiting winter is a magical time, and you could be lucky enough to get snow. There's definitely something about the lakesides and mountains, glistening in snow. That's why when we choose an Ezi Car Rental, we always grab a 4WD like a Toyota Prado or Fortuner, to keep the family extra safe on our winter roadies.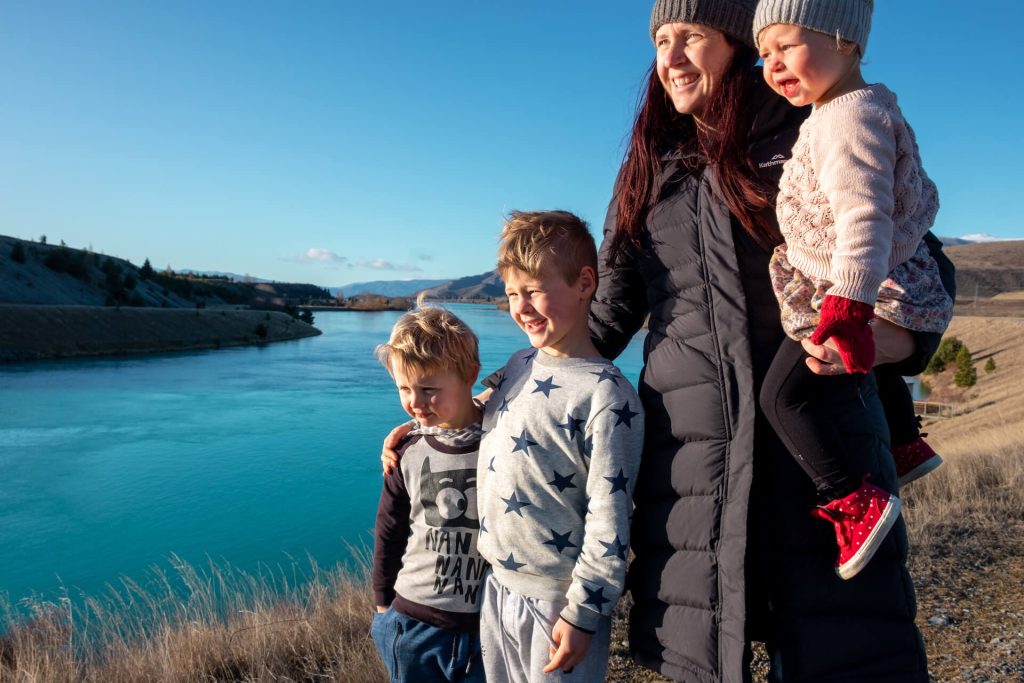 Have a farm experience at Highlands Farm Stay Twizel
Kids love nothing better than being able to interact with animals, so why not stay somewhere where you get to feed farm animals right at your gate. The Highlands Farm Stay is just a few minutes outside the Twizel township and is the perfect holiday home for families.
The merino cottage has two bedrooms and can sleep 4 people (or 5 with a baby in a cot) and is the warmest home in the winter. (especially important when it commonly drops to less than zero in the winter)
The house has a fully kitted kitchen including gas hobs and oven, toys and games for the kids, free netflix and wifi. The best part is they include food to feed the sheep, alpacas (so cute!) and pigs. They also have a farm walk (with map) so you can explore and even find the Highland Bulls. The kids will have a ball with their own farm pets while you relax and enjoy the incredible views of the mountains.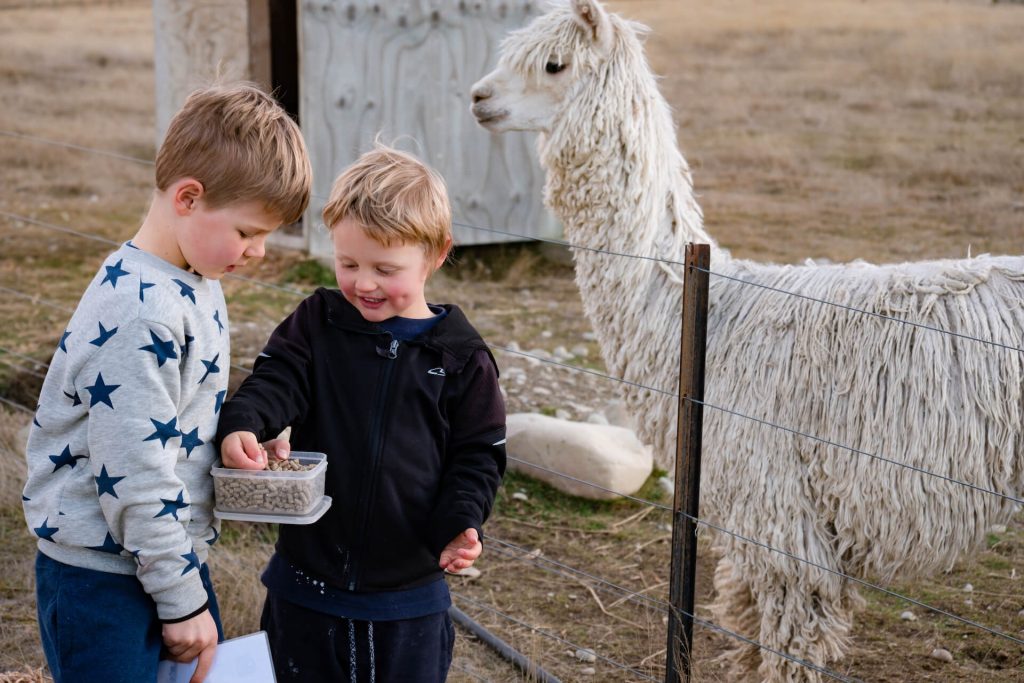 Feed the Salmon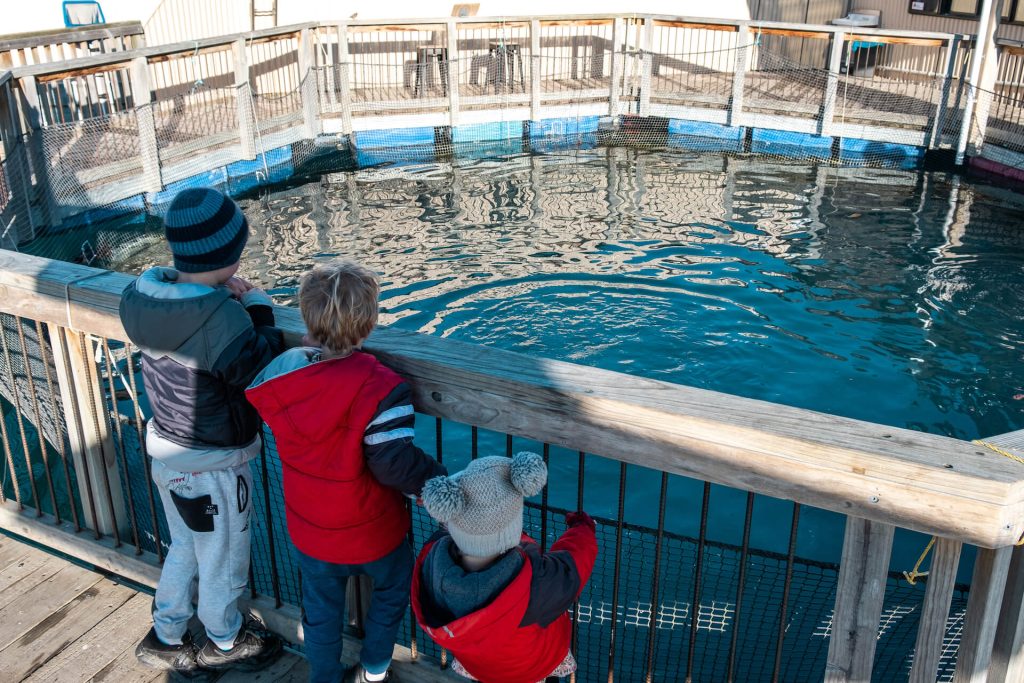 High Country Salmon is a great place to visit with kids, even if you don't like salmon. You can feed the salmon here for free and learn a little about the salmon farm operation on site. The waters here are incredibly blue, so grab a coffee and sit out and enjoy the view.
There's a cafe with both salmon and not salmony treats and you can buy fresh produce on site as well.
Explore Lake Ruataniwha
Lake Ruataniwha is a stunning location, but is actually a manmade lake. The whole town of Twizel is pumping in the summer months because of the high quality rowing facility that is established here. In fact every second year, the New Zealand Secondary School Regatta hosts 10,000 people here. It is quite a spectacle if you are ever in town while a regatta is being held, so make sure you drop past the lake.
Outside of rowing, the lake is perfect for all sorts of watersports including swimming, kayaking, paddleboarding, waterskiing and jet boating.
If you want to get out on the water, you can hire a vessel from Water Rides Twizel who are based out of Lake Ruataniwha Holiday Park. They have a great selection of boats from kayaks, paddle boards, pedal boats and pedal bikes, a swan and a glass bottomed boat. A great activity for the whole family.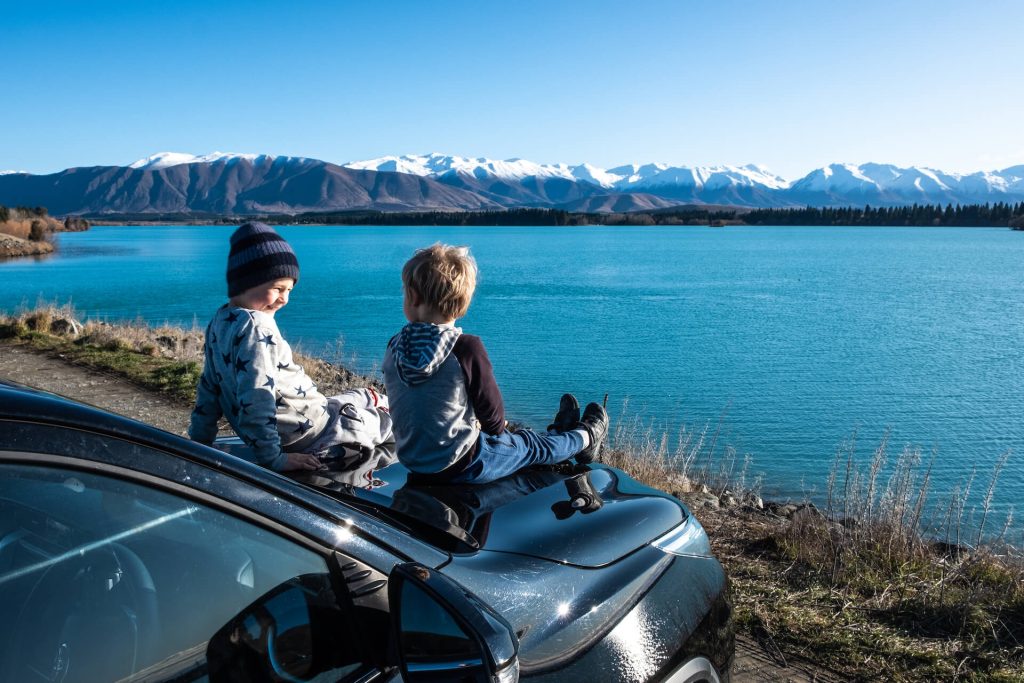 A family classic: Twizel Playgrounds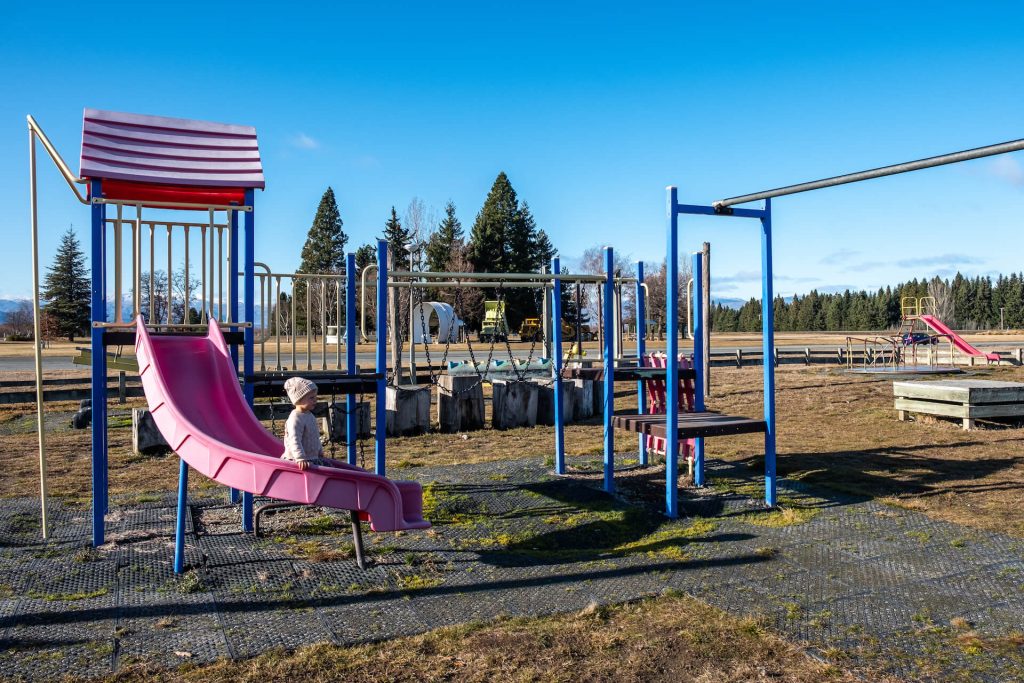 There's nothing like letting the kids burn off a bit of energy and a playground is always a winner. There is an old school playground outside the Musterers Hut, which is a great place to grab a coffee and be able to watch the kids as they play. They have outside tables which are perfect for this.
Or head to the Market Square in Twizel, near the 4 Square supermarket for a more modern playground. Our kids preferred this one. In the summer months, if you are sitting outside at one of the local restaurants, you can watch the kids play from here. It has always been relaxing and chilled when we have visited and very safe for the kids to play.
Find a lakeside or canalside picnic spot
If you just stay in the Twizel township, then you will miss out on all the hidden gems of the region. Make sure you take a drive to explore the canals and lakes in the area. The canals shimmer in an incredible glacial blue colour so make sure you take a drive to explore.
Some great places to drive include the Pukaki Canal, Lake Ohau and Lake Poaka. Perfect for an impromptu picnic, well off the beaten track.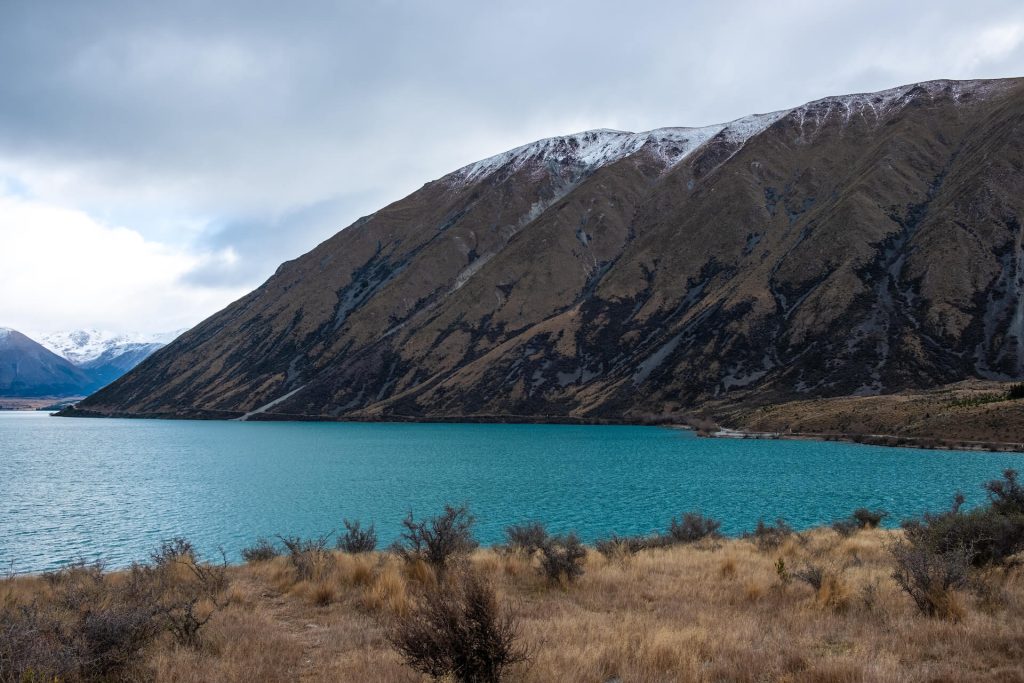 Ski at Ohau Ski Fields
There is a great club ski field at Lake Ohau, that is really close to Twizel. From the township, it will take 30 minutes to get to Lake Ohau Lodge, and just another 15-20 minutes from there to reach the skifield. You can hire chains from here, or jump on the bus.
Kids 5 and under receive a complimentary lift pass and group lessons are available for kids 6 and over. It is a great family run facility and is far more chilled out than a commercial field. There is also an option to stay at the Lake Ohau Lodge and have breakfast and dinner all provided for you.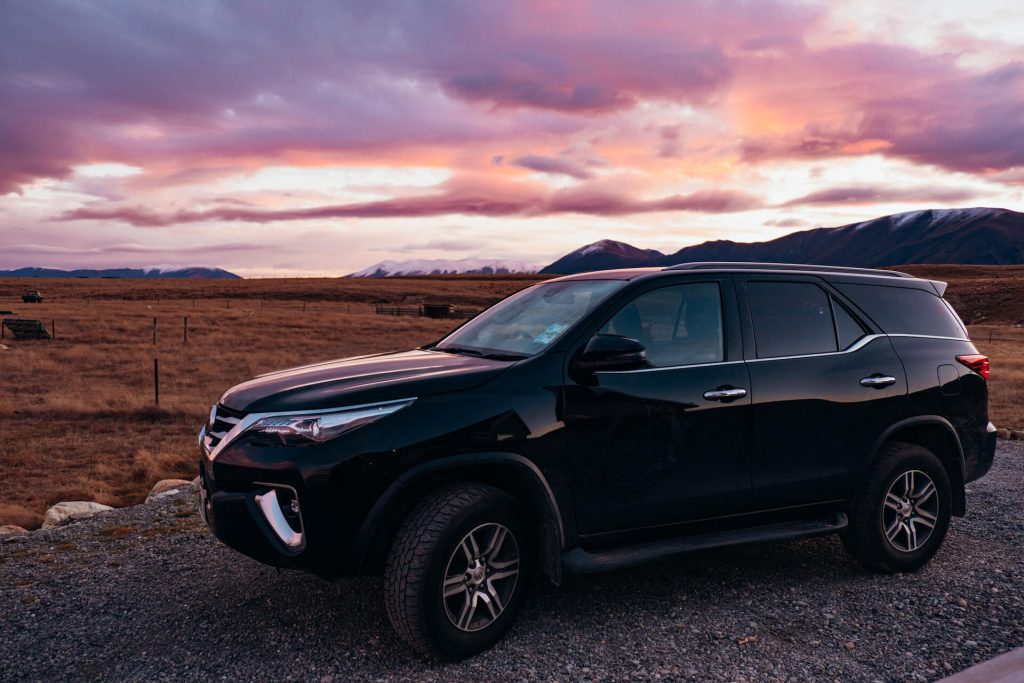 Mini Golf at Musterers Hut Cafe
Mini Golf seems to bring out competitiveness in all of us, so if you are after a bit of family fun (or rivalry) head down to the Musterers Hut Cafe. This old school golf course has no bells and whistles, but will still have you raging as you bump into the corner, again.
Hire a ball and clubs from the Musterers Hut Cafe for $20 for a family. Also make sure you pop in for a delicious scone, or their vintage gift shop collection.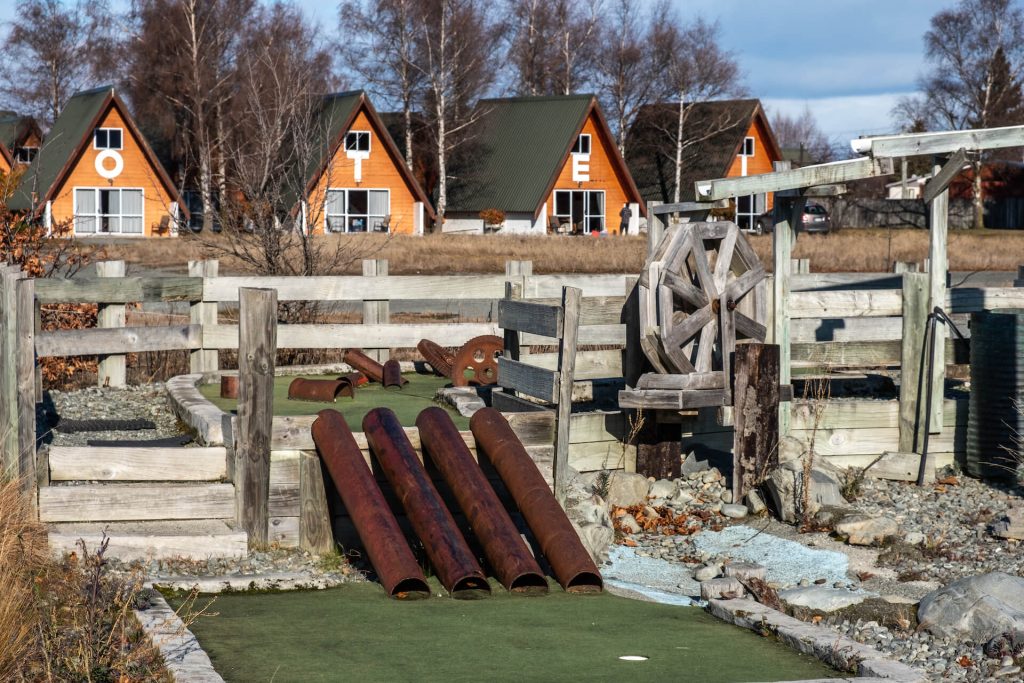 ---
Whether you are looking for a great base to explore Mt Cook Village or the popular Lake Tekapo, or are looking for local gems, Twizel is an awesome place to explore with kids.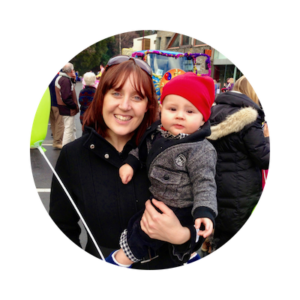 This article was originally published on backyardtravelfamily.com and was written by Jen. Jen is a super organiser when it comes to travel. Having travelled extensively in Europe and Africa, has lived in London and the USA and holidayed in many parts of Asia, she is not a newbie to the travel space. Jen has three young children, 5 and under and travels around New Zealand with them.
Photos courtesy of The Backyard Travel Family.